AgVets' mission is to help solve business, economic, and social problems by providing employment and empowerment to returning veterans while meeting the growing demand for locally sourced, year-round produce on a national level for low-to-middle-income consumers.
The plan of AgVets is to grow a variety of vegetable crops, including lettuce, microgreens, tomatoes, peppers, cucumbers, squash, and melons.
Co-founded by Michael Walker, a decorated, disabled, and retired ground combat senior Marine Corps officer with nearly 25 years of service in the military, groundbreaking is slated to take place this spring. A network of up to 30, 3- to 5-acre hydroponic greenhouse operations, located throughout the country, will be built or retrofitted to deliver produce to national grocery chains.
AgVets will train and deploy former military officers and non-commissioned officers to manage an all-veteran workforce. They have developed a proprietary educational and training model that will provide all the skills necessary for the veteran workforce to successfully become hydroponic produce growers.
Ultimately, with a full roll-out of 150 acres, at 10 to 15 employees per acre, AgVets will create a significant number of real jobs for veterans, more than 1,000 over 10 years, Walker says. Veterans will be well paid, and have profit sharing and benefits associated with the company.
"We think we're on to something special with the veteran workforce model," Walker says. "We know that it's going to propagate out into other companies. We're hoping it will do that, and we're going to desperately try to make other companies in the industry aware of the benefits of hiring veterans — and how to do it."
Filling Demand
Walker and co-founder Diego Espinosa, a top-rated business analyst, met in 2011 when both were working with veterans at a small hydroponic vegetable operation in California. They recognized the need for veteran employment, and noted the increased demand for locally grown food. They set to work in early 2012 to solve that problem and make a difference for some of the 250,000 veterans who are reintegrating into society each year.
Walker and Espinosa have put together a management suite that Walker calls "the dream team," which includes head grower and technical advisor Ken Gerhart, a former head of operations for a major commercial tomato grower and a consultant with Greenhouse Vegetable Consultants, a premier hydroponic consulting firm, and consultant Andy Higgins, the former president of Ecke Ranch in Encinitas, CA, and new president of MasterTag.
Together, the team has set its plan in motion and secured funding for the first greenhouse to open in Loudon County, VA, starting with one acre with plans to grow to four.
Virginia State Agriculture Secretary Todd Haymore asked Walker to set up the first greenhouse in Virginia. Funding for a large part of the pilot came from Virginia Community Capital, a community development financial institution (CDFI) associated with the Clinton Global Initiative, which provided the company with a healthy start. The access to the Washington, DC/Baltimore area, a highly educated area in demand for local food, in addition to the need to alleviate a food desert situation in Virginia and proximity to military bases in Virginia Beach, made the area ideal for the pilot location.
An All-Veteran Workforce
Throughout history, veterans returning from war would take to farming. Walker says he would like to reintroduce veterans to agriculture, calling it the company's 21st Century Agrarian Vision.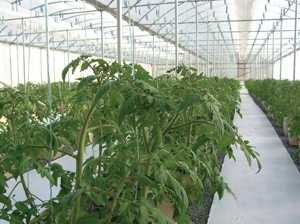 "Agriculture used to be an attractive and viable career for veterans, but over the past several decades many veterans have aspired to go into the public sector, in police and fire departments. Those jobs just aren't there anymore," Walker says. "So it's our vision to make agriculture an attractive career for veterans again as they come out of the military — not just hydroponic growing, but all segments of the industry."
Agriculture is not an industry for the weak or faint of heart, and in many ways, the skills veterans have learned in the military make them ideal candidates for growing plants, Higgins says.
"The ability to successfully produce something is a disciplined art and science, a combination of both," Higgins says. "What we've found is the skills that make someone successful in the military are similar to those that make growers successful in agriculture."
In his military career as a combat officer, with his last tour in Iraq ending in 2003, Walker says he has been witness to men and women doing incredible things on the battlefield.
"They've got skills that would add value to any business," Walker says. "They're disciplined, they're smart, they show up to work on time every day, often the first to arrive and the last to leave, and they have great people skills."
Make The Transition
Re-entering the civilian workforce after a military career is not an easy feat, however. Veterans speak their own language and are used to working from standard operating procedures (SOPs). In private business, they often feel isolated if they don't understand the culture and the language.
Walker says he knows how difficult it was for him, a decorated senior Marine Corps officer with a college degree and MBA, who was used to leading people in large organizations.
"I'm still transitioning after almost a decade, so if it's tough for me, at my level, age, stage of life and education, it's got to be enormously difficult for the young people coming out of the service," he says.
"Veterans have a hard time adjusting to this new environment, so we need to showcase to other companies how to hire, train, organize, and employ veterans in the workforce."
Indirect benefits come from this model, as well. Veterans with disabilities and limiting factors like post-traumatic stress disorder and traumatic brain injuries will benefit from being among other veterans and working with plants, which can offer therapeutic benefits, as well.
AgVets will incorporate veterans services to veterans with any issues they have, and plans to partner with women's empowerment foundations to provide the young women who are coming out of the service with extra support, training and opportunities.
Recruitment and training will not begin until construction on the pilot location in Virginia is under way, but AgVets has tested its model to gauge interest, involving support organizations for veterans like the Hired Heroes program, the U.S. Chamber of Commerce, and local military transition offices throughout the country.
So far, so good. The interest has been incredible, Walker says.
"A young sailor, a non-commissioned officer with a master's degree in hydroponic science, an Air Force lieutenant colonel who was involved in space command with a master's in smart technology, a Navy commander who was a Naval Academy logistics officer — I could go on and on about the super high-quality men and women who are showing interest," Walker says. "We are excited about our ability to reach into the veteran community and draw out the best veterans to work at our company, and do so in a way that complements the skills that they had in the military."
National Company, Local Food
The company has received interest from three of the major chains, which Walker says are enthusiastic about buying everything AgVets grows, because the model addresses their needs. Whereas many year-round growers market crops to farmers' markets, restaurants, and specialty food stores and chains where they can get higher price points — likely because of the costs associated with hydroponic growing — the AgVets model is different in that it aims to produce locally grown crops for the average consumer on a national scale.
"They have their own internal goals and have stated goals for locally grown produce, and they haven't been able to meet them on the national level," Walker says. "We offer a solution to meet their goals and the needs of the consumer."
Higgins says AgVets wants to locate facilities close to the national chains' distribution centers, so upon harvesting, the produce is no more than a half a day from the produce aisle in the store. Growing locations also will correspond to larger populations of military veterans.
AgVets' sales and marketing will be managed nationally, so the network of greenhouses can focus on production and delivery locally. Higgins says each location will be no more than 3% to 5% of total production, so the model mitigates risk across the board.
The idea of veterans managing the AgVets locations and growing the produce is a highly attractive aspect for the chains, as well, Walker says.
"They are excited and enthusiastic about a partnership with a veteran-owned and operated business."