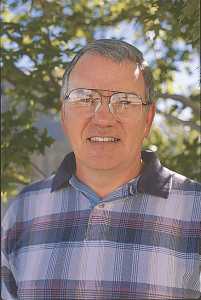 Did you ever wish you knew for sure what disease is affecting your potato crop? A project, spearheaded by my colleagues and potato storage specialists, Lynn Woodell and Dr. Nora Olsen, was designed and implemented to find out if we have the tools to perform such diagnoses on the farm or out in the field. The publication outlining our findings is titled "Portable Test Kits For Diagnosing Potato Diseases" by Lynn Woodell, Nora Olsen, Alex Karasev, Jeff Miller, Mike Thornton, Phillip Wharton, and myself, and can be downloaded from the University of Idaho potato publications website at the following address: www.cals.uidaho.edu/edComm/pdf/BUL/BUL0883.pdf.
Over the course of the last few years more and more of these "do-it-yourself" kits have become available for a broad spectrum of diseases and our group wanted to find out how well the kits worked and how easy they were to work with. Each of the investigators listed above, along with their technical support teams, tested a range of these kits on disease samples as they were either brought in or we encountered them ourselves during the normal course of doing business.
What We Learned
We found the available test kits to be user friendly and to provide reliable results rapidly. The kits are very effective on Potato virus Y and Phytophthora (late blight, pink rot) and can provide information even out in the field in a few minutes. As to how the test kits generate results, all of them are based on serological techniques (similar to the familiar ELISA test) that have become the mainstay of disease diagnosis in agriculture.
The kits each contain antibodies to the disease organism in question and all use a very simple, foolproof system to indicate positive and negative reactions. The publication contains many photos that illustrate some of the basics of using the kits and what the results look like.
We think that the kits tested, along with a number of others that have become available since we completed our evaluations or will be available shortly, have the potential to be very useful for all potato industry workers. The kits we tested are available from Agdia (www.agdia.com), Bioreba (bioreba.com) and Pocket Diagnostic (www.pocketdiagnostic.com). Kits from other manufacturers are also available but were not tested by our group.
Seek Professional Advice
It is not our intent that the use of these kits should replace professional crop consultants or University Extension personnel. For starters, there are a number of disease problems that kits are not yet available for. More importantly, remember that many of the disease problems we face, like late blight for instance, are area-wide or even regional in the danger they represent.
These disease diagnostic kits are a great tool for the individual grower or fieldman and we hope that many of you will take advantage of the convenience and the speed that they offer. Just keep in mind that disease prevention requires the dissemination of information to everyone.