The number of H-2A certified positions has tripled in the past 10 years, according to a series of reports from the Department of Labor (DOL). It has just released the statistics for fiscal year 2018.
Ten years ago, DOL certified 86,014 H-2A positions. Today, that figure is well above 200,000. Take a look: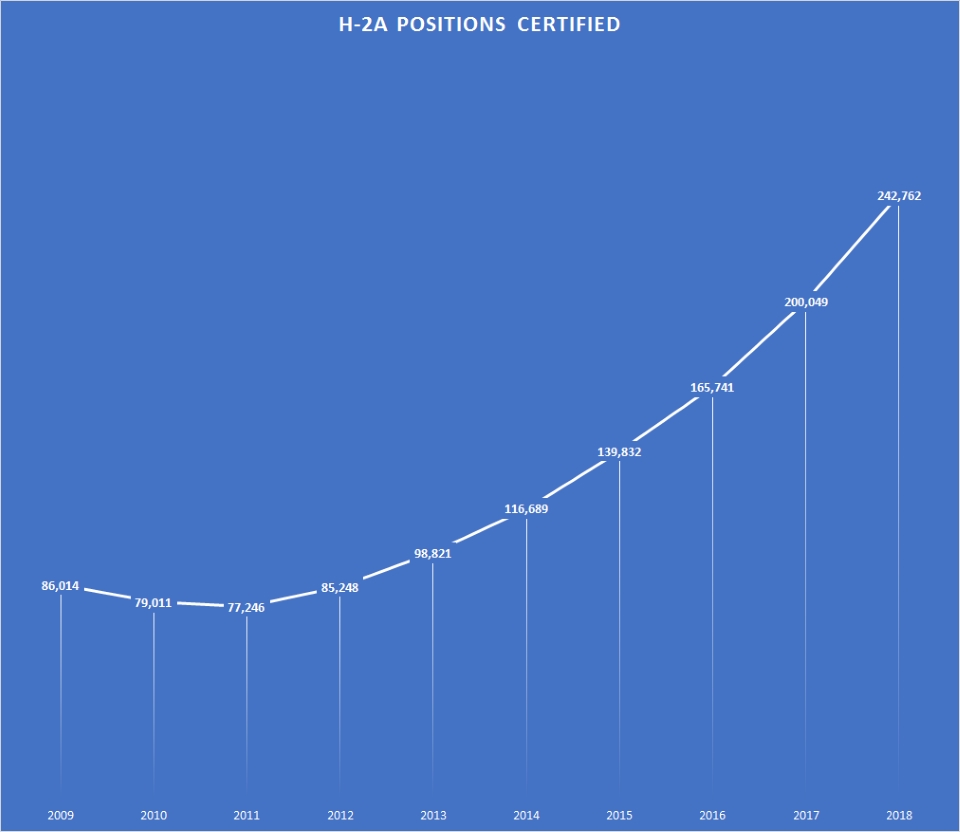 Top Crops and Top States Using H-2A Labor
More than half of all H-2A laborers (53.5%) work in only five states. Three Southeast states claim more than a third of H-2A workers.
Georgia (14.1%)
Florida (11%)
Washington (10.4%)
North Carolina (9.5%)
California (8.5%)
Determining the top crops isn't as straight forward. DOL mixes crops and occupations in its top crops statistics. It also mixes broad categories with specific crops, which muddles it's top crops list.
Pulling out only the crop-specific numbers, here are the top crops:
Berries (25,424 workers)
Tobacco (18,658 workers)
Apples (14,920 workers)
Melons (11,026 workers)
Lettuce (9,758 workers)
Corn (8,254 workers)
Cherries (7,245 workers)
One thing to note on corn. DOL doesn't specify that field corn is included. However, its phrasing includes two types of corn: "corn and sweet corn." Presumably, this figure includes field corn.