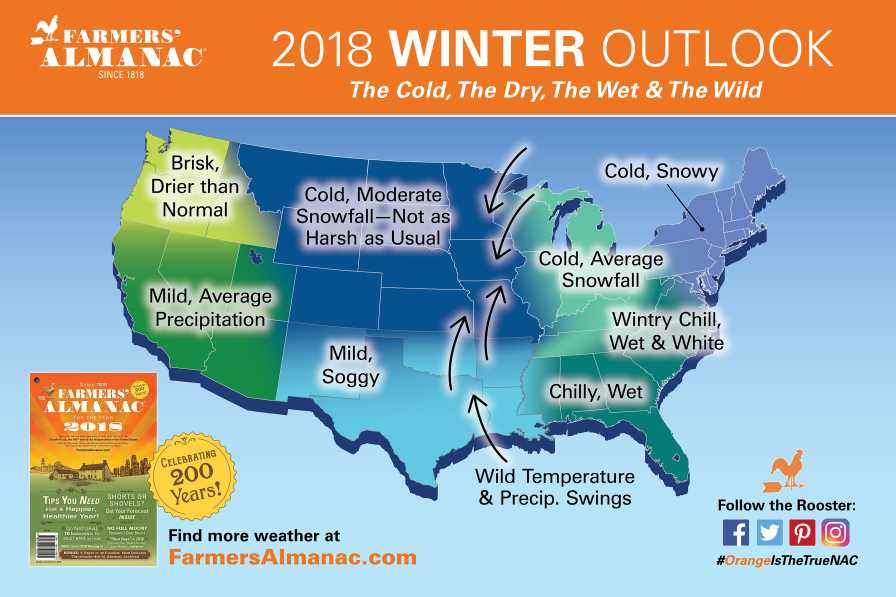 There are few traditions you can truly count on from year to year. Changing of the seasons certainly can be considered one. Almost as long is the publishing of the weather almanacs for farmers, specifically the Farmers' Almanac and the non-related The Old Farmer's Almanac.
The 2018 edition of the Farmers' Almanac marks 200 years of the storied publication.
So, how are things looking for the upcoming winter campaign? Here are a few highlights straight from the source:
Temperature Check
According to the 2018 Farmers' Almanac, this winter is expected to be a bit more "normal" regarding temperatures, especially in the eastern and central parts of the country (chiefly areas to the east of the Rocky Mountains) with many locations experiencing above-normal precipitation.
On The Dry Side
For the western third of the country (mainly those areas west of the Continental Divide), the overall winter will not be as wet as last year. The forecast is pointing to a return to more normal winter conditions in regard to both temperatures and precipitation. This is not ruling out occasional bouts of heavy precipitation sweeping in from the Pacific, or shots of cold air pushing south through western Canada, but these occurrences should be balanced out by spells of dry and mild weather.
Wet & Wild
The Southeast will see below normal winter temperatures with an unseasonable chill reaching south to the Gulf Coast, with above-average precipitation.
Loading ...
From the Great Lakes into the Northeast, snowier-than-normal conditions are expected.
Save the Dates
Of particular note, the 2018 dates of January 20-23, February 4-7 and 16-19, as well as March 1-3 and 20-23 stand out to Farmers' Almanac editors as a chance for heavy precipitation along the Atlantic Seaboard.
Sandi Duncan, Managing Editor of the Farmers' Almanac, stands by the publication's accuracy track record. "Our predictions over time have been 80% to 85% accurate and continue to be a valuable planning tool for the year ahead."
More details about the long-range winter forecast, as well as information about how to acquire a copy of the 2018 Farmers' Almanac can be found at FarmersAlmanac.com.
As of this posting, The Old Farmer's Almanac had not officially released its 2018 forecast.
Click here to find out what Winter 2019 might have in store.