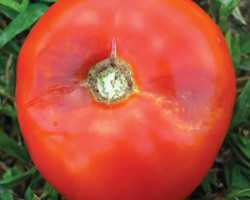 To date there have been 17 confirmed reports of late blight in the Eastern U.S. from Louisiana to New York logged at www.usablight.org/, where there is information about the reports and a map. This week, late blight was confirmed on tomato and potato in Erie County, NY.
The source of the pathogen for each outbreak has not been evident and some occurrences have been in unexpected locations based on previous years (ex. central North Carolina), which adds to the angst of dealing with this the most destructive vegetable disease. Most occurrences have been on tomato (13 of the 17). One was in a greenhouse crop. Three were in gardens.
Late blight typically develops in south Florida during the winter growing season. There were 22 confirmed reports from Jan. 3 to June 14 in 2013.
Similar to 2012, the main genotype (strain) of the pathogen found so far this year is a new one, US-23, first detected in 2010. US-23 is more virulent on tomato than potato.
While the weather until recently has been very favorable for late blight to develop due to numerous rain storms and humid conditions, there were many more reports by this time in 2012, with several from states where there have been no confirmed reports as of July 8 this season, including 25 reports from Pennsylvania, nine from New York, two from Connecticut, four from Massachusetts, one from New Hampshire, and one from Maine.
Fewer occurrences this year suggest that growers and gardeners are getting better at managing the source, which is primarily infested potato tubers. But fewer occurrences do not mean that growers can stop worrying about late blight. While rainy weather is ideal, high humidity is sufficient for infection and new pathogen genotypes are active under higher summer temperatures than genotypes present in the past mainly on potatoes. Fortunately the spores of the late blight pathogen are not dispersed as long distances as the cucurbit downy mildew pathogen.