If a book store gift card came your way over the holidays, I have a recommendation for you. Get "The Alchemy of Air" by Thomas Hager. Subtitled: "A Jewish Genius, a Doomed Tycoon, and the Scientific Discovery that Fed the World but Fueled the Rise of Hitler," this book is a fascinating tale of the scientific quest to prevent mass starvation by inventing a way to turn nitrogen in the air into fertilizer. It is an interesting exploration of the personalities, the politics, the pitfalls, and the progress that led to the perfection of the Haber-Bosch process: "a way to turn air into bread." Hager calls it "the world's greatest discovery."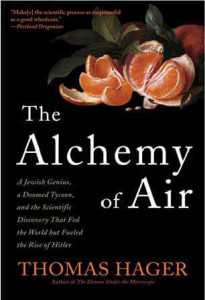 Hager explores the positive and negative applications of this scientific breakthrough and how it changed the way we grow food. It gave me a greater appreciation of just how important commercial fertilizers are. Half the people on this planet are here today because scientists 100 years ago perfected a process to make commercial fertilizers to help feed a hungry world.
Steeped In Stewardship
I had the pleasure of hearing Hager speak about his book at the Fertilizer Outlook and Technology Conference held in November in Tampa. For three days, inspiring speakers discussed how the fertilizer industry needs to gear up to provide the plant nutrients needed to feed a growing and hungry world while also protecting our environment. A common theme was the need to promote the adoption of the 4Rs of Nutrient Stewardship: right source of nutrients, at the right rate, the right place, and the right time.
In addition to the wealth of data shared, many of the speakers peppered their presentations with inspiring fertilizer-related quotes. Harry Vroomen, The Fertilizer Institute's vice president of economic services, shared a Chinese proverb: "With food in hand, you have peace of mind," and an essay by Microsoft founder and philanthropist Bill Gates in which Gates confessed to being obsessed with fertilizers: "These days, I get to spend a lot of time trying to advance innovation that improves people's lives in the same way that fertilizer did." ("Here's My Plan to Improve Our World — And How You Can Help," Wired.com, Nov. 12, 2013).
Reserve Resolve
Here in Florida, in the past five years, more of my time as an "agvocate" for the fertilizer industry has been spent on addressing water quality problems associated with excess nutrients in springs, rivers, lakes, bays, lagoons, and estuaries. What often is lost in the public debate on these issues is an understanding that nutrients are fundamentally essential to plant and human growth. We don't survive without them. On the other hand, an excess of nutrients in Florida waters isn't desirable either. We do need to work on the environmental impact of nutrients. But while we do this, we must not ever lose sight of the benefits fertilizers provide.
FFAA's mission is to promote the responsible use of plant nutrients and crop protection products in Florida. Our members are committed to working with growers, scientists, regulators, environmentalists, and residents on the implementation of best management practices for a sustainable environment: One that encompasses our lawns, landscapes, playgrounds, fields, groves, ranches, and our sun-kissed sparkling waters. We're for improved crop yields, better economic returns, and effective environmental protection. We're committed to a continuous process of striving to do better today than ever before. That's our New Year's resolution to keep.