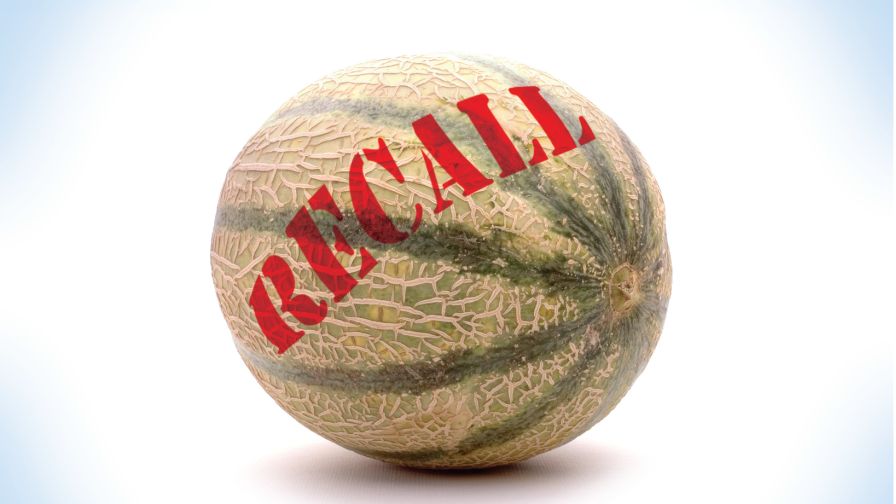 The phone rings in the middle of a busy harvest week, and you get news you don't want: Your produce needs to be recalled.
That would be an awful time to realize you need a more detailed plan of action than the bare bones one you put together to satisfy the Food Safety Modernization Act (FSMA). Recalls tap into too many volatile areas to allow for make-shift plans.
No matter how crazy your schedule is, there's room to work out what you would do in case of the worst-case scenario.
Take a page from Duda Farm Fresh Foods, which has locations in Florida and California. It not only has a plan, it conducts regular mock recalls so that everyone who will be part of a recall knows exactly what to do if that bad-news phone call comes in.
What Every Recall Action Plan Should Include
In a recall, how quickly you respond matters. If you can pull produce before it hits store shelves, it will not only protect the public, it also lowers the chance that you and your operation will be sued.
Gleaned from the FDA and Florida Fruit & Vegetable Association, here's a list of the tasks you need to plan for:
Step 1: Identify, isolate, and stop all sales of affected produce. First things first: halt the produce from moving further through the distribution chain.
Step 2: Initiate fact-finding. This is where all your hard work to document every touch point with your produce will pay off. Have a plan in place on exactly which documents you will need, and where the information is stored.
Step 3: Communicate with FDA. Take a look at the FDA's guidance on which details to share with the agency.
Step 4: Update employees. They will need to understand what is happening and how you will be dealing with the recall.
Step 5: Keep the team briefed. As each person on your recall team follows through on his or her task, they should keep you informed of their progress and of any issues that they run into. You, in turn, should keep everyone informed of what has been done and what hasn't. Communication can break down easily during a crisis, leading to errors being made.
Step 6: Send your instructions for returning the contaminated produce or destroying it in accordance with FSMA rules to all involved.
Step 7: Communicate with the public. If public health is at risk, you'll want to brief elected officials and create a news release to post to your website and social media. The FDA has sample press releases you can use. Take a look at the one for salmonella at: http://bit.ly/2u98ERo.
Step 8: Handle the media. Be prepared with statements for media inquiries and designate someone to give interviews if the recall reaches that level of awareness.
Step 9: Conduct effectiveness checks to verify your produce was removed from the marketplace, detained, and isolated.
Step 10: Determine that the produce is properly disposed.
Duda Farms Holds Frequent Mock Recalls
These 10 steps can seem straight-forward. But in reality they can get to be pretty complex.
We asked Amy Duda Kinder, Duda's Vice President of Food Safety and Sustainability, about why they do mock recalls and what they've learned from them. Through her descriptions of the dry runs, you'll see how many of the 10 steps play out in reality.
AVG: Will you describe how your mock recalls work?
Duda Kinder: The purpose of a mock recall is to evaluate our food safety system and validate our capabilities to expediently remove product from the market place, or, better yet, before it reaches the marketplace. Just like any safety drill, practicing a recall helps us build and maintain an effective team and process.
Our mock recall scenarios can be as simple or complex as we need them to be in order to test the various aspects of the recall process. The scenario could involve identifying a particular contaminate or a single production site, or testing one of our distribution networks or customer relationships.
Mock recalls also test our communications systems both internally and externally. Our internal communication system test looks at how well our multi-disciplinary working groups, such as food safety, legal, risk management, communications, harvest, sales, shipping, production, etc., efficiently communicate, and effectively achieve the shared goal of protecting the consumer. Our external communication/notification system test validates how well we work with our customers, regulatory agencies, and industry partners.
AVG: How often do you run the mock recalls? And when did you first start using them?
Duda Kinder: It is advised to test your system semi-annually or when process changes occur. Since our business model requires us to move to and from multiple growing and shipping locations, we test at every move.
AVG: Who all is involved with the mock recalls? And who isn't involved?
Duda Kinder: It's important to identify a recall team at each location/production area. The team should include members of the operation that are engaged in all aspects of the production of the food: location management, quality assurance and control, maintenance, grow, harvest, shipping and sales. Depending on the complexity of the mock recall test, the team also may include executive management and corporate service departments such as risk management, legal, and communications. Additionally, external contact lists are kept up-to-date to facilitate effective communication.
If the product is from an outside grower, supplier, or shipping point, all the involved parties will participate in the drill. In this case, the mock drill allows for us to test the effectiveness of our external communications system.
AVG: You mentioned that no one knows if the recall is real or not at the time of the drill. Why is that?
Duda Kinder: On occasion, we have internally set up recall drills with only one food safety representative aware it was a mock. We find it is a very effective way to evaluate our system under the "pressure-cooker" scenario of what appears to be a real event. However, not all of our mock recall tests are conducted this way, and we wouldn't include outside communication tests in this type
of scenario.
AVG: What benefits does Duda gain from these mock recalls?
Duda Kinder: We learn something every time we do a mock recall. Each mock recall event leads to a new understanding and process improvements. Every member of our company has a role to play in food safety and the mock exercises reinforce the shared responsibility and importance of collaboration. AVG