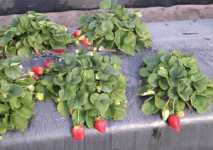 The Florida Elyana strawberry is a new cultivar released especially for production under protected structures like high tunnels or greenhouses. Elyana is a short-day plant that produces flavorful fruit. It is larger than Strawberry Festival, which covers the majority of acres in Florida.
Florida Pedigree
Florida Elyana strawberry originated from a 2000 cross between FL 96-114 and FL 95-200. FL 96-114 resulted from a cross between Sweet Charlie, a 1992 University of Florida release, and Cuesta, a University of California cultivar released in the early 1990s. FL 95-200 is a result of a cross between FL 93-46 and FL 93-66, both of which have a number of cultivars in their complex pedigree, including Rosa Linda and Pajaro.
Elyana is as productive as Strawberry Festival in December and January, but not as productive later in the season. This could be because its plant size is relatively small throughout the season, whereas Festival is more vigorous in terms of producing new branch crowns.
Growers may be able to increase the productivity of Florida Elyana on a per unit area basis by planting this cultivar at a higher than standard density. The cultivar is moderately resistant to the two most serious disease problems in strawberries in Florida — botrytis fruit rot and anthracnose fruit rot.
Elyana's fruit are quite susceptible to surface cracking, which is due to exposure to free moisture. Thus UF/IFAS is not recommending this cultivar for open-field culture, where there is a high likelihood of multiple rain or dew events during the fruiting season.
Tasting Good
After several years of trials, ripe fruit was tested numerous times in 2006 and 2007. At least 50 untrained panelists rated the fruit on appearance, texture, and flavor. "On most occasions, Elyana had a higher average flavor rating than the other varieties tested by the taste panels, says Dr. Craig Chandler, a strawberry breeder with UF/IFAS. "Its fruit are sweet and often have a hint of mango flavor."
Strawberry Cultures Around The World
In Florida and California, strawberries are produced predominately in open-field cultivation and production. However, in Japan and parts of Europe, such as Spain, France, and Italy, the protected strawberry system is widely used. Because of the differences in open-field and protected cultivation and production, it is necessary to select cultivars adapted to each specific situation. Florida Elyana is the first Florida-bred cultivar recommended specifically for tunnel and greenhouse production.