U.S. Rep. Tom Rooney (FL-17), a member of the House Appropriations Committee, said that the bipartisan omnibus bill, which will fund the federal government for the entire fiscal year released by the House and Senate Appropriations Committee leaders, will include $20 million in new funding he requested to help eradicate citrus greening.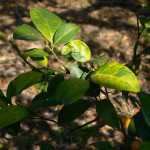 "In our state, especially the 17th district, citrus is more than a crop. It's a way of life, a part of our culture, and an economic boon," Rooney said. "Unfortunately, citrus greening is threatening to wipe out our citrus industry — and if Florida isn't producing oranges, Americans aren't drinking orange juice.
"By committing an additional $20 million in federal funding to fight citrus greening, we can better work with state governments, universities, and industry leaders to control, mitigate, and find a cure for citrus disease. This provision is vital to preserving Florida's citrus industry, strengthening our state's economy, and preserving a vibrant American food supply," Rooney added.
The omnibus spending bill contains all 12 regular appropriations bills for FY2014, with no area of the federal government funded under a Continuing Resolution, allowing the Appropriations Committee to fulfill its obligation of weighing and prioritizing each program individually, and targeting funding toward the most important and effective programs.
Source: Congressman Tom Rooney's Office