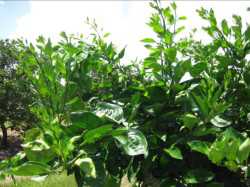 HLB has certainly delivered serious blows to the local citrus industry since its arrival. However, the death knell has not rung yet. In fact, through research, trial, and error, growers have found ways to live with the disease and maintain productivity in groves otherwise thought lost. Bob Rouse, UF/IFAS, gave attendees at the 2013 Florida Citrus Show the lowdown of what is working.
Over the last several years, Rouse has tracked the effects of nutritional therapy on trees' ability to fight the disease. "Most citrus growers are practicing a foliar nutrition program and seeing positive results," he said. Rouse pointed to results from grower Maury Boyd, who through his proprietary nutritional regimen, has reported impressive production from affected trees. Even though HLB has spread over time and reached 100% infection in Boyd's Valencia crop, Rouse said there is a bright side thanks to Boyd's cocktail. "Maury's trees have maintained for 8 years," he said.
In addition, symptom ratings and tree condition have improved in both mature and young Valencia trees over the last two years. While the cocktail is multilayered, Rouse broke down the standout elements, including micronutrients, macronutrients, phosphite for disease, and salicylic acid for growth flush stimulation.
Nutrition alone cannot sustain crops against HLB and its cumulative effects, cautioned Rouse. Psyllid management is key as it reduces continued inoculations and allows foliar nutrition to improve and maintain tree health while maintaining economical production. Even progressive pruning techniques to stimulate new growth are being reviewed. Bottom line, Rouse said, "HLB trees can be rehabilitated."
https://player.ooyala.com/player.js?embedCode=FhMTh3ZDpk82NOcw7HS-D_vN4yOARtTa&height=371&video_pcode=9yams6EXcBFt9lj0g8BNtt5lua9u&width=660&deepLinkEmbedCode=FhMTh3ZDpk82NOcw7HS-D_vN4yOARtTa