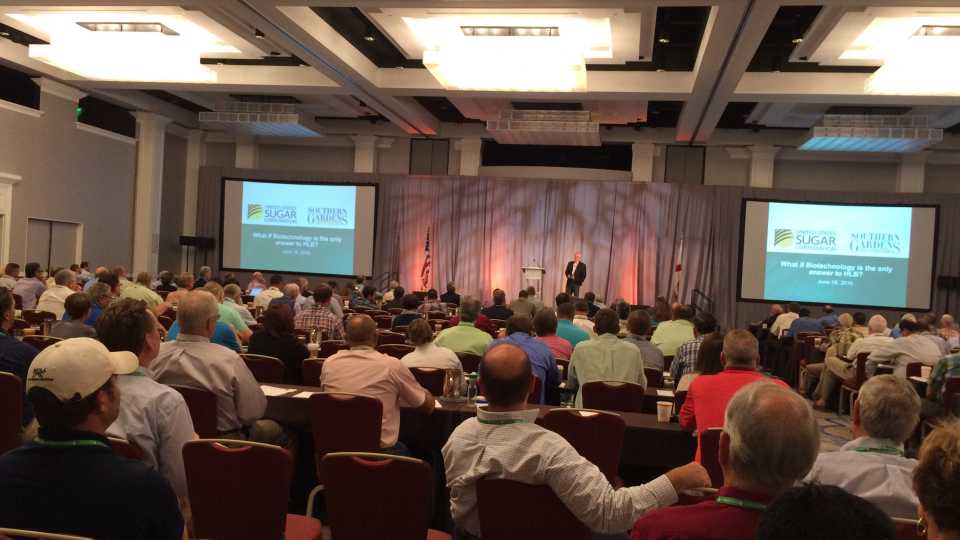 Two years ago at the Florida Citrus Industry Annual Conference, attendees of the education session were worked into a lather by Premier Citrus President Tom Jerkins, who led the chant, "We need bactericides now." Recalling that moment at this year's Florida Citrus Industry Annual Conference, one can't help but be impressed about how much the industry has fought and how far it's come in making that memorable vocal demand a reality.
Made available via a crisis exemption in March, bactericides were definitely top of mind for those in attendance at the latest edition of this signature gathering in Bonita Springs. Instead of clamoring for the chance to use the crop protection tools, growers now are seeking next steps and guidance around the steep learning curve ahead of them.
"I didn't think two years ago we'd now have three [bactericide] products (FireLine 17 WP, FireWall 50 WP, and Mycoshield) in growers' hands," commented Harold Browning, COO of the Citrus Research and Development Foundation (CRDF), to attendees in the education session.
Browning's CRDF colleague, Dr. Stephanie Slinski, led a presentation discussing ongoing and new research projects vetting bactericides, which probe if oxytetracycline and streptomycin are enough. Three areas of focus Slinski mentioned are discovery, delivery, and field efficacy.
Research field crews are being sent into groves to evaluate differences in myriad criteria involving application, varieties, adjuvant options, etc. The intention is to have a large data pool of what works and what does not, Slinski said.
As far as early expectations of bactericides, Slinski said she was most confident in being able to spot differences in disease severity. "If you have good control data, then you'll have some indication," she noted.
There is hope that in the coming weeks, EPA will expand access to bactericides beyond the section 18 crisis exemption.
Scroll through the photo gallery above for more highlights from the 2016 Florida Citrus Industry Annual Conference, including the Citrus Achievement Award ceremony.
With the latest responses from EPA actually expediting quicker than normal wait times (11 months), Ricke Kress of Southern Gardens Citrus, who is on the front lines of bringing transgenic citrus to fruition, said he was confident the message of urgency is being delivered to regulators. "The agencies in D.C. know how bad the situation is, and they are working well with us."
With more time and money invested in this specific area of research, including further testing how the citrus tristeza virus could be used for beneficial, disease-resistant purposes, Kress said there could be biotechnology commercially available to the citrus sector in as little as two to four years. However, consumer approval is a major obstacle ahead. The takeaway message from Kress focused on Florida's continued commitment to leadership in citrus production. "Nobody can compete with us on quality," he said. "It's up to us to finish the job and move forward."
A critical part of the future is to put new trees in the ground. Mike Sparks, Executive VP/CEO of Florida Citrus Mutual, put a cap on the educational session discussing planting incentives. Several encouraging pieces of legislation, especially a proposal on expense methods for tax purposes could be a "home run," according to Sparks. "Tree, labor, and land preparation costs could be expensed in the first year incurred," Sparks said. "I'm optimistic this will get passed."
Despite the potential in new technologies and planting incentives, Sparks parted by painting a picture that puts into perspective how much work still needs to be done. "We need 20 million trees to be re-planted to reach our pre-HLB production levels."