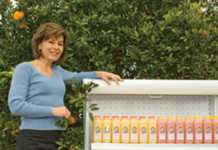 There's no accounting for taste, unless that's your profession. Since 1989, Ft. Pierce-based Orchid Island Juice Co. (OIJC) has made a splash by squeezing, bottling, and shipping some of the best tasting orange juice on the market. The company, which specializes in fresh-squeezed and gourmet-pasteurized citrus juices, has several national taste-test awards to back that claim up. According to Marygrace Sexton, OIJC's co-owner and CEO, procuring the highest quality Florida fruit is the main reason why the juice is so good. "Florida oranges are the best tasting in the country," Sexton says.
In its constant effort to find citrus with optimal brix/acid ratio for juicing, Sexton says the company's criteria is based on quality and never on cost. "It's difficult because we're smaller and we can't just put in 100 truckloads a day," she says. "We're really specific when it comes to the fruit."
Having an eye for quality comes with experience and a little help, too. Sexton says her husband and company co-owner Robert, brings a grower's perspective to the mix. "He's more the grower and packer," Sexton says. A fourth-generation Florida grower, Robert's know-how, which is bolstered by years of working at and leading Oslo Citrus Growers Association (the oldest packinghouse on Florida's East Coast) has come in handy in helping the juice company find its legs. "We started out getting citrus from our own family groves, and we very quickly grew past that," Sexton says.
Today, OIJC works with growers all over the state, including some operations which they have been doing business with for 20 years. "We have a core of strong relationships with growers and always entertain new ones," she says.
Main Squeeze
Having the right ingredients is a start, but what you do with them is what makes the difference. While the fruit is the star, Sexton thinks OIJC's choice in squeeze technology also might have something to do with its success. "What we chose is a softer squeeze. So it's not compressed so hard that peel oil gets into the juice," she says. "We lose a little yield, but it's worth it to get the quality."
The daily grind of squeezing, packing, and shipping fresh-squeezed juice products is demanding on personnel and equipment. Sexton says if it feels like they are working around the clock, it's because they actually are. She says they do a lot of squeezing in the middle of the night because of the facility's busy location on U.S. 1. "When you have a fresh-squeezed product, you really want to squeeze it and get it on the road," she says. "So, if you're backing in fruit trailers at night and then squeezing, you're bottling out and shipping your trailers during the day."
Going To Work
The constant buzz of all the moving parts of the operation signifies success in Sexton's eyes. "Employing people is really important to us," she says. The work atmosphere truly has a family feel, especially with Sexton's three brothers (Frank, John, and Bil Martinelli) who work there, not to mention the juice product labels that sport the name of Marygrace and Robert's oldest daughter Natalie. "We have been blessed with a nice puzzle of people," Sexton says. "Everybody's different, but everyone has an important role."
With an executive team that averages around 15 years in experience, employee longevity is a strong suit. "We have very low turnover," Sexton says. "We provide them with health benefits and try to make it attractive for them."
Indeed. Late last fall, the company was named one of St. Lucie County's 2009 Best Places To Work. In its first time applying for the honor, the result was something to be proud of. "We won based on low employee turnover, the amount of money spent on employee training, the employee benefit package, which contributes to the low turnover, the 100% participation in profit-sharing, health insurance for all employees, and the community outreach," says Lisa Rymer, OIJC's marketing director.
Giving back to the community is one of the pillars the company was built upon. Outreach includes donations to non-profit organizations, fundraiser participation, and financial resources given to help the poor and the next generation of scientists, farmers, and ag specialists. For the last couple of years, high school and college interns have had the opportunity to log time and learn about the business, which has been beneficial to all. "We're not getting any younger at the top level," Sexton says.
Bring It On
Satisfaction from a job well done does not come without putting forth the effort. Sexton says being in an industry that requires high standards means knowing what to expect and what is expected. "The government regulations on food in America is getting very challenging," she says. "The fresh-squeezed juice industry is probably the most regulated in the U.S."
While daily visits from government inspectors and conducting third-party inspections for customers can be taxing and costly, Sexton says there is nothing wrong with transparency when you are doing things right. "We love inspections and encourage audits," Sexton says. "They only make us better."
In addition to internal pressures, outside forces also continue to make it difficult to stay competitive in the juice market. "If less juice was imported, the value of the Florida orange would increase, the Florida grower would feel better about themselves, and it would be better for the industry."
Standing behind their product and exploring the option of private labeling also has helped OIJC sustain success. "We are the largest private label fresh-squeezed and gourmet juice company in the U.S.," Sexton says.
The private-label route has been another way for OIJC to spread a Florida product across a wider audience. "There is an honor in doing private label for some of the most exclusive grocery stores in the U.S," she says.
Global Appeal
Going from just an export company to one with a global presence is part of what's on the front burner for OIJC. Flash-freezing technology has enabled them to bring a taste of Florida sunshine to distant shores. The company already has established itself in Japan and France, and is looking to expand its European reach. Adding an employee dedicated to nurturing the overseas ventures is being considered. "We're really going to be heavy in exposing our product overseas," Sexton says.
In attempting to break into new markets, explaining the fresh-squeezed difference often can get lost in translation — even more so when dealing with language barriers. Sexton says, in that case, tasting is believing. "It's a little bit of an education process," she says. "Thank goodness they taste it, and then want to get educated."