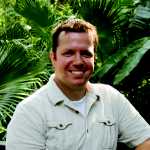 Six simple words blurted out of my TV as I was breezing by it recently made me pause: "Farmers are the cornerstone of America." Well said! Totally diverted, my attention was turned to a primetime "reality" show of all things. What made me stay and watch further was realizing those words were directed toward a familiar face. Johnny Georges, an ag businessman from Arcadia, FL, was front and center on ABC's "Shark Tank." The premise of the show is based on eager entrepreneurs showcasing their idea(s) to a panel of self-made kajillionaires (the sharks) in hopes of impressing at least one of them to bite (invest). Johnny was pitching his Tree T-Pee, a piece of recycled plastic designed to fit around and not only protect seedlings from harsh elements, but also help conserve water by keeping errant irrigation spray in check.
By the time I stopped to watch, the show was concluding. Johnny had just sealed the deal with John Paul DeJoria of the Paul Mitchell hair care empire. Appearing humble and shocked, Johnny now had a new business partner with plenty of horsepower to make the Tree T-Pee a household name among farmers worldwide. Way to go, Johnny!
Wanting to see how the whole pitch played out, I visited the show's website for a replay. During his plea, Johnny said: "We're gonna change the world." That obviously struck a chord with DeJoria, a sustainability minded mogul. Those words brought back a fond memory for me, too. It didn't seem that long ago when I shot a video with Johnny at his booth during the 2011 Florida Citrus Show. In the video, he described the Tree T-Pee and its benefits. "It's really gonna change the world," he said.
Fast forward to present day. With a lot of work, some luck, and now a load of support, his vision has taken a giant leap toward reality. Pretty cool. But, what about the rest of us?
Start With One Step
Given the meager probability that a reality show will come calling, growers and other industry stakeholders will have to take heart (without the fanfare) what they are doing is making a difference. Indeed, it was nice to hear someone applauding the farming profession on a popular TV show. Producing food and fiber for the populous is the base of the "cornerstone" DeJoria was referring to. Stewardship of the land also is a big part of the mix. Modern technology and tools, combined with best practices, are being used by many of today's growers to prosper and preserve.
Stay Tuned
The 2014 Florida Citrus Show is almost here. Once again, I'm looking forward to learning the latest in research, tasting new varieties, and checking out the unique products, services, and ideas around the trade show. If you're planning to go, keep your eyes and ears open. You may just stumble across something or someone that can change your life — for the better.