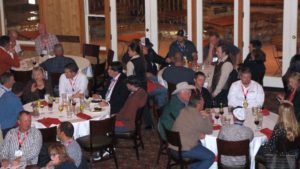 The spectacular mountains of Utah were again the backdrop for VegetableGrowerConnectSM where 16 vegetable growers convened along with supplier operations for private, one-on-one meetings. The location for the event was the Silver Baron Lodge in Park City, and it provided growers with a unique opportunity to meet with suppliers and discuss solutions specific to each operation.
This annual event, which was held in November, brings together some of the most progressive vegetable growers in the Western U.S. with suppliers offering solutions ranging from crop protection and plant health products to the latest technology.
Before heading to Park City, each grower took part in an in-depth interview to uncover the operation's most pressing needs and areas of interest. Suppliers were recruited in categories that could provide solutions to those interests or needs.
VegetableGrowerConnect culminated in two days of 50-minute, decision-maker-to-decision-maker meetings between growers and suppliers.
Grower Perspective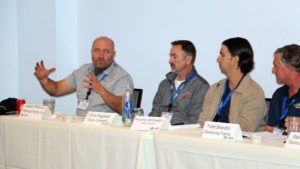 Tommy Van Groningen, a Pest Control Advisor/Field Operations at Van Groningen and Sons in California, talked about the benefit of having 50 minutes to sit down and talk to suppliers. "The meetings help us to address some of the issues we are having and also hear what suppliers have to offer going forward for whatever our needs are," he said.
In fact, he said his operation has plans to trial some products he was introduced to at VegetableGrowerConnect.
Roselyn Yazzie, Region 1 Operations Director at Navajo Agricultural Products Industry in New Mexico, also plans to trial a crop protection tool she was introduced to in one of her meetings: a product for nematode control.
Suppliers Weigh In
The Connect provides suppliers with an opportunity to open a dialog about areas in which they can help while focusing on the specific needs of each grower.
When asked for his overall thoughts about the event, John Sorenson, Director and CEO/President of Vestaron Corp., had one word to say: tremendous.
"The one-on-one meetings with the growers are very powerful," said Sorenson, whose company develops and markets bioinsecticides. "It gives us enough time to explore each other's businesses, talk about our product, and find out about their needs. [The meetings] are timed exactly right."
Echoing the sentiments of Sorenson, Steve Chamberlain of Conservis said the Connect was well organized, and he was pleased with the growers' level of engagement during meetings. Conservis is a developer of farm management software.
"[The growers] came in with a genuine interest in what we were doing and to learn more about it," said Chamberlain, who is the Vice President of Strategic Accounts. "We had an opportunity to learn more about what they were up to and to see if there was an opportunity to move beyond that to do business in the future."
The 2018 VegetableGrowerConnect will be held Nov. 13-16 in Park City at the Hyatt Centric. Go to VegetableGrowerConnect.com for more information.