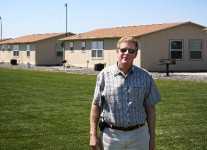 Scott McDougall at McDougall & Sons in Wenatchee, WA, is one of these growers; in fact, Scott and his brother Stuart are owners of one of the largest growing operations not just in Washington, but in the nation. McDougall & Sons ranked #15 on American/Western Fruit Grower's 2010 Top Apple/Pear Growers list, with about 2,675 acres of apples, pears, and cherries. However, thanks to his involvement in the H-2A program, McDougall has been able to successfully deal with at least one major headache, and has turned it into a workable solution.
Starting With The Details
McDougall & Sons began using H-2A in 2008 when it hired 60 foreign workers through the program. "We were having problems retaining enough workers, and needed to make sure all our fruit could be harvested," says McDougall. "We got into the program so that we would not have to worry about having enough people every year." Not only that, but McDougall also says the company needed to be sure that all jobs on the farm, including thinning, could be done in a timely fashion.
The process of hiring through H-2A begins 90 days prior to when workers are actually needed. With the help of an outside agency, McDougall and his team first head to Mexico to start their recruiting effort. They also advertise nationally in three locations (as directed by the Department of Labor), and maintain open job orders at regional employment offices. They will also contact all prior employees to notify them of the opportunity to be hired.
The H-2A hiring contract is very specific in what it must include: orchard details, job duties and responsibilities, discipline policy, and days and hours of work (75% of these hours must be guaranteed).
Investing In The Future
Perhaps the biggest benefit to using H-2A, says McDougall, is that it guarantees the company personnel to perform vital orchard jobs such as thinning, tree training, and harvest while providing employees steady work and housing. "It gives us a workforce we can bring in when we want," says McDougall.
In 2009, McDougall & Sons had 119 foreign workers employed through the program; by 2010, that number had jumped to 190. Of these 190 people, 103 of them were workers from the 2009 season who decided to come back (a return rate of 86%). In 2011, McDougall estimates the company will require at least 220 foreign guestworkers.
It's not just the reliable supply of workers that is important. With such a high return rate, McDougall has been able to line up a trained workforce, which provides a great return on investment. "There are some real efficiencies to be gained in having experienced people come back," says McDougall.
Because the workers are employed under a contract, they already know what they will be getting paid, and that they will have housing. "They would not come back if they were not happy," says McDougall. "It's a nice thing for them to know they're up here for a certain period of time, and get to go back down and be with their families again."
A Necessary Challenge
In spite of these benefits, McDougall acknowledges that the H-2A program is not for everyone. "You need to be a certain sized grower to justify adding the infrastructure," he says. At a time when business costs are mounting, this is no small concern. Compounding the cost is that wage rates are constantly changing. "It's a moving target every year." As noted earlier, new regulations by the Obama administration will push wages much higher. In addition, the approximate cost of housing is $11,500 per bed, no small investment.
In order to manage the countless small details that go along with H-2A, McDougall & Sons relies on a team that includes Scott, a human resources manager, three assistants, and a full-time housing manager. This administrative element is critical, McDougall says. "These people put in a tremendous amount of time when the contract period begins."
When McDougall & Sons first opted to enter the H-2A program, the economy was still chugging along. Since this time, with the housing and construction market in the tank, McDougall admits that finding an adequate labor force may not be as much of a challenge now as it was then. However, he makes two very important observations.
First, McDougall is quick to counter the myth — heightened during today's period of high unemployment rates — that by hiring foreign workers, the agriculture industry is taking away jobs from potential domestic workers. The fact is, like other growers, McDougall advertises his job openings to both domestic and foreign candidates. During their active recruitment period in 2010, 1,023 domestic referrals were tracked. Out of that number, only 266 workers (26%) accepted the contract. And of the 266 people, only 39 were still employed after 30 days, a 3% retention rate. "There really are not a lot of people who want to take these jobs," says McDougall.
Second, McDougall points out that the economy is likely to rebound at some point. When that happens, the fruit industry will need to have a reliable guestworker program that is easy for all growers to deal with. The initial reason McDougall started using the H-2A program was to be able to harvest enough fruit for a year-long marketing season. This concern will not go away when the economy improves. "Two years down the road, the people who have invested in the infrastructure of a worker program will be the least affected," he says. "They will be the ones who will have the best capability to harvest their crops."