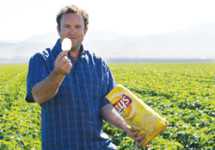 Lay's potato chips were part of a nationwide marketing campaign launched in May called "Lay's Local," highlighting some of Frito-Lay's potato growers in California, Florida, Maine, Michigan, and Texas.
Part of the campaign includes national and regional television advertisements featuring interviews with some of these potato growers. In addition to the television spots, the Lay's Local campaign also includes national print advertising, a message on packages, and in-store displays customized for each state that has local connections to the potato chips.
Contributions To The Brand
According to Chris Kuechenmeister, director of public relations for Frito-Lay, what initially prompted this marketing campaign was the fact that so many people across the country have helped make Lay's potato chips successful.
"'Happiness is simple' — the tagline for the Lay's brands — celebrates the simple pleasures of life," Kuechenmeister explains. "When we looked at the people and places around the country, such as the farmers and where the potatoes are grown, we wanted to celebrate those people who make those contributions to the brand.
"People aren't aware of the reach the brand has and how a variety of states contribute to the brand," he continues. "We make potato chips in 18 states."
Kuechenmeister says several growers were interested in getting involved in the campaign. "We have an annual growers meeting where our 80 farmers from 27 states come together," he says. "We presented this marketing strategy to them, and many expressed interest. Lay's wanted to cover a broad geographic location. We know a lot of these [growers] are busy, and we wanted to make sure they were available and had an interesting human
interest story. So, that played a role in who got into the ads."
A Top 100 Angle
One of the growers who participated in the marketing campaign was Brian Walther of Michigan's Walther Farms. Located in Three Rivers, Walther Farms grows about 8,000 acres of potatoes, and in 2008 the farm was ranked No. 6 on American Vegetable Grower's Top 100 list in the North. Just last year, Walther Farms was the recipient of Frito-Lay's Grower of the Year Award.
How did Walther feel about receiving the award? "It was great," he says. "It was a team effort. In spite of a tough year in 2008, with rising costs, Hurricane Ike, and 12 inches of rain in a three-day period in September, we had a really good year."
He adds that this wasn't the first time the farm received accolades from Frito-Lay. They took home a similar award about 12 years ago.
Being asked to participate in the marketing campaign also was a great honor, says Walther. "We were happy to do it. A lot of people don't know that Michigan is the dominant force in producing the potato chip potato. In fact, Michigan produces the most potatoes for chipping in the U.S."
And, in spite of a tough economy, Walther says potato chips are holding their own. "Believe it or not, potato chip sales have increased from previous years," he says. "People are spending more time at home, snacking on potato chips. As the public is eating potato chips, potato farmers are loving it."