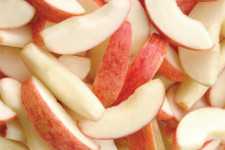 Supplying fresh-cut apple slices to schools is the goal of a pilot program USDA hopes to launch by Sept. 30, the end of the current fiscal year.
The idea is notable because in the past, USDA has focused mostly on purchasing surplus products from the fresh market, creating frozen, canned, or dried items from them for schools and food banks. David Tuckwiller, chief of the commodity procurement branch of the Agricultural Marketing Service's (AMS) fruit and vegetable programs, cites this fact as one of the reasons AMS decided to consider the pilot program.
"First, our fresh fruit and vegetable purchases have decreased over the last few years. In addition, a proposal from USDA in the Farm Bill suggested that more money be put into fruit and vegetable program purchases, especially fresh cut," he says.
The program would involve schools that already purchase sliced apples and have an established distribution system. USDA would buy sliced apples from processors, with the product then being shipped to distributors. Participating schools would cover the cost of delivery from the distributor. States and numbers for the schools have not yet been determined.
Lorelei DiSogra, vice president of nutrition and health for the United Fresh Produce Association, predicts success for apple slices in schools because of the thousands of schools across the U.S. that have generated demand for the fruit. "I was really excited to hear about the pilot program. Schools want fresh-cut apples. For the industry, this could almost rival the impact of the McDonald's apple slices deal," she says.
Apples were chosen for the pilot program for several reasons. The fruit's popularity was one reason; a large number of schools repurchase apples. Timing is another reason apples were chosen. AMS, hoping for a fall 2008 launch of the pilot program, started discussing the idea with vendors and processors last spring. Apples are a fall season crop, so they were the most logical choice for the original proposed fall launch date.
Crunch Pak LLC of Cashmere, WA, which has been supplying sliced apples to schools for the past six years, recently expanded its plant in anticipation of the USDA pilot program. Crunch Pak National Marketing director Tony Freytag pointed out the huge impact that creating a separate category for apple slices would have on suppliers. "We see this as a consistently growing category. This offers another segment of the market we can go into," he says.