While the world continues to cope with COVID-19, meteorologists are keeping an eye down the road at what the 2020 Atlantic hurricane season might bring. According to the extended-range forecast just released by Colorado State University (CSU), folks might want to prepare now for more above-average activity from the tropics.
"Current warm neutral ENSO (El Niño/Southern Oscillation) conditions appear likely to transition to cool neutral ENSO or potentially even weak La Niña conditions by this summer/fall," Climatologist Phil Klotzbach and colleagues report in their forecast. Historically, neutral or La Niña climate conditions are more conducive for tropical storm development in the Atlantic basin. "Sea surface temperatures averaged across the tropical Atlantic are somewhat above normal."
Recall a year ago when the Colorado State forecast was predicting a "slightly below normal" hurricane season. The campaign ended up churning out 18 named storms, 6 hurricanes – half of which were major, including record-breaking Hurricane Dorian.
Numbers indicate the 2020 Atlantic hurricane season could continue what has been a tumultuous pattern since 2016.
CSU's 2020 Atlantic Hurricane Season Forecast Specs
* Named Storms: 16
* Hurricanes: 8
* Major Hurricanes: 4
In addition, Klotzbach and crew are anticipating an above-average probability for major hurricanes (categories 3-5) making landfall along the continental U.S. coastline and in the Caribbean.
Entire continental U.S. coastline – 69% (average for last century is 52%)
U.S. East Coast Including Peninsula Florida – 45% (average for last century is 31%)
Gulf Coast from the Florida Panhandle westward to Brownsville – 44% (average for last century is 30%)
AccuWeather also recently released it's 2020 hurricane season predictions. The numbers are in line with CSU's forecast.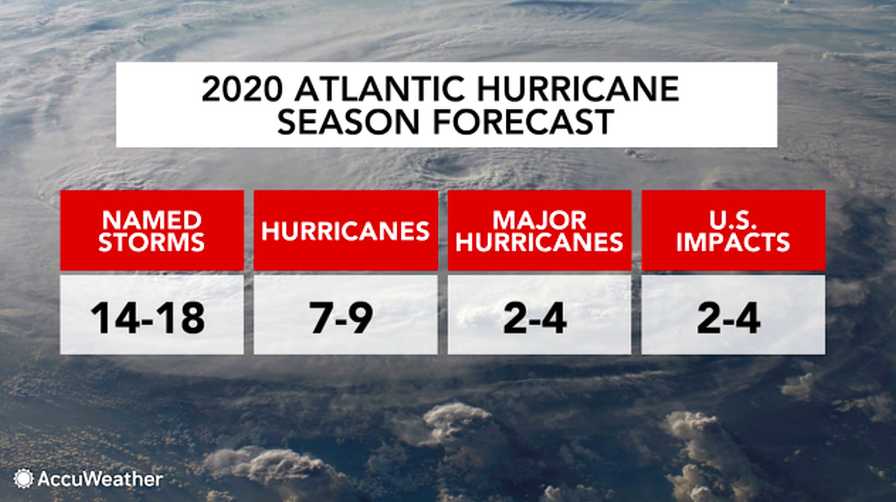 CSU's Tropical Meteorology Project is scheduled to release an updated forecast on June 4.
NOAA has since chimed in with its Atlantic hurricane season outlook. Similar to other predictions, the government agency is expecting a busy campaign. And so far it has been — even before the season's official start, — with three tropical storms already in the books (Arthur, Bertha, and Cristobal). Flooding rains and tornadoes across the entire Gulf Coast from Louisiana to Florida were a direct result of Cristobal, which made landfall near New Orleans.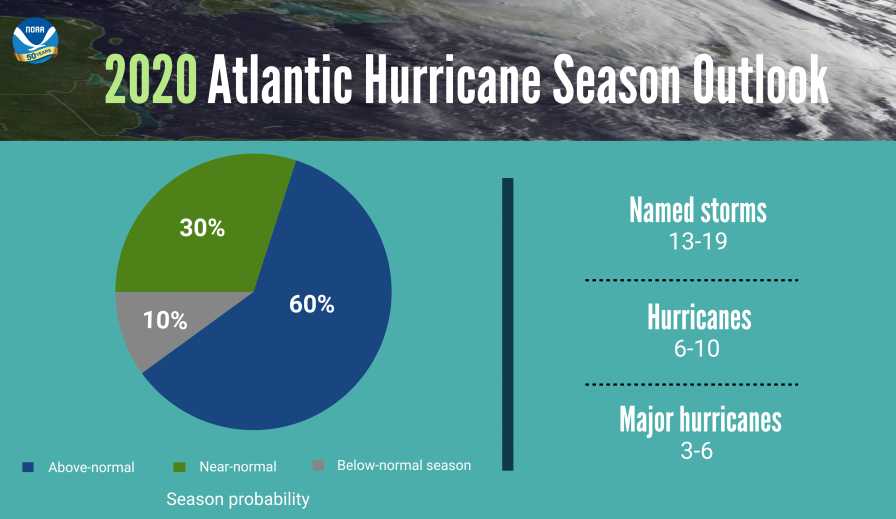 The Atlantic hurricane season officially begins on June 1 and runs through Nov. 30.
1
1
5
What the 2020 Atlantic Hurricane Season Has in Store