The calendar might say August, but some are already looking way ahead to winter. Producers of the Farmers' Almanac and The Old Farmer's Almanac are warning folks to prepare for what sounds like an extra cold and snowy winter campaign. This is in contrast to what was in the forecast last year.
Now celebrating its 201st edition, the Farmers' Almanac is predicting winter 2019-2020 will provide quite the "Polar Coaster" of weather.
A few takeaways from the 2020 Farmers' Almanac extended winter outlook include:
The biggest drop in temperatures is forecast to take hold from the northern Plains into the Great Lakes. The Northeast will experience colder-than-normal temperatures for much of the upcoming winter. Only the western third of the country will see near-normal winter temperatures.
The coldest outbreak of the season should arrive during the final week of January and last through the beginning of February.
Above-normal winter precipitation will be seen over the eastern third of the country as well as the Great Plains, Midwest, and the Great Lakes. The Pacific Northwest and Southwest should see near-normal precipitation.
For those who live northeast of the Texas Panhandle to the western Great Lakes, watch out for what could prove to be a memorable storm producing hefty snows for the Great Plains during the third week of January. This system will cause temperatures to plummet and drag the coldest Arctic air across the rest of the country into the beginning of February.
Spring 2020 will be slow to start with winter lingering across the Midwest, Great Lakes, Northeast, and New England. Occasional wet snow and unseasonably chilly conditions will hang on until around April.
The Old Farmer's Almanac, which was founded in 1792, also is promoting its 2020 edition. Predictions for a harsh winter season are in line with its counterpart publication.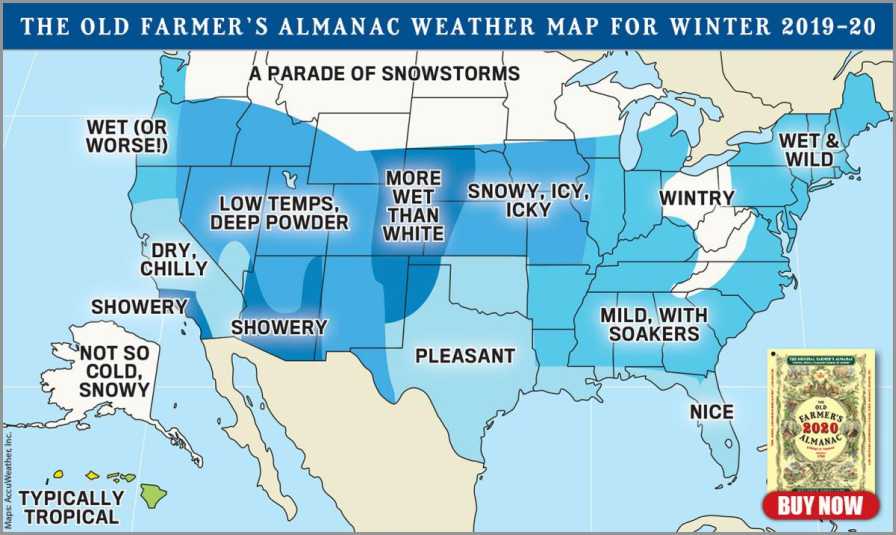 Both long-running publications claim to employ proprietary methods to craft their outlooks, and both boast more than 80% accuracy over their respective histories. Guess we'll find out soon enough.