Apple Industry Experts are excited about the coming year, mainly because Americans are munching more apples.
That's also a good sign for ensuing years, industry players from around the country heard over and over again in August at the U.S. Apple Association's (USApple's) 120th annual conference in Chicago.
Fresh apple consumption was forecast by USDA's Economic Research Service to nearly hit 20 pounds per person during the 2014-15 season, noted Mark Seetin, USApple's director of regulatory and industry affairs. Consumption hasn't approached 19 pounds since the 18.8 pounds consumed in 2004-05, and took a dive for nearly a decade after.
The projected 19.7 pounds per person would be up nearly 30% from just four years ago, when it hit a low of 15.3 pounds.
"Consumption is at a 20-year high," said Seetin, pointing to the popularity of new varieties such as Honeycrisp as the reason for the jump in consumption.
As far as the nation's crop, USApple's projection for the current seasons is 234.8 million bushels, which is 7.4 million bushels less than USDA's August 12 forecast of 242.2 million. The most significant difference between the USApple and USDA estimates was with the Washington state crop, where regional industry experts reduced the USDA estimate of 150 million bushels by 7 million due to weather-related causes. There's reason to trust the USApple estimate, as Seetin's forecast has been more accurate than USDA's in three of the past four years.
"We are looking forward to an excellent apple crop in 2015 with great-tasting, fresh apples being harvested steadily through November. Flavors will be exceptional and there will be a wide selection of varieties for all tastes," noted Jim Bair, USApple's president & CEO. "The industry's export earnings and sales volumes reached new records last year and we look forward to another successful season."
More than 300 people attended the conference, including 57 from 15 foreign countries. "It's clear this conference has become the go-to source for critical apple industry information," said Bair. "We're thrilled with the growth."
Top Grower Honored
The audience was treated to the presentation of American Fruit Grower® and Western Fruit Grower™ magazines'  Apple Grower of the YearSM award. Bill Dodd, a fourth-generation U-pick grower in Amherst, OH, was clearly moved by the honor, calling it one of the high points of his professional career.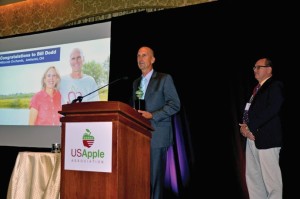 Dodd thanked all the people in the room for helping him in some way, especially his family. His voice cracked with emotion just slightly as he uttered the word "family," mentioning and pointing to his wife, Diane.
He also made an announcement that would make any apple grower/father proud: "I got some great news recently, my son wants to continue our farm, so we're excited about that."
The presentation included one video highlighting his Hillcrest Orchards and another showing the industry luminaries who have been honored through the years. Dodd said a part of him still couldn't believe it.
"Watching the list of growers who have won the award in the past," he said, "I never dreamed I'd be mentioned with those people."
After the ceremony, Dodd noted that those industry leaders had helped him immeasurably, and mingling with them through organizations like USApple, where Dodd once served as chairman, was vital.
"Selfishly, I take a lot from the people I've known, I've learned a lot," he said. "The knowledge that I've gained by being part of those associations has rewarded me 10-fold. Organizations and associations are so important for this industry."
New Varieties Key Success
Dodd said he was energized by the direction of the apple business as a whole, and agreed that it was the new varieties that were leading the charge.
"The new varieties that are coming along — we had a slide this afternoon showing the increase in consumption, which is the Holy Grail for the apple industry," he said. "We can grow as many apples as we want but if we can't get consumers to eat them, it's going to be a struggle."
He also hailed the local movement, which is a real boon to smaller growers like himself. But besides satisfying consumers' desires to eat local, the movement has the additional benefit of allowing growers like him to teach the average citizen — who is entirely disconnected from agriculture — a little bit about farming.
"People just do not know where their food comes from," he said. "They're not familiar, they're not aware, they have this old romantic vision of a 40-foot tree and a 50-foot ladder and that's not the way things are done.
"While they're having this experience of picking apples they also need to know educationally that this is where their fruit comes from and this is how it's actually produced," he continued. "It's mainly on trellises now, and it's more like grapes than the traditional apple orchard."
Behind The Numbers
As noted above, the reason for the forecasted decline in the nation's crop this year, 14% from 2014, was mainly due to an 18% drop in production in the West. Approximately two-thirds of the nation's apples are grown in the state of Washington alone, which is expected to decline by that same 18% figure.
Seetin said the drop in the West was surprising in its severity, because they have increased per-acre productivity by leaps and bounds, but it wasn't like they have had the greatest growing conditions. Besides the severe drought, there has been an attendant rise in the number of severe wildfires.
"So you could say it was surprising it wasn't a greater drop," he said, "especially when you consider the previous year was a record crop."
Indeed, while the crop in the West is expected to be well off 2014, it's only supposed to 3% less than the five-year average, and the national crop is supposed to be just 1% off the five-year average.
The per-acre productivity noted by Seetin hasn't been limited to the West. Over the past decade, nationwide there has been a 15% drop in bearing acres, but at the same time the per-acre average increased from 556 to 845 bushels. Seetin said that's an increase of 52% in yield per acre.
If you go back two decades, the numbers are even more amazing. In 1995, U.S. growers produced 252 million bushels of apples on 468,000 acres. In 2014, on 322,000 acres, they produced 272 million bushels.
"That's 20 more million bushels on 30% fewer acres," said Seetin. "That's pretty astounding."