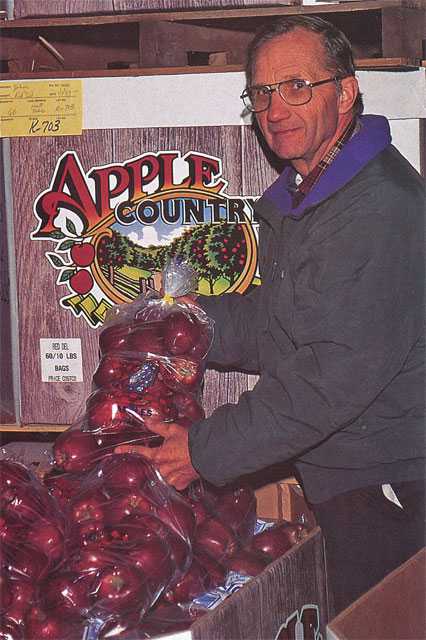 What do you call a grower who is willing to try new production systems? Who cooperates with extension specialists on field tests? Who has been a leader in his region's conversion from producing processing fruit to growing fresh market apples? Who was the catalyst for the formation of a partnership of local growers to collectively store, pack, and market their fruit? Who is an officer in organizations ranging from his state horticultural society to a national apple association?
If his name is George Lamont, you call him American Fruit Grower® and Western Fruit Grower® magazines' Apple Grower of the Year.
Change And Growth
The history of the Lamont family farming in western New York's Orleans County goes back to 1815, with fruit growing commencing about 60 years later. But deep roots don't equate with being stuck in the mud.
In an area known for producing processing apples on big trees, Lamont began to develop a new vision in 1962 when local grower/nurseryman Fritz Wafler persuaded him to attend a meeting of the International Dwarf Fruit Tree Association. But 1971 was the pivotal year that initiated a major transition to fresh market apples.
"I saw that Washington had become the biggest supplier of processing apples without growing a single processing apple," he says.
Lamont realized that the volume and price of fresh-market culls being processed would reduce or eliminate potential profits from processing apple orchards. Lamont's conversion from process processing to fresh and a major orchard expansion that would push fruit acreage to about 900 acres were in full swing in the 1970s. Dwarf and semi-dwarf orchards were planted, and a packing line was added.
Surviving The '80s
But difficult times followed the expansion. Ask most growers to identify their toughest trial, and they'll probably relate a story about a weather-related disaster or the year the
barn burned. But ask Lamont, and the answer will likely be "the 1980s."
A combination of factors, including high interest rates, delivered a blow to many fruit growers. A knockout punch was delivered to a farm equipment dealership jointly owned by Lamont and his brother Roger. And with the recent investments in new orchards, pressure on Lamont Fruit Farm was very high.
Market conditions were inconsistent, with tart cherries (then an important crop for the farm) taking a dive in prices, and the Alar scare blasting apple markets in 1989. The situation demanded difficult adjustments.
"We were into 'downsizing,' and we had never even heard of the word," recalls George. "We cut back to those orchards that we were reasonably sure would be profitable and that we could properly manage ourselves."
Fruit acreage was reduced to about 500 acres, and no new orchards were planted from 1985 to 1991. But good things did emerge from trying circumstances. Focusing management and resources on the better blocks strengthened the operation.
And the '80s also marked the creation of Lake Ridge Fruit Company, a partnership between nine area growers. With Lamont's encouragement, a modern cold storage/packing plant was built, which has grown to 450,000 bushels of controlled atmosphere capacity and 150,000 bushels of regular storage.

Back On Track
The evolution of the farm continues into the '90s. New plantings resumed after 1991 and now total around 200 acres, bringing total fruit acreage to just under 700 acres. And after experimenting with many different systems, he settled on the vertical axe system. Which George describes as "close to scientific neglect."
As much as possible, you let the tree grow as it wants to," he explains.
A typical vertical axe planting on his farm is on M.9 rootstock at a density of 400 to 600 trees per acre. A single wire with a bamboo pole at each tree is used for support, with the trees topping out at 10 feet. He is currently experimenting with various fertilization schemes in an attempt to improve fruit quality.
"With the right nutrition, it is possible to increase the firmness of McIntosh apples by two pounds," he says.
Variety selection remains a key concern.
"The variety we have been hanging our hat on is Empire," says Lamont.
But outside of New York, it has not achieved the hoped-for level of market acceptance. A goal of growing 40% Empire has been scaled back to 20%, and popular varieties such as Gala and Fuji are being considered.
"If some of these varieties are going to take shelf space (in retail stores), we're going to have to learn to grow them."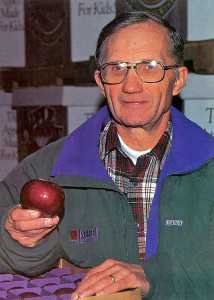 No Substitute For Quality
"I think the market for high quality apples is virtually unlimited," said Lamont.
The catch is, the apples have to be top quality all the way to the consumer, not just in the orchard. He speculates that one of the reasons Empire has not carved out a bigger share of the market is that "it is not a forgiving apple," and quality suffers if it is not properly grown, harvested, stored, and handled.
Industry Leader
Lamont also feels there is no substitute for industry involvement. His list of current or former industry positions would fill several pages. Downplaying how his own effort has benefited other growers, he encourages others to get involved.
"If you don't get involved, you don't have the benefits of these organizations," he says. "You can learn so much, and you have got a voice in things that affect your market and your farm. It is rewarding to see a program you develop flourish."
One such program is the U.S. Apple Association's (formerly International Apple Institute) relationship with the EPA. Lamont, who is current chairman of this association, has served as chairman of the Stewardship Committee, established to manage the association's partnership with EPA with the goal of reducing pesticide use. The association has been a model for other groups in developing an ongoing relationship with regulators and has allowed the apple industry to be a part of the decision-making process.
"There has to be constant communication," says Lamont. "We can be more effective working with the EPA while ideas are being developed. If you wait until the regulations have been written and then react to them, it becomes much more difficult."
Lamont's other activities have included serving as vice-president of the New York State Hort. Society, local and national Farm Bureau positions, the Cornell Statewide Fruit Committee, and the Lake Ontario Fruit Program Advisory Committee.
Opportunity For Others
Many aspiring fruit growers from other countries have served unofficial "internships" at Lamont Fruit Farm. A former exchange student himself, Lamont is willing to hire these young horticulturists, and he appreciates the positive attitude that most of them bring.
"In this country, many people have a poor image of people working in agriculture," he said, "but in other parts of the world, being a farmer is a respected occupation."
Lamont has given both of his current orchard managers, Oded Kalir and Rod Farrow, an opportunity to purchase a portion of the orchards they manage. He believes that apple growing provides a profitable opportunity for even small-scale growers.
Lamont's commitment to being the best grower he can be and his devotion and service to the fruit industry continue unabated. It is this combination that makes George Lamont American Fruit Grower® and Western Fruit Grower® magazines 1997 Apple Grower of the Year.
Lamont Fruit Farm At A Glance
Location: Albion, NY
Size: About 700 acres, including 574 acres of bearing apples
Crops: Apples (McIntosh, Empire, many more), tart cherries, others
Management: George Lamont, Roger Lamont, Oded Kalir, Rod Farrow
Other: Partner in Lake Ridge Fruit Co. and Lake Ontario Fruit, Inc.