Informed of his selection as the 2015 Apple Grower Of The Year by American Fruit Grower® and Western Fruit Grower™ magazines, Bill Dodd modestly said that many larger U.S. growers must be more deserving of the award. He was selling himself short.
The Apple Grower of the YearSM award, sponsored by Valent U.S.A., honors apple growers who have gone beyond the confines of the orchard and have, through their involvement and leadership, made a real impact on the apple industry. Dodd was chosen as this year's award winner not for his operation's size, but for his creativity and resourcefulness in running his own business, and for his service to other growers and our industry.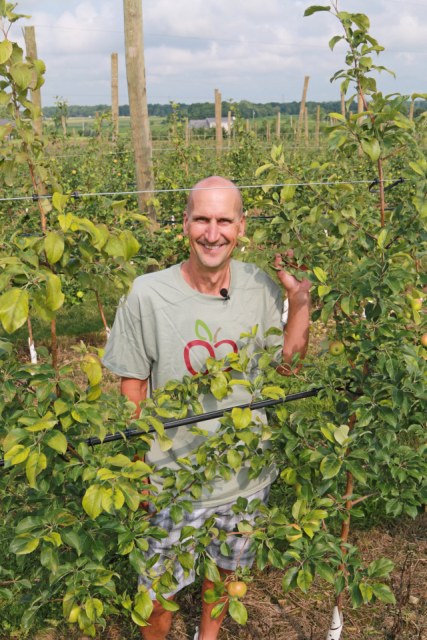 Dodd, besides running his own 30-acre wholesale and retail operation, Hillcrest Orchards in Amherst, OH, serves the industry in a myriad of ways. In addition to acting as president of the Fruit Growers Marketing Association for the past decade as well as chairman of the U.S. Apple Association, there was the simple matter of destiny for the fourth-generation apple grower.
"I never recall wanting to do something else," he says. "Nothing else even entered my mind."
He attended Findlay College in Ohio (now the University of Findlay), and was all set to return home to the family farm when his father convinced young Bill he needed to get out and see the world a little. Perhaps more important, William Wirt Dodd, a name now shared by Bill Dodd's son, thought it important for his son to work for — and earn a paycheck from — somebody else.
Bill argued that there was no point, that he had long known he wanted to do nothing else but be an apple grower, but his father never wavered. So in 1980, the newly minted college graduate found himself doing the 9-to-5 gig at Ford Motor Credit of Indianapolis, IN. He hated it.
"My worst day on the farm was better than my best day in that office," he recalled.
But Bill had promised his dad, and stuck it out. And actually, despite the fact it was a deathly boring slog, Bill has been forever thankful he did it, as it was there he met his wife, Diane.
Trial By Fire
However, all was not well on the home front. Bill's father had sustained several heart attacks through the years, and in March of 1983, Bill got the call and was told it was time to come home. His dad passed away two years later, when Bill was 26.
Despite his relative youth, Bill's mom, Marcella, told him he would call the shots — totally, without so much as a peep from her.
"I hear people complain that their parents won't let them make any decisions," he says, wistfully. "I always wondered what that would be like."
By the time the 1990s rolled around, Dodd faced a tough decision. Like many apple growers around the country, business was terrible. "There were a lot of sour faces at the meetings back in those days," he says. "It wasn't fun."
He took a hard look at the 75 acres they had at the time, and decided any that weren't returning a solid annual profit would be ripped out. He left the standard varieties that sold well in the area, such as Cortland and McIntosh, as well as a few of the heirlooms that also did well, such as Winesap and Melrose, but most of the rest were history.
"Rather than grow as many as we could, we only grew what we could sell profitably," he says.
Dodd's new plantings are all high density. Despite the pick-your-own trend to stick to dwarfing trees with a traditional tree shape, he sees trellising and irrigation systems as a way to teach visitors to the orchard about modern apple growing. He also believes high density systems are more sustainable and will be easier for the next generations of Dodds to take over the orchard.
"The improvements that we're making will hopefully allow the business and the farm to continue," he says.
An Important Transition
Around that same time he was overhauling his orchards, Dodd and his wife — Diane Dodd is a retired art teacher and paints all the signage for the orchard — began looking into hosting school trips. That in turn led to their current thriving agritainment business. It was one of the most important steps in the continual evolution of Hillcrest Orchards.
Today they charge $8 per person for apple and pumpkin picking, a corn maze, hay rides and a straw tunnel play area. The stars remain the apples, $20 for a 20-pound bag. But what they're really selling, Dodd says, is an education, a connection to the family farm.
"Years ago people had direct contact with the farm, but [as a country] we got away from that," he says. "We're capturing the feel kids got growing up before the Internet and video games."
Dodd says if you're going into agritainment because you think it's an easy way to make a buck — or at least easier than being a grower — think again.
"There are a lot of things you have to look at," Dodd says. "This is our 20th year, and it seems we're always thinking of something else."
Dodd, a big believer in networking, says a good way to start is by checking out the North American Farmers' Direct Marketing Association (NAFDMA). Not only are you likely to get ideas on how to get people to come out to your farm, but how to deal with the people once they get there.
"If you were going to start in agritainment," he says, "that would be the first resource."
He and his wife, Diane, return from NAFDMA conferences armed with ideas and plans for the next big thing on the farm. Dodd says it has been an invaluable experience, with Hillcrest Orchard's profits growing every fall.
Following daughter Alexandra's wedding at the orchard in May, the Dodds are planning to enter the wedding venue business. Daughter Lindsay's husband is a chef at a local golf course and Bill hopes to be able to have him cater the weddings and other events they may offer in the future.
Industry Work
Bill Dodd is a busy man, but his activities go far beyond his own orchards. In 2004, the president of the Fruit Growers Marketing Association — an Ohio marketing cooperative with about 40 growers — retired and the search committee tasked with replacing him recommended Dodd for the job. At the time, Joe Burnham Sr. was chairman of the organization, and he told Dodd he should get out and network as much as possible.
Dodd says it was some of the best advice he ever received, citing attendance at meetings such as the International Fruit Tree Association (IFTA) as especially valuable. That, in turn, has led to leadership positions.
"If you show up to enough meetings, sooner or later someone will say you should be on the board," he jokes.
About a decade ago, Dodd joined the board of USApple, later serving as president. Such service allows access to people you otherwise wouldn't meet. For example, In September 2011 Dodd and some others met with the Speaker of the House of Representatives, John Boehner, to tell him how disastrous e-Verify would be for the industry.
"A couple months later, it just went away," says Dodd. "I'm not saying our meeting stopped it, but it certainly didn't hurt. Ohio might be small as an ag production state, but it was also the state from which the Speaker of the House hails."
Dodd says joining such associations provide valuable networking opportunities.
On an IFTA trip to Australia in 2007, he met Bill Pitts, the manager of Wafler Nursery. Pitts was instrumental in helping the Midwest Apple Improvement Association (MAIA), of which Dodd serves as president, release and market the EverCrisp apple. The MAIA has huge hopes for the EverCrisp, which is said to be great tasting like Honeycrisp but much more grower-friendly.
EverCrisp is a managed "open" release through MAIA. A grower must join MAIA to grow EverCrisp, and the association will charges trademark and royalty fees. But, unlike some club varieties, EverCrisp is not limited to a specific region. The idea is to get the EverCrisp apple in front of as many consumers as possible, similar to how Honeycrisp grew in popularity.
Dodd says 235,000 EverCrisp trees were ordered for this year's planting with 350,000 ordered for next year. MAIA is working on three more selections to patent, with more announcements to come within the next 12 to 18 months.
At most industry events, Dodd can be seen sporting an EverCrisp shirt, helping to promote the variety he helped introduce.
"The thing about networking is, no matter how smart you are, there's always someone smarter," Dodd says. "You can't predict how it will work out, but the more people you know, the better chance you have of finding success."
Bill's Top three Agritainment Tips
For growers thinking about providing agritainment on their own farms, here are a few things to consider (besides the obvious, like providing an eating experience your customers will be raving about). Bill Dodd had to learn many of these the hard way, but hopefully you won't have to.
1) PARKING — Do you have enough parking? If your venue is anywhere as close to being as popular as you hope it will be, you're going to have hundreds of cars that are going to have to be parked somewhere while their owners spend lots of money at your farm.
2) TRAFFIC FLOW — Speaking of hundreds of cars, what's your plan for traffic flow? You can't expect the drivers of all those cars to instinctively go in the proper direction. You need people directing traffic.
3) CASH REGISTERS — Do you have enough cash registers? For example, Dodd farms in football-mad northern Ohio. On a beautiful Sunday afternoon the first weekend in October when the Cleveland Browns happen to be playing a Monday nighter, he's had as many as 10 cash registers ringing.
If you're not taking the special events going on around you into account, you'd better start, he says. "Nothing upsets me more than to have to wait in line to give people money," Dodd says. "You don't want people to have a bad experience."
Then, once you think you have it down to a science, think again, Dodd advises.
"My wife and I sit down each year and evaluate," he says. "How can we improve? Everything is on the table. Even, believe it or not, 'Do we need more cash registers?"