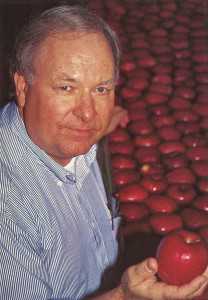 A bone-numbing fog engulfs this valley and grips Peters Orchards in a misty inertia. Visibility nil. Orchards ablur. Life in suspended animation. But inside, Washington apple
grower Chuck Peters is anything but inert; that word doesn't compute.
For Peters, it's morning coffee time and some light reading. Not the morning comics. Or sports. No. He plows into a thick industry report bearing the sexy title "Economic Analysis of Seasonal Workers' Health Insurance Coverage in Washington State."
"This WAS my morning reading," says Peters with a grin that tries to hide the fact that he loved every puffy paragraph of the tome.
Try to take the growing out of Peters. You can't. Horticultural textbooks take root on his kitchen bookshelf where cookbooks normally simmer. "Peaches of New York." "Pears of New York." "An Encyclopedia of Hardy Fruit." They're all here. Below this mini-library hangs a South African fruit calendar.
Even houseguests have a fruit connection. For almost two decades this fourth-generation grower has played surrogate father to hort students from South Africa, New Zealand, Australia, France, and the Netherlands. Names like Frans and Marco have echoed throughout these halls.
Nurturing the current crop of students, or the current crop of Fujis, is where Peters excels. From ground level, the 55-year-old father of two enjoys a reputation as a globetrotting, risk-taking fruit grower who turns horticultural hunches into big paydays.
"We're risk-takers but we also do a decent job of examining risk and accepting mistakes. A mistake is never a mistake here. It's a learning process."
And from the loftier positions of leadership that Peters has held in the industry, he enjoys a reputation of a visionary. Such dedication both in the board room and in the orchard has earned him American and Western Fruit Grower's Apple Grower of the Year award.
Now in its sixth year, the Apple Grower of the Year award recognizes a special grower who leads the industry on behalf of all growers. The Apple Grower of the Year is an achiever on and off the farm.
"My philosophy is we are growers. But we can't exist unless we recognize the industry must come first. We need to look at this as a big corporation," he says. "Yet it doesn't have a specific CEO but instead a good fractionated leadership from many growers."
Involved In Fruit Growing For 30 Years
Peters has received his master's degree in horticulture from Washington State University in 1964. After a four-year stint in Colorado as an assistant horticulturlist, he returned to the family farm in Wapato, Wash., near Yakima.
Homesteaded in 1876, the Peters' ranch features 200 acres — 70% apples of which 20% is on Tatara trellis, half on M.26 and half on MM.I06. The rest of the acreage is planted in pears.
As for the risk-taking moniker, he was the first to put Tatura trellising into a commercial apple orchard. That came in 1978. He likes the Tatura because it increases sunlight efficiency, tree density, and early yields.
Since 1976 he has replaced the orchard at a rate of 5 % a year. The past few years has found his son Chris taking over the day-to-day operation of the orchard. That leaves Peters time to tackle larger issues that are staring down the industry.
This past president of the Washington State Horticultural Association currently serves on the Washington State Unemployment Insurance Advisory Commission and the Washington State Unemployment Insurance Task Force. Translation: farm labor issues. He admits much of which is caused by the seasonal aspect of the farm labor work.
"Can we enhance the quality of life (for labor) and maintain profitability?" he asks.
The answer, he says, is production efficiencies must go up. Peters is optimistic in growers' resourcefulness. In years past, growers have been able to absorb things like industrial insurance.
"It 's not an overnight process," says Peters. "But given five to 10 years, we can absorb things like health care."
Worldwide Fruit Traveler
That long-range thinking and his own curiosity prompted him long ago to look for answers beyond his own borders. He has studied fruit growing on a global scale and been a consultant in New Zealand, Australia, Europe, South Africa, Japan, and South America.
"I've made an effort to understand the national and international market place," says Peters, whose wife Cathy accompanies him on many trips.
His accomplishments are heady stuff for one man. Reading his hefty resume, one swears it represents the work and energy of 10 normal men.
If there's an association, he's been on it. If there 's a symposium, he's been to it. If there's an issue, he's tackled it. He doesn't dally.
Peters has been keynote speaker at dozens of conferences, including the Cape Pomological Association in Capetown, South Africa. He has been a commissioner of the Washington State Tree Fruit Research Commission; director of Tree Top Inc.; President of the Yakima Pomological Club; a director and president of the Washington- Oregon Canning Pear Association; and Chairman of HortPac, industry's political action committee.
There's more. He's a member of the Washington State Farm Bureau, Washington Growers Clearing House, Washington Growers League, American Society of Horticulture Science, and the International Apple Institute.
Apples he knows. And he's no rookie when it comes to pears either. In 1973, he won the Silver Pear Award for the outstanding pear grower in Washington.
But Peters is more than fruit and rootstocks. Peters also takes an interest in his own roots — Yakima. As the director of the Yakima Economic Development Association, he helps shape the future of this south-central Washington community.
What drives him? Perhaps he feels it's time to give something back to an industry that has made his a successful life. And it could be that competition is a narcotic in itself. Competition partially explains Peters' risky nature.
His success with Tatura trellising doesn't tell the whole story, as he humbly points out. Some risks have backfired. Once he took a chance and planted an iffy variety. It didn't take and he had to replant. Then there was the time he missed on the spacing. The result: Overgrown orchards.
"We've had a learning process to go through," he says.
Learning Process Continues
That learning process continues with a revved up industry that's idling at so many crossroads. One given that the industry must react to is the consolidation of the Washington apple industry. Currently, the average apple orchard totals about 40 acres. That number will be climbing because of consolidation. The trend, he says, will mean fewer and larger orchards.
"The 80/20 rule," says Peters. "Twenty percent of the people will produce 80% of the apples. "I'm not saying that's bad, but people need to be aware to stay competitive. When you get right down to it you have to have volume or price. If you have both you've got a wonderful situation."
But take away minor crop pesticides and that wonderful situation might turn gloomy. Peters has been busy working with legislators to rewrite laws that would make it easier to re-register minor use pesticides.
He's also looking at some new tools. Biotechnology will drive agriculture in the upcoming century. The future, he says, lies with improving biotechnology, including genetic resistance and disease-resistant apples.
Tapping into the future and its more environmentally friendly offerings helps the industry's image. Often, agriculture is unable to mount a counter-offensive against the well-oiled environmentalists' machine.
"I don't think there's a question we have an image problem," says Peters. "But we don't have the profitstructure to invest in public relations. There's truly a difference between agriculture and corporate business. Often, the public and government don't recognize that."
With Peters' help, perhaps they will recognize the difference.
Chuck Peters: Risk Taker
Risk is a given in farming. Why court it? Why flirt with it? Ask apple grower Charles Peters, a horticultural risk-taker.
"Why not go out on a limb?" says Peters, quoting Will Rogers. "That's where the fruit is." "I think that wraps up my philosophy."
His philosophy is evident in his 142 acres of apples. One-half acre is set aside to explore a new product. This spring he'll plant a Red Delicious strain with a V system. Spacing will by 1-foot-by-12-feet.
"We're always looking toward the future," he says.
Rootstock trials intrigue him too. Last year he planted 30 different dwarfing apple rootstocks on two varieties, Fuji and Gala, at 1,200 trees an acre.
Part of Washington State University rootstock trials, the experiment could determine what rootstock works best for Peters' orchards.
The biggest problem in rootstocks is the variability of the soil, ranging from silt loam to loam. The soil is strong and uniform on the flats. But the lighter soil on the ridges presents more problems.
Peters Orchards features 142 acres of apples: 60% Reds, 9% Granny Smith, 9% Galas, 14% Fuji, and 8% non-bearing. This spring Peters will plant more Galas and Golden Delicious. Braeburn are on order for 1995.
Old semi-dwarf plantings are 10-by-15-feet with newer plantings at 4-by-11-feet. The older plantings feature MM.106 and M.7 rootstock . Newer plantings are on M.9. He still has some seedlings in the older orchards.
Twenty-five percent of the apple plantings are on the Tatura system on M.26 rootstock.
As for chernicals Peters says, "I try to run the softest program possible and still be economically viable."
It's more than talk. As part of another experiment — this one on pears — Peters is using an 80% chemical reduction on 5 acres. He's using pheremanes for codling moth. The findings from this experiment could have everyday applications to his apple orchards.
Such experiments, which challenge the status quo, could unlock secrets to apple growing in the future.
So what's next for this year's Apple Grower of the Year? Possible on-site storage. He sees this as an opportunity for diversification.