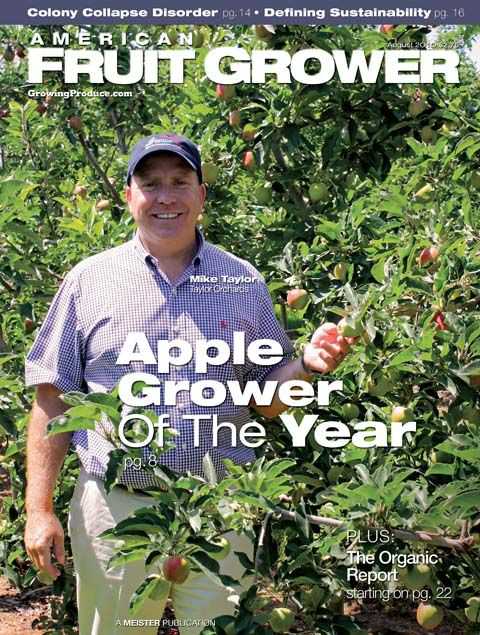 If you ever wanted an education on why the state of Washington is one of the world's most prominent apple producing regions, you couldn't do much better than taking a tour of the region with Mike Taylor. Co-owner of Taylor Orchards in Eastern Washington, Taylor will drive through the Columbia Basin and towns like Quincy, Othello, and Mattawa, and point out which blocks are owned by which companies. He can look at an orchard miles away on a hillside, and tell which variety it is, based on the color of the leaves. He can also tell you which plantings are new, and which have been in the ground for years but still produce quality fruit.
It's when you start talking about his own orchards that you can tell just how proud Taylor is to have been able to carve his own niche in the industry. His company owns about 900 apple acres scattered throughout Franklin, Grant, and Yakima counties. You can hear the pride in his voice when he takes you to one orchard of new Gala and Fuji strains.
"This is one I want to show off," he says.
When you look at the variety mix that Taylor, his father Michael, and his orchard manager/business partner Steve Pagenelli have incorporated into Taylor Orchards, it's quite clear why Mike Taylor is American and Western Fruit Grower and DuPont Crop Protection's 2010 Apple Grower of the Year. He's never satisfied with the status quo, and is always looking ahead at where consumer demand will be five to 10 years from now, what varieties they will be looking for, and how to optimize their orchards to make sure that the fruit is of the highest quality.
Mixing Varieties
One thing Taylor understands quite clearly is that new apple varieties face some stiff competition from the entire supermarket to the produce department, all the way down to other apples.
"Every time we introduce some new variety, it has to displace something else," says Taylor. "If you want shelf space for something new, you have to have a compelling argument for why the retailer should do it. With good solid marketing plans in the hands of partner retailers, it is then up to the consumer to vote with their dollars. You can sell anything once on a promotion, but can you create lasting demand with your apple? If you can, you have something special."
Taylor's combination of roles at Taylor and as vice president of sales and marketing at Stemilt Growers gives him keen insights into the market opportunities for new varieties.
"We want to focus on where the consumer is going to be," he says. "You have to keep changing, probably faster than you realize, in order to keep up with the market and where consumers are heading."
Within Taylor Orchards, almost half of their production is split between Gala and Red Delicious. Fuji accounts for another 16%, and this number is growing rapidly. "
There's been some really neat things that have happened in terms of plant material and genetics in Fuji and Gala, so we have a lot of young trees in the ground," most notably Aztec Fuji and Ultima Gala, he says.
Granny Smith, Pink Lady, and Honeycrisp are also strong varieties, and another 5% is devoted to Pinata, Stemilt's new managed variety. This diversity helps Taylor Orchards position itself as a supplier from the beginning of the season to the end.
It Starts In The Orchard
To measure Taylor's devotion to his industry, it's perhaps easiest to follow the path from orchard to market.
"There's a wide array of apple varieties available for growers to consider planting, and the biggest thing you can do is match the variety to the micro climate, elevation, soil type, and site you are in," says Taylor. "If you start with that and get the best available plant material, you've set the stage for a winning combination."
There are a lot of practices you can follow in the orchard to maintain fruit quality, Taylor notes, but the key factor is to execute the fundamentals. This includes maintaining vigor, managing crop load, balancing nutrients, managing irrigation, and adding techniques like color enhancement, sunburn protection, and reflective films such as Extenday.
As a grower for Stemilt, Taylor Orchards strives to follow the company's Responsible Choice program. This program originated in 1989 by Stemilt founder and industry pioneer Tom Mathison, who recognized the need for growers to reduce their use of synthetic materials, protect water and water quality, and help make agriculture a sustainable business for future generations. Taylor notes that in many cases, he and his staff have taken techniques from organic growers, such as mating disruption and reducing the use of synthetic materials, and applied them to their own operation.
Once you reach that goal of having a high-quality product, the next step is getting it into retailers' hands.
"As these new varieties come onto the scene, we've got to evaluate them in terms of their market niche, their timing, and how they fit with the competitive landscape that's out there," says Taylor. "Some are fall varieties, some are late season, and we have to find the niche to market them where they perform well and delight consumers."
There's also the challenge of potentially creating confusion in a crowded market, which is why it's important to be different and make your variety stand out. A variety like Honeycrisp is a living legend, as a catchy name and superior eating quality made it a runaway freight train with consumers. If the industry can find similar attributes in other varieties, it will certainly help.
The end result of these efforts will hopefully be increased per capita consumption, says Taylor, but the only way to make this happen is to improve consumer satisfaction by building quality into the fruit and encouraging repeat sales.
In The People Business
Building the right variety mix may be one of the keys to the success of Taylor Orchards. But as Taylor also points out, it ultimately comes down to the people you have around you.
"We're in the people business, and we just happen to grow and pack fruit," says Taylor. It all starts with family for the Taylors. "Loving, encouraging support from my wife Tiffany and my kids are paramount," he says. "They allow me the time to pursue my dreams, while keeping me encouraged during the setbacks that befall all farmers."
Taylor's father Michael provided both the financing and the motivation to get Taylor Orchards off the ground in 1996. "Without dad and his vision, there would be no Taylor Orchards," says Taylor. "We are very close, and there is never a day that passes without us discussing the operations and our opportunities."
Since their earliest days, the Taylors have worked side-by-side with Pagenelli, a fourth-generation fruit grower who makes most of the day-to-day decisions in the field. Together, "we are all very different people, which makes us a great team," he says. This teamwork extends all the way down the chain, and Taylor says he encourages all his employees to take an active role in the business. "Many of the great innovations we apply come from smart, hard-working people with their boots firmly planted in the field. Our staff is the difference, and they are part of the greater company family. We encourage them to put their ideas on the table."
Taylor also draws a lot of influence and inspiration from his peers in the industry, especially his mentor Tom Mathison, who helped him get started and motivated him to go out and take risks. "Stemilt's culture is to connect the field to the consumer and have their people involved all the way through the process," Taylor says. "This culture extends to the entire Mathison family led by president West Mathison, his father Kyle, and brother Tate."
Taylor has also learned a lot, and continues to do so, from the Evans family (Bill and Jeanette), the Douglas family, and many others. "If there is a contributing factor that has helped us be successful, I think it's lining up with families that have the same values and long-term goals, and working together to share ideas and make each other better," says Taylor. "We're all like-minded growers and marketing partners, and we share the same values, goals, and market identity."
This past year, Taylor played a key role in merging Stemilt with Dovex Fruit Co. "There's been a lot of enhancement, savings, and increased market presence that's come out of two great side-by-side operations becoming one," he says.
Words Of Wisdom
Along this path to success, Mike Taylor has certainly learned many lessons along the way. The following is a sampling of what he's experienced, and what advice he can offer other growers:
– "Make sure your first decision is a good one, because if the first one doesn't go well, there won't be a second one." Taylor actually credits this statement to Tom Mathison, who said it's always important to do well the first time around.
– Focus on flavor, and try to align the product you produce with consumer demand first and market demand second. In other words, you must grow what sells, rather than growing fruit and then going out and trying to sell it.
– Every grower must look at the landscape and ask, Where's my competitive advantage? How do I fit in? What am I going to focus on in order to maximize my results? The answers will be different for all people for all kinds of reasons.
– Focus on better acreage, not more acreage. Taylor Orchards is in a constant state of renewal in terms of upgrading varieties, and this has no doubt been helpful by a unified orchard system that makes it easier to both mix in new varieties and train your staff each time you make this change. "Get the right infrastructure from the ground up and keep changing," he says. "The demand cycle for varieties has compressed, and you have to stay on the move."
– Execute on the fundamentals first and foremost. If you do the basics well, it sets you up to be successful and to try other innovations.
– Get outside of yourself and see what others are doing. "You may find some real pearls to apply in your own business."