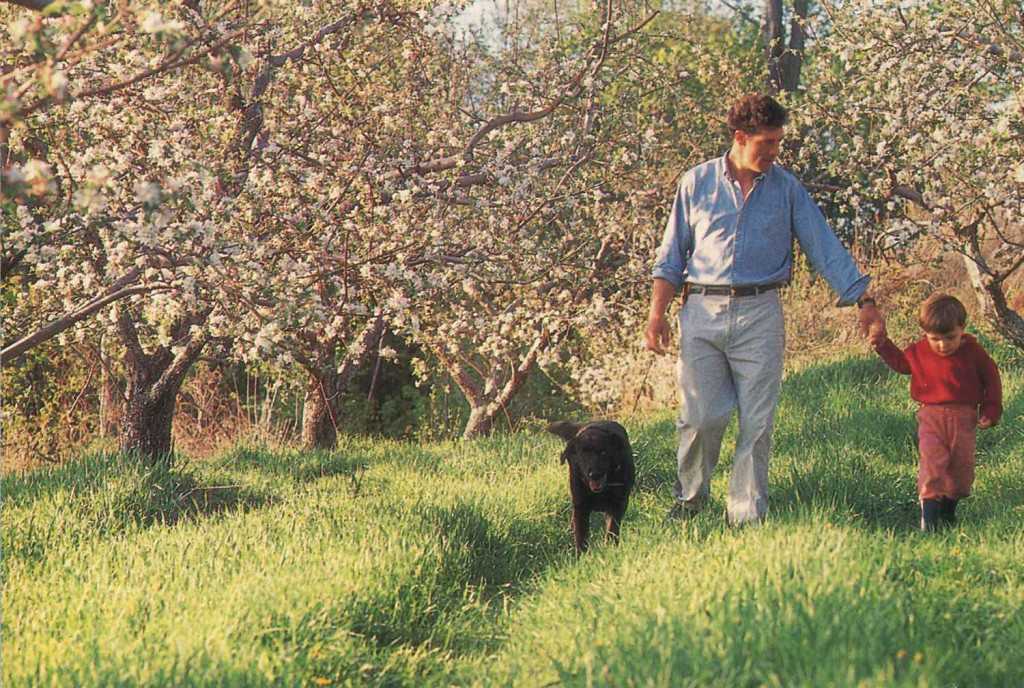 Not many growers have ever testified on Capitol Hill. Fewer still are known and listened to by key EPA officials and environmental activists. And how many growers can say they had a hand in forming a grass-roots grower organization that influenced an entire industry?
New Hampshire grower Steve Wood can lay claim to all of these things. In addition, he's owner/manager/chief laborer of an 80-acre apple farm, and has incorporated a state-of-the-art integrated pest management (IPM) program on the farm to boot. His accomplishments have garnered him American and Western Fruit Grower's 1991 Apple Grower of the Year award.
Although Wood is heavily involved with pesticide use issues, he wasn't looking to champion a cause when he became active in this area. He simply felt that unless someone started paying more attention to issues surrounding pesticides, especially food safety concerns, his occupation as an apple grower might be in jeopardy.
"The reason I got involved in all of the (food safety) stuff was because I like doing this and want to keep doing it," he says, looking out over his orchard.
His conviction that more needed to be done to address pesticide use and food safety issues traces back to 1985, when, right on the eve of McIntosh harvest, the EPA publicly announced its intent to ban Alar, a growth regulator that was very important to McIntosh growers. Although EPA later pulled back from this pending more testing, the situation that was created disturbed Wood. The produce industry, he felt, did not have sufficient contact and communication with EPA officials and other people who were influencing public opinion (such as environmental activists). And more information was needed to be able to answer questions about pesticide use and safety.
Wood plunged in and soon had developed contacts at EPA and elsewhere. Together with other New England growers, he helped form the New England Fruit Growers' Council on the Environment.
By developing contacts with EPA and groups like the Natural Resources Defense Council (NRDC), the council detected that Alar storm clouds were again appearing on the horizon and sounded a warning. Wood worked hard trying to head off the 1989 disaster, personally contacting people at NRDC, CBS (which produced a devastating 60 Minutes segment on Alar), and within the apple industry.
But Wood and his fellow growers were unable to prevent the Alar scare or mobilize the apple industry before it hit.
Industry Committed To Pesticide Issues
The Alar scare did tremendous damage to apple growers, and Wood believes it was unjustified. But one good thing that did emerge from it, he says, is a commitment from the apple industry to get on top of pesticide issues.
"The IAI (International Apple Institute) is vigorously addressing some of these issues," says Wood, "not just in a political way, but through things like nationwide chemical use pattern surveys, polling entomologists and plant pathologists on the effectiveness of compounds, and segregating all this information by region so we really get a clear picture of how pests and diseases are being controlled nationwide."
Progressive Approach To Pest Management
Wood's progressive pest management practices have impressed regulators and environmental activists. His well-developed IPM program also contributed to his selection as American and Western Fruit Grower's Apple Grower of the Year.
He believes in and practices IPM, seeking to reduce chemical inputs as much as possible (American and Western Fruit Grower covered his pest management practices in the Summer 1990 issue). But at the same time, he points out the need for a wide variety of chemical tools to make IPM work, and challenges the current approach to pesticide regulation.
"Attention on the compounds themselves instead of on cultural practices takes us in the wrong direction," he says.
He points to a class of fungicides known as EBDCs, currently going through the EPA reregistration process, as a prime example. Because of the EBDCs' unique properties, New England apple growers using IPM are able to use them at low rates to effectively control diseases with minimum disruption of the orchard ecology. Under New England conditions, Wood states, banning them would lead to an increase in overall pesticide use, including more pesticide applications closer to harvest.
Ironically, the most important time for using EBDCs in New England is prior to fruit set, and this use probably leaves no residues on fruit at harvest.
Changing Market Forces Adjustments
Wood's operation in West Lebanon, NH, is known as Poverty Lane Orchards — named for the road it is on, which he hopes is not reflective of the future of the operation. Like many growers, he is trying to make cultural and marketing adjustments to match changing circumstances.
Having done a lot of orchard removal in recent years, Wood is down to about 35 producing acres of apples. Another 25 acres, however, are young nonbearing trees on dwarfing rootstock, mainly M.26 and Mark.
Variety selection is always a difficult decision. While he acknowledges the area is well suited to McIntosh, he has grafted selected limbs in an established orchard over to 80 different varieties.
This gives him the chance to see when they bloom and how they perform under exactly the same conditions as established varieties.
Marketing Challenge Ahead
Some of the test varieties are British hard cider apples. Wood has planted a small block of varieties such as Yarlington Mill, and hopes to sell them to cider makers for blending purposes. This is one small step, he says, in addressing what he sees as a growing marketing challenge for small wholesale apple growers like himself.
"It's getting very difficult to make a living with a small to medium apple operation in a wholesale market," he says.
While there used to be a premium for hand-packed unwaxed McIntosh, that market has disappeared. Now many smaller growers are putting in expensive packing lines, but Wood feels they end up with a high per unit packing cost and cannot compete with larger operations.
"I feel there are too many small grower-packers out there," he says, noting that if a good co-op were formed, he would be extremely interested.
Involvement to Continue
Wood indicates that running a fruit orchard provides plenty of challenges without the added activities he has undertaken on pesticide and food safety issues. After being "up to my neck" in these issues for the past several years, he would like to devote more time to fruit growing. But he does not intend to turn his back on industry activism.
He has little patience for tiptoeing around an issue or getting bogged down in protocols and procedures. Wood wants to cut right to the core problems. He is also outspoken, will argue strongly for his position, and will challenge the statements of those he talks to. Sometimes these characteristics aren't always appreciated.
But Wood delivers solid information from well thought-out positions, and his IPM practices on his own farm show that he practices what he preaches. He has gained the respect of others.
Steve Wood has had a strong impact on the apple industry and has helped put it a step ahead of other commodities in dealing with critical issues. He has earned this recognition as Apple Grower of the Year.