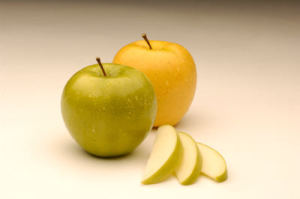 Just one week after its first genetically modified apples got the green light from the USDA, Okanagan Specialty Fruits has been acquired by a company specializing in synthetic biology.
Intrexon Corporation today announced it has entered into an agreement to acquire Okanagan Specialty Fruits, the company behind the Arctic Granny and the Arctic Golden, the world's first non-browning apples.
Pursuant to the definitive agreement, Okanagan's stockholders will receive $31 million in Intrexon common stock and $10 million in upfront cash.  Consummation of the transaction, anticipated in the first half of 2015, is subject to customary closing conditions.
Intrexon Corporation is focused on collaborating with companies in food, health, energy, and the environment sectors to create biologically-based products. It provides its partners with industrial-scale design and development of complex biological systems. They call our synthetic biology approach "Better DNA."
Through the acquisition, Intrexon expands its food programs to include trees yielding fruit that is more appetizing and convenient for consumers while providing economic benefit throughout the tree fruit supply chain.
"We are committed to bringing better versions of consumers' favorite fruits to their grocery stores and kitchens, while addressing additional novel traits in tree fruits that reduce waste and address supply chain challenges," said Neal Carter, the founder of Okanagan Specialty Fruits, who will remain with the company.  "Joining forces with Intrexon and applying our combined technical know-how is an important step to introducing beneficial products for consumers and growers."
One of the fastest-growing categories of the fruit and vegetable industry is the fresh-cut segment, bolstered by the convenience factor and upward trend in consumption of healthier foods.
Intrexon believes that marrying the art of fruit breeding with cutting-edge science will result in new products that can benefit consumers and producers alike. For example, the Arctic apple provides consumers with an answer to a pesky but common food issue without any flavor-altering, anti-browning additives.
Utilizing genetically modified organisms (GMOs)  is an alternative to current approaches to browning control, which are more costly and require the application of chemical solutions or antioxidants. Additionally, apples will be increasingly accessible to food service outlets, where consumers spend roughly 50% of their food dollars, because Arctic apples solve both cost per serving and quality concerns associated with pre-cut apples.
"Okanagan is a world leader in the development of fruit-bearing plants to express enhanced, advantageous traits with tremendous potential to revolutionize the tree fruit industry," said Thomas R. Kasser, senior vice president and head of Intrexon's food sector.  "Through this acquisition, we can deliver more accessible and affordable choices of high-quality foods for an ever-growing population.  We are extremely pleased that Neal Carter will remain with the company providing both the creative spirit and deep understanding of the tree fruit business that will assure continued future success in this expanding business opportunity."
Source: Intrexon Corporation