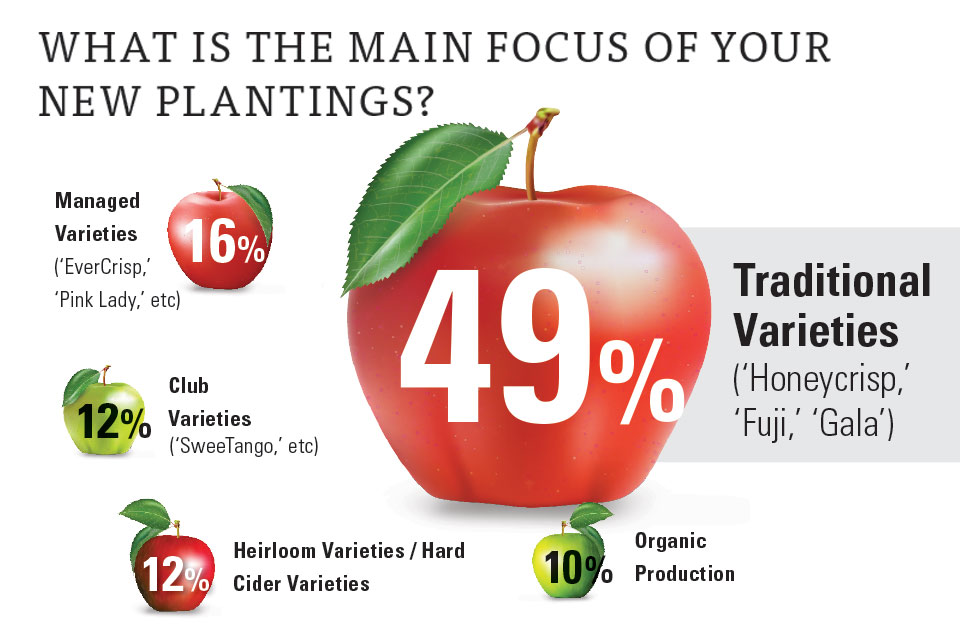 Growers of apples and pears have had the most ambitious production plans in the past few years. In 2018, the beat goes on.
In fact, pome fruit growers are the only ones in which a plurality, a solid 48%, say they are planning on increasing production in 2018. Nearly as many, 45%, say they expect production to stay the same this year.
What's remarkable is this is the second consecutive year a plurality of pome fruit growers say they are increasing production in the coming year. Growers in no other crop category can make that claim.
Why? Contrary to what some may think, it's not what's being planted. Far more important is the way they are being planted — ultra high-density trellised systems. Not many years ago a high-density orchard had 200 trees per acre, while modern orchards can approach 10 times that many.
While the new varieties rightly garner a lot of attention, growers in the survey indicated they still favor traditional varieties.
Grower Responses
Growers by and large need convincing, and many are taking a wait wait-and and-see approach to the new varieties, whether the popular Midwest Apple Improvement Association varieties, or Washington's 800-pound gorilla, 'Cosmic Crisp.' One Midwestern grower's response was typical when asked about the new varieties: "Time will tell." Or yet another Midwesterner, this one with a century-old farm: "Wait and see what sticks!"
Another grower with a Midwestern century farm elucidated concern: "Some are OK, some are not. I think we may be getting too many too fast. Stores will carry only so many varieties at one time. We may be conditioning people to something new every year. Not good for growers."
But varieties don't have to stay new for long. A Pacific Northwest grower, who currently farms 'Fuji,' 'Gala,' and 'Honeycrisp,' but who has now planted 'Cosmic Crisp': "'Cosmic Crisp' will be a traditional variety by volume within three years."
Lamented another PNW grower, obviously envious: Can't get the ones I want ('Cosmic Crisp,' 'Piqa Boo' pear), because we're Oregon growers."
One Midwest grower had a similar thought: "It's going to be hard to keep up, as these branded apples are like shooting stars, popular until the next one comes along. We are not large enough to opt in to that marketing scheme." However, the grower added on the bright side: "Pear requests have increased over the past half-decade for us. We can no longer keep up with the demand."
Another common take on new varieties came from a Northeast grower: "They are a part of the business but we are not betting the farm on them."
Another Northeast grower who has a century farm had an interesting take: "They are all great, (but) I do think that we have narrowed the definition of an apple by focusing so strongly on the harder textures and sweet/tart taste. I think that apples can be enjoyed in so many ways."
One Midwestern grower cautioned it may be too many, too soon: "Store shelves don't have space for all of them. Some will fail. However, new varieties that taste great and are marketed properly will be successful."
Sameness is indeed a concern, said this Northwest grower: "There's a confusing array of varieties that are mostly bi-colored and similar in eating experience. Difficult to pick a winner."
Agreed another grower, this one in the Midwest, agreed: "There are a lot of them. We have chosen one or two we think are promising and are planting them on a large scale. We think the market will eventually weed some of the weaker ones out (hopefully not the ones we've chosen!)."
Finally, keep in mind, these are apples, not widgets, said one Northeast grower. "(There are) too many new varieties. Most are not good but are marketed as being the best new thing," he said. "Too many mediocre growers producing them as well, so there are mediocre new varieties of mediocre quality flooding the market."