Don't let the name G and S Orchards fool you. When Gary and Stephanie Craft purchased the Walworth, NY, farm back in 1992 it was 100% processing fruit, but their operation is so much more than orchards now. That simple orchard business has evolved over time to focus on direct-to-consumer farming and everything that comes with it. And change is happening constantly, by design.
"We're big on trying stuff," Stephanie says. "If it doesn't work, rip it out."
And trying stuff is an understatement as the crop diversity of G and S Orchards is phenomenal.
The couple grows four types of raspberries, three types of currants, Saskatoons (aka Juneberries), three types of gooseberries, blueberries, blackberries, two types of strawberries, sweet and tart cherries, apples, numerous types of vegetables, and melons, all on 210 total acres.
This crop diversity is bolstered by the Crafts' location, about 15 miles outside of Rochester, where certain crops are popular with consumers of different ethnic backgrounds. Currants, for example, are quite popular with the people of Eastern European heritage in nearby suburbs.
"Evaluate who your customers are and plant to them," Stephanie says. "We're always sticklers for quality."
And with their experience in direct-to-consumer production, the Crafts share some of the lessons they've learned along the way in playing to their strengths.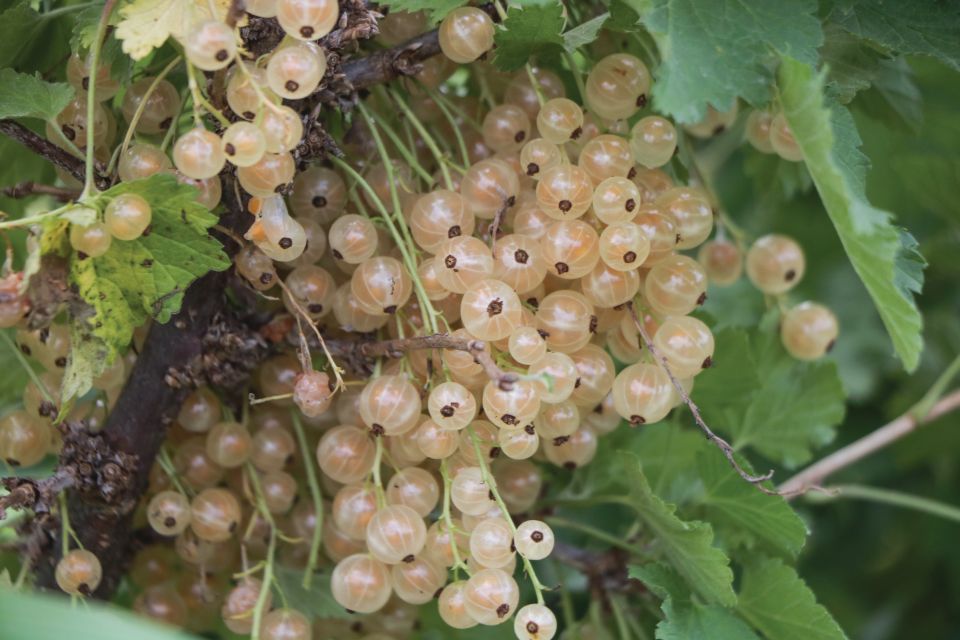 Currants, like these champagne-colored ones, are quite popular with the Crafts' customers whose families came from Eastern Europe. (Photo: Christina Herrick)Plant for the People
The Crafts understand that pick-your-own is as much about the experience as it is about the crops. And part of that is in the visuals, they say, in ensuring their patch is filled to the brim with berries begging to be picked.
"You have to have enough plants for people," Gary adds, noting it's critical to have more than enough plants to go around, because nobody is interested in picking one or two berries off each plant.
Waste is just part of the pick-your-own operation.
"You can't let it bother you that people will leave fruit," Stephanie says.
Education about the seasonality and availability of produce is critical, especially for any new consumers, when produce is available in the grocery store year-round.
"New customers take a while to understand why tomatoes aren't available [out of season]," Gary says.
Beyond the pick-your-own operation, farm stand, and Community-Supported Agriculture, the Crafts sell their produce at Fairport Farmer's Market and wholesale through Hess Brothers,
HH Dobbins, Thruway Produce, Farm Fresh, NorthEastern Juice Co-op, Mayer Bros., and several Wegmans stores.
Developing a Relationship
If you ask them how on Earth they manage all the crops they grow, all the harvest windows, and distributing their produce to all outlets they do, Gary is quick to point out how critical his employees are to their operation.
"It's the guys," he says.
The Crafts say their employees not only keep their operation running, but they're like family. This special relationship the Crafts have with their H-2A employees is solidified in the off-season when the Crafts visit their workers all over Mexico. In fact, this winter the Crafts plan to attend two quinceañeras — a celebration of a girl's 15th birthday — and a wedding.
"It was an eye-opener for me," Gary says of the first time he visited his workers in Mexico.
He says he gained a great appreciation for what his employees are able to do for their families back home.
"We have people coming up to us thanking us for hiring their family members," Gary says.
The Crafts say this bond they have with their employees is a critical piece of what makes their operation hum.
The Research Farm
Another part of what makes G and S Orchards successful is taking risks on crops and trials. They believe in supporting and learning from research and have incorporated some new crops into their operation thanks to trials and test plots.
"Cornell lives here," Gary jokes, but he's serious, as the Crafts are strong supporters of Cornell University's research.
Juliet Carroll, Senior Extension Associate and Fruit Integrated Pest Management Coordinator with Cornell Cooperative Extension, is conducting virus testing in raspberries in cooperation with the USDA-ARS Horticulture Crops Research Unit in Corvallis, OR.
The Crafts, with all their small fruits, are participants in Cornell spotted wing drosophila research and have traps set up for spotted lanternfly. They're also a collaborator on a Cornell trial on covered production of day-neutral strawberry, and they have trialed 10 advanced selections in Susan Brown's Cornell University apple-breeding program.
The Crafts permanently added production of Saskatoons, or Juneberries, following a Cornell Cooperative Extension Sustainable Agriculture Research and Education (SARE) project.
"When you remove them from the freezer, they stay whole," Gary says, noting one difference between Saskatoons and blueberries, which get mushy when thawed.
They are also participating in a Rutgers University SARE project exploring the possibility of growing goldenberries in the Northeast. Goldenberries are native to South America and are small, marble-sized fruit that boasts a tropical favor. They fare well in temperate climates but are relatively unknown in the U.S.
"We like to support these types of things because it just supports the industry," Stephanie says.
In addition to her responsibilities at G and S Orchards, Stephanie is also the Wholesale Sales Manager for Harris Seeds. That gives her a leg up on trialing new seed varieties on the farm. This year they had five vegetable seed trials — some are a first look at new seeds, and some are head-to-head variety comparisons.
Future Forged in Farming
G and S Orchards is not just business for Gary and Stephanie Craft. There's a personal connection that they want to see continue — and grow — for a long time to come. They knew the farmer they purchased the land from nearly decades ago, and they have put in plenty of sweat equity over the years. They also purchased an additional 60 acres of farmland across the street from their farm to expand their current operation.
"We want to be close, and they aren't making any more land," Stephanie says.
G and S Orchards is working with Genesee Land Trust and the Town of Walworth to protect the farm by removing the threat of development. The New York State Department of Agriculture and Markets, Genesee Land Trust, and the town of Walworth, will pay G and S Orchards for giving up the ability to develop the property.
A permanent agreement will be put in place that allows G and S Orchards to continue farming as they would like and will pass with the land to the next owner. Genesee Land Trust will continue to work with Gary and Stephanie, and any future owners, to ensure the land will always remain available for agriculture.
"Within two years, this farm will be permanently protected," Stephanie says.
They know how challenging it is to keep land in farming. Stephanie says it's hard for most mid-sized farms to compete with big operations, noting that according to the latest USDA farm census, the most profitable farms range from one to 12 acres, or are operations that are very, very large. If that's the case, once they retire, she says she could see their farm being broken up into three smaller farms.
Word of Advice
The Crafts say they've received offers to sell private-label products such as jams and jellies at their farm stand. But, Stephanie says, that's not what G and S Orchards is about.
"You have to figure out who you are and what you do well and stick to that. You can't be everything to everybody," she says.
She adds it's also critical to know what you can't do well, and either find someone who can help your operation or eliminate that crop or practice.
"We don't try and do it all ourselves," she says.
Gary and Stephanie contract outside services for payroll, H-2A, trucking, scouting, Good Agricultural Practices certification, updating and posting to their website, and social media accounts.
"That gives us the ability to do what we do well," she says, "which is farming."