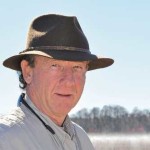 Florida Blueberry growers harvested a reported 16.5 million pounds of blueberries this past season. This was down from 22 million pounds the previous year and far short of the 25 million pounds many were forecasting for this season. This year, Mother Nature seemed to have created a perfect storm for reduced production; giving us low chill hours, significantly less sunlight, and many cold days as we neared the start of our normal harvest time. These conditions, combined with the usual labor struggle near the end of the harvest season, left many local growers disappointed.
I have heard from most growers their marketers did a pretty good job of dealing with the reduced availability of blueberries, although some product was pre-sold at less than the current market price at the time because brokers anticipated an abundance of fruit that never really materialized. The fruit ripened and came off the bush slowly this season and we never experienced a real harvest peak in mid-April that we usually see each year. A very strange season, to be sure, although what constitutes a "normal" season remains to be seen in the industry.
Looking Ahead
While there are a few "old timers" in the business, most blueberry growers have been in the business for 10 years or less, with a lot of new folks jumping on the bandwagon every year. Our industry is approaching its teenage years and we still have a lot to learn. It seems the days when you could grow a cash crop on a few acres are gone and many small growers have gone by the wayside or moved to U-Pick operations as the need to maximize yields, minimize production costs, and distribute these costs over larger acreage has become apparent.
To say the industry is at a crossroads would be an understatement. What we approach is more like an eight lane interstate spaghetti junction interchange with many options available and road signs that are non-existent, unclear, vague, or just plain wrong.
So, the challenges and choices Florida blueberry growers are facing over the next few years are many: new varieties, new harvest methods, material shortages, new pests and other pathogens, old plantings that will need to be replaced, labor supply issues, and the need to increase consumer consumption as our acreage and production increase.
Over the years, we have learned to battle a variety of things going after our plants. We have fought off birds, beetles, snails, stem blight, SWD, and currently are faced with a type of parasitic algae, which devastates a plant if left undiscovered and untreated. What will come along next is anyone's guess.
Machine harvesting offers a tempting alternative to the struggle to find and keep labor. But this choice requires the planting of varieties that are friendly to the harvester, which most of our current Florida varieties are not. Unlike other crops, once planted, we have to live with our new variety choices for 10 years or more. But many new cultivars also offer the tempting hope of higher yields, lower chill requirements, and disease resistance.
The scientists at the University of Florida have done a great job in breeding blueberry plants that thrive in Florida. The challenge for them now is to continue the success with the prospect of machine harvesting in mind.
As acres increase, we need more labor if we choose to continue traditional hand harvesting. Other crops pull at our labor pool as do the northern states as the end of our season approaches. H-2A programs can bring the pickers we need, but this road has its pitfalls, too. Labor that arrives late is no better than no labor at all. While most blueberry pickers earn some great wages, minimum earnings guarantees for each worker that go along with the H-2A program can be unbearable in a low yield season. Higher than minimum wage pay guarantees, required for the H-2A workers, also increases costs. In the end, we realize it makes no sense to grow a crop that cannot be harvested in a timely and profitable manner.
Alternative Means
Additionally, some farmers are looking at blueberries as a new crop to replace citrus acreage devastated by citrus greening. This conversion of acreage may put a further strain on current resources of plants, pine bark, and labor.
Right now, pine bark, which seems essential for the production of blueberries in Florida, is in short supply. Our current varieties were developed to be planted in pine bark beds. They will grow very well in pine bark, but the roots will seldom continue to grow into our Florida soil. A lot of reasons for this shortage have been tossed around, from a wet season making lumber harvest difficult to the use of bark as a fuel at some power generation plants.
This shortage and higher prices for bark have slowed or halted some farms from building new fields or adding acreage. Whether this problem continues or we develop an alternative to traditional pine bark plantings is a big question for Florida growers.
Positive Progress
The US Highbush Blueberry Council, through research and public education, has done a great job of informing the public of the health benefits of eating blueberries. In addition to being a tasty fruit choice to be included in a healthy diet, everyone knows our blueberries contain high levels of antioxidants. This is important because consumer demand for blueberries has continued to increase as our harvest volumes have increased, resulting in good prices for our crop. Current research indicates consuming blueberries may have health benefits for folks with diabetes and other conditions, too. As the industry learns more about our "little blue dynamos," we believe health conscious consumers will continue to include blueberries in their diet.
No one really knows the acreage, varieties, and yields for specific blueberry farms that exist in the state. The Florida Blueberry Growers Association (FBGA), with the help of the UF/IFAS and Extension agents, is currently conducting a detailed survey to find out how many acres of blueberries we have in Florida as well as the varieties, the age of the plantings, and other variables that will serve as a foundation for us to better understand the depth and breadth of blueberries being grown in Florida.
The FBGA is committed to helping meet the challenges our industry faces in the coming years. We will continue to promote and support research, education, and other efforts to help us know how to better grow blueberries in Florida.