This past fall, the California Strawberry Commission announced the election of Lorena Chavez to the role of commission chair, in what is believed to be the first election of a Latina to a major commodity group in the state.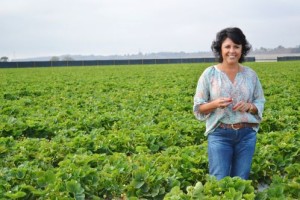 Chavez was elected unanimously to lead the organization, which serves approximately 400 strawberry growers across the state.
"Lorena Chavez embodies everything positive that strawberries represent to California," said Rick Tomlinson, the commission's president. "Her family's personal story is a prime example of how immigrants have found opportunity and a path to achieving the American Dream through hard work in California's strawberry fields."
Chavez is also controller of family-owned L&G Farming in Santa Monica, CA, and owner and operator of DL Farm Management in Santa Maria, CA.
She said being involved in the strawberry industry for many years has allowed her to become familiar with the challenges and the positive aspects of production.
"With my father being in the strawberry industry, I've always had an interest in making some kind of a difference," said Chavez.
Asked where she would like to see the industry 10 years from now, Chavez said she'd like to see automation, improved pest management, working on the labor shortage and variety development.
As for her own career goals?
"My goals are to continue to grow our business, provide a good work environment for families in the community, to continue to work in the community, and to provide a better education for all of the families in need of it," she said. "I want people to know that the California Strawberry Commission has 42 members that are working hard to provide a better environment for our industry." ●