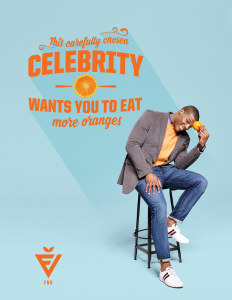 There's no doubt about it, for the benefit of fruit growers around the country, I've got to take people to task more often in this space. In my final editorial of last year, "Produce People, It's Time To Pony Up," I stated: "The folks who are marketing fresh produce don't seem to be doing that great a job." I never thought I'd happily say this, but I just might have to eat those words.
That's because of a new industry effort launched recently by the Produce Marketing Association (PMA) designed to take a page from the marketing strategies of big money consumer brands like Nike and Apple. PMA has committed $1 million in 2015 to help fund the new Partnership For A Healthier America initiative, FNV (Fruit 'N' Vegetables), which will promote produce to teens and young adults with the types of marketing messages they're familiar with.
"We want to make fruits and vegetables, cool, convenient, and culturally resonant. This sells community; it doesn't preach health," said Sunkist Growers Vice President of Marketing and PMA Chair Kevin Fiori in a late-February conference call announcing the program's launch.
The whole idea is to brand fruits and vegetables. Let's face it, one of the big problems we have is that most fruits — with the exception of certain outstanding varieties, such as Honeycrisp apples — are considered commodities. That's not a good thing in our brand-conscious society, especially when you consider that our young people — the produce consumers/purchasers of tomorrow — are the most brand-conscious of all. PMA, to their credit, gets it.
"We're turning fruits and veggies into one big iconic brand called 'FNV,'" said Victors & Spoils chief marketing officer Andy Nathan. "We want to create more emotional resonance around fruits and vegetables, with the goal of increasing consumption and sales of fruits and vegetables."
FNV will use a bold logo, "Superhero meets a sports brand," Nathan said. The logo will be used in advertising, marketing materials, social media, and even apparel, including shirts and hats.
The tone of the campaign sounds just right to resonate with that critical youthful demographic. "We're promoting the concept, 'Eat, Share, Wear,'" Nathan said. The marketing campaign will be tongue in cheek, with edgy messages like "Prepare To Be Marketed To."
FNV has launched a website, TeamFNV.com, along with social media accounts on Facebook, Twitter, Instagram, and YouTube. The angle of the program that will likely get the most attention initially is the high-profile celebrities FNV has signed on, including a number of NFL (Cam Newton) and NBA stars (Stephen Curry), as well as actors (Jessica Alba) and musicians (Nick Jonas). The celebrities were chosen specifically to appeal to consumers ages 11-18. Smart.
FNV is a complementary program to the Eat Brighter campaign, which licensed Sesame Street characters to get kids excited about produce. Eat Brighter will continue. Experience with Eat Brighter showed that licensed characters can get kids to consume produce, and the thinking is that the FNV program is simply taking the next step and bringing in "real-life characters" for a slightly more mature audience.
The test markets for this program are Hampton Roads, VA, and Fresno, CA. I know many people reading this column reside in those areas, especially the latter, and I'd like to get your feedback on what you and your families and friends think of FNV. But love it or hate it, you've got to hand it to PMA for embarking on this ambitious initiative. Now, please pass the salt.