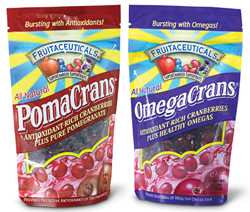 For consumers in nutritional peril and fruit growers who are on a mission to rescue them from this foe, Fruitaceuticals all-natural line of fruit snacks is here to save the day.
The three Fruitaceuticals sweetened dried cranberry products that are currently available in select stores contain antioxidant and anti-adhesion-promoting phytochemicals. This potent mix is the result of infusing cranberries, a "superfruit" packed with nutritional value, with nutrition-enhancing all-natural ingredients, including fruit that cannot be transformed into a dried version by any other method. While highly valued for their vast nutritional value, most "superfruits" cannot be delivered in a dried fruit format.
Decas Botanical Synergies, the company responsible for the creation of the line, can infuse cranberries with just about any food product. Dan Souza, director of sales and marketing, explains that they sought to capture the quality of the fruit while establishing their own unique brand of products. "You do not really see anyone aggressively touting the health benefits of cranberries," he says.
Growers Wanted
Decas Botanical Synergies has been infusing sweetened dried cranberries with its exclusive technology for the past 10 years. The company currently represents about 150 growers, and it is always seeking additional growers to provide them with cranberries. It will soon work with growers of other types of berries as well, as there are plans in place to expand the line. Blueberries are one type of "superfruit" Decas Botanical Synergies is looking to use in its future products.
For the time being, consumers can enjoy PomaCrans, OmegaCrans, and Buzz Berries. All of these snacks boast the health benefits of a glass of cranberry juice cocktail, a large percentage of anti-oxidants, and a low calorie count. PomaCrans also contains pure pomegranate and OmegaCrans is enhanced with 500 mg of Omega 3-6-9 derived from cranberry seed oil. Buzz Berries, which contain the amount of caffeine found in one cup of coffee, provide consumers with a healthy alternative to over-caffeinated drinks for energy.
Though Fruitaceuticals is currently sold mostly in independent stores and chain stores such as Wegman's, the line is quickly gaining momentum. Decas Botanical Synergies launched the initial products at Natural Products Expo East last year and was a finalist for most innovative new product. The snacks have received positive reviews from consumers as well. "The response from consumers has been fantastic. We have had multiple customers buying the products multiple times, which is our ultimate goal," Souza says.
Sustainability is one of the factors Decas Botanical Synergies has taken into consideration while developing the Fruitaceuticals line. The products are all-natural, and the company is looking to include organic berries in the near future.
Products In The Pipeline
So what's on the horizon for Decas Botanical Synergies? Here's a short list of some of the
products they are working on:
• FlexCrans — Antioxidant Rich Cranberries
SuperCharged with Healthy Glucosamine
(Cranberry + Joint Health)
• ActivCrans — Antioxidant Rich Cranberries
SuperCharged with Healthy Probiotics
(Cranberry + Gastro Intestinal Health)
• HeartCrans — Antioxidant Rich Cranberries
SuperCharged with Healthy Plant Sterols
(Cranberry + Heart Health)
• BlueCrans — Antioxidant Rich Cranberries
Plus Pure Blueberry
• OmegaBlues — Antioxidant Rich Blueberries
SuperCharged with Omega 3-6-9 (All Natural)
• BerryOrganics Chews — Organic fruit chews
For more information, go to www.fruitaceutical.com or www.decasbotanical.com.