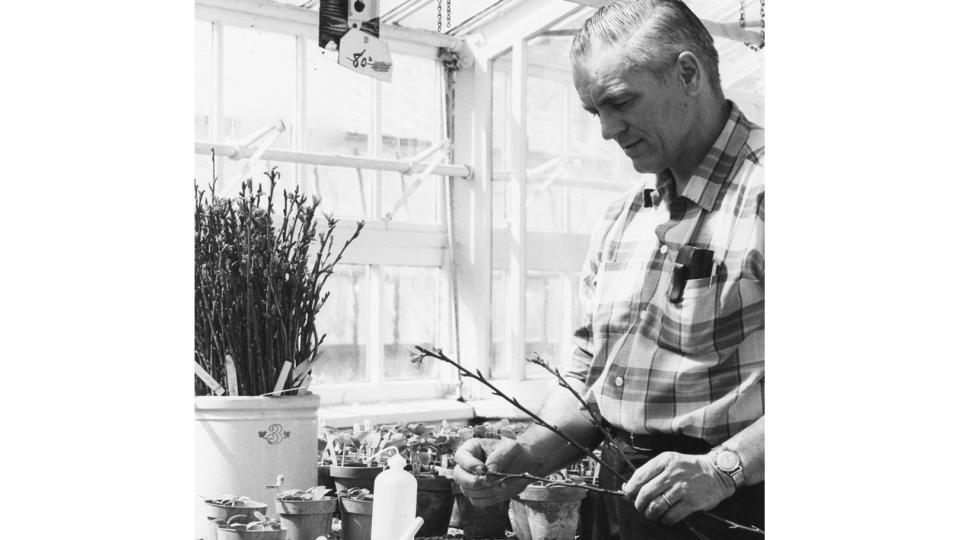 Roger Way, whose 'Empire' and 'Jonagold' apple varieties received Outstanding Fruit Cultivar awards in 1987 and 1988 respectively from the American Society for Horticultural Science, died June 2 in State College, PA. He was 100 years old.
Way was a Cornell University Professor Emeritus of Pomology and gained worldwide recognition for apple varieties he developed. His apple-related fame landed him on a "Jeopardy!" question, under the category "By the Way," which read: "Roger Way tasted 200 of these a day, helping him develop the 'Empire' and 'Jonagold' types."
"Dr. Roger Way contributed to the New York apple industry, but also nationally and internationally," said apple breeder Susan Brown, the Herman M. Cohn Professor of Agriculture and Life Science at Cornell AgriTech. "His 'Jonagold' apple, named in 1968, is seventh in European apple production by variety and 'Empire' is ninth in U.S. production."
Way's and colleagues' research on pollination and apple germplasm led to the introduction of 16 apple varieties, seven cherry varieties, and one elderberry variety to commercial growers and nurseries.
A 1984 People magazine feature described how he and longtime colleague Robert Lamb, a professor of horticultural sciences at New York State Agricultural Experiment Station (NYSAES) in Geneva, NY, cross-pollinated and nursed more than 100,000 apple trees and taste-tested the apples on every one of them. "We chew on about 200 apples a day," Way told the magazine. "It does take a certain amount of physical stamina."
"While Dr. Way was quiet at first glance, out in the field and at grower meetings, his voice was booming and his passion for genetic improvement of apples was clear to everyone in attendance," Brown said. "He wrote many articles geared to the industry on apple varieties and their performance."