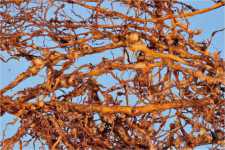 In Georgia, peach acreage is currently lower than in the past 10 years, though production values have increased and stayed within demand. This means our state's peach producers are doing more with less. Producers are using fewer chemicals, less fertilizer, and are generally becoming better stewards of the land; they are taking advantage of better management practices, new pesticide chemistries, and great peach breeding programs. With that said, when an issue occurs in the orchard, the impact is felt sooner.
Producers invest a considerable amount in the establishment of a new orchard. Site preparation, fumigation, and proper rootstock selection are all needed for successful orchard establishment. Nematode losses in peach can often be overlooked and go undiagnosed for many years. Nematode damage is generally variable within an orchard, and tree losses are often gradual — increasing over time with a rise in nematode population. Damage in a peach orchard due to nematodes can be a major limiting factor, especially when associated with Peach Tree Short Life (PTSL).
Control Measure Evaluated
In the past, we have relied solely on fumigation and proper rootstock selection, and we still do in many cases. Research is currently being conducted to evaluate the long term effects of reduced Telone II applications, cover crop rotations, and use of novel post-plant nematicides (Movento and MCW-2).
Greenhouse studies with Movento (spirotetramat, Bayer CropScience) have provided promising results. Movento is a broad-spectrum insecticide that also has potential to suppress nematodes. In our greenhouse peach trials, we found both labeled rates were effective in lowering the root-knot nematode populations. We tested a single and double application of Movento in separate trials, with no difference in control for a double application.
Though field trials are ongoing, one spring application of Movento, applied for control of phloem-feeding insects, may possibly provide suppression of root-knot nematodes as well, but more research is required to confirm this premise. If suppression of root-knot nematodes is possible with a spring application, less nematodes may reduce biotic and abiotic stresses, resulting in better tree survival and production.
We currently have no labeled post-plant nematicides for peach production in the Southeast. Since Movento already is labeled for use on peaches as an insecticide, any impact on nematodes would be welcomed as a side effect.
Novel Chemistry Coming
Another chemical, MCW-2 (which will carry the brand name Nimitz) has brought a considerable amount of excitement nationwide in terms of broad-spectrum nematode control. MCW-2, which is produced my Makhteshim-Agan of North America (MANA), is a new chemistry for the control of nematodes. We tested this new chemical in a series of greenhouse studies and are currently evaluating it in micro-plot field studies. In greenhouse trials, MCW-2 has performed well, with excellent control of both ring and root-knot nematodes on peach rootstocks.
For one study in particular, we had zero to no resurgence in ring nematode populations, the causal agent of PTSL. Studies in the field will need to be conducted to further substantiate our results. Unlike Movento, which is nematistatic, MCW-2 kills the nematode upon contact and is in the true sense a nematicide. According to MANA, MCW-2 will be released sometime in late 2014. It will first be labeled for use on vegetables and small fruits, like strawberries. The second tier of registration will include peaches with a label for stone fruits and nuts, which will be in the near future. Again there is a considerable amount of excitement with this chemical. We still need to conduct sufficient field studies in order to review both efficacy and application parameters. If MCW-2 is labeled, we are cautiously optimistic that it will be a welcomed addition to all peach growers' nematode management strategy.