Phil Asmundson is by no means a veteran viticulturist, but a half-dozen years ago, after watching his wife and business partner, Kim, auguring soil samples, he recalls turning to her and saying, "No offense, but there's got to be a better way."
And so began the Asmundsons' quest to farm a 20-acre high-tech vineyard in Willcox, AZ, designed to produce ultra-premium wines. The term "high-tech" doesn't do Deep Sky Vineyard justice, however. In fact, it is managed by a company called n.io so that once it is up and going, it could potentially be run with only minimal input from the grower — if that's what the grower wants.
For example, they're going to let n.io handle all facets of irrigation this coming year. It seemed like a logical next step after seeing the results of implementing the n.io system in 2016.
"It changed how we looked at the world rapidly," says Phil Asmundson. "Most growers water by the hour. We did. But emitters can clog and we found what we thought we were putting on the vineyard was off by as much as 45%. Time is not the important metric; it's how much you put on."
Adds Kim: "And we have many, many different soils, which all react to irrigation differently."
Clearly, a more individualized system was called for, Phil says. That, in essence, is what the n.io software platform provides.
"We have 15,000 vines and we listen to every one of them," he says.
Integrating Technology
Blake Duhame is Program Director for n.io Ag. It is a division of n.io Innovation, a three-year-old Colorado company whose CEO, Doug Standley, worked with Phil Asmundson at Deloitte & Touche. Asmundson is an investor in n.io.
An artificial intelligence platform, n.io was built to be industry agnostic. In addition to agriculture, n.io has also been applied to industry where it is currently digitizing 45 factories, n.io's core technology being the "secret sauce" behind all of them, Duhame says.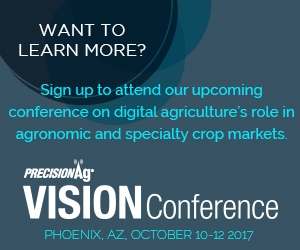 "What n.io can do in ag is become the farm's universal nervous system for all sensing, logic, and control," he says. "All this dumping of disparate, useless data on farmers becomes overwhelming. With n.io, real-time data from the field is not only being gathered, but autonomously acted upon in an intelligent way."
For example, frost can be a devastating problem in the high desert of Arizona in the spring, where the average high temperature in April is 77°F, but the average low is 37°F. If n.io senses temperatures approaching freezing in the fruit zone, high humidity, and moisture on the leaves, it will turn on a frost fan, and text the grower that the fan has been turned on. As the temperature rises it will turn the frost fan off, sending the grower another text and warning that according to the forecast there could be another frost that evening.
"The possibilities are endless," Duhame says. "You no longer have to manually keep track of all this information and then make decisions after the fact."
Growers can let n.io make as many or as few decisions as they want, Duhame says.
"You can go all the way from n.io offering suggestions to n.io acting completely autonomously on the farmer's behalf," he says. "The beauty of n.io is in its simplicity."
Pinpoint Irrigation
As mentioned above, the Asmundsons are going to let n.io handle irrigation pretty much by itself this year. Even so they will still be providing guidance to n.io as to their desired irrigation strategy throughout all five primary growth cycles. "In past years our biggest irrigation issues were due to human error," Phil says. "With n.io we tell it what we want to do and the system executes our decisions."
The difference is in combining a grower's irrigation strategy with real time weather and soil moisture sensor data to determine the optimal time to water and, most importantly, the required volume of water per plant.
"It's about truly watering by volume, rather than by time and assuming volume," Duhame says. "The idea is you don't have to adjust anything other than the stress you want to put on your vines. If they're in veraison, for example, you might want to limit the irrigation to apply more stress, whereas your goal in the beginning of the season may be to fill up the soil profile."
Even with n.io, the grower is still in complete control, Phil emphasizes. The grower determines which root depths he wants measured, and the desired moisture level at each selected depth. The grower can even tell n.io what depths are most critical when evaluating soil moisture given different varietals and different soil types.
"Using n.io the grower can create a weighted soil moisture distribution. For example, if the primary root zone is at 24 to 32 inches you can place 34% emphasis on 32 inches and 66% on 24 inches to precisely target water to the most important depths," Duhame says. "Over time you can teach n.io how to water to achieve your objectives in terms of quantity and quality of fruit."
That's why the Asmundsons are handing the irrigation keys to n.io for 2017. Because grapevines go many feet deep, and because of the intense relationship between moisture levels and grape quality, Phil says accuracy is paramount.
Given Arizona's hot and arid climate, irrigating at the right time and in the right amount is critical. This is made even more complicated by the newness of Arizona's viticulture. So how does n.io help in a region where there is not a lot of history?
"At the beginning of the growing season we want to fill the soil moisture profile and then manage it through harvest," Kim explains.
Throughout the rest of the growing season they continually adjust the high and low soil moisture thresholds for each of the root depths they are interested in based on current growing conditions.
"And I can change it for each varietal," Phil says. "When fully implemented, plants would then request water from n.io, based on our teaching."
Writing Algorithms
"Teaching" n.io is accomplished by the use of algorithms which can be fine-tuned by annotations authored by the grower. This is where the Asmundsons are quick to point out that in no way does n.io take out the human element, aka "the art of farming."
Whenever the grower — in the Asmundsons' case, this means Kim — enters the vineyard, she carries a smart phone or tablet. With the aid of GPS, n.io knows exactly where she is at all times, so she doesn't have to bother with location. She simply inputs what she sees, smells or — if the crop is that far along — tastes.
They have developed a comprehensive list of questions relevant to the current growth cycles which are presented by n.io. Based on the grower's answers to these questions, n.io will make recommendations, such as spraying for powdery mildew or whether to increase or decrease soil moisture thresholds. These annotations are a key differentiation to the n.io system; the grower's observations are critical inputs to the system's recommendations.
"This information is easily put into n.io, so every year it should get more and more accurate," Kim says. "And we'll have data about how to grow in Arizona we can share with our fellow growers. Ultimately, this is the true elegance of n.io; it makes us all better."
It really becomes a conversation between n.io and the grower, says Phil.
"n.io's constantly pinging us," he says, "but we're constantly pinging n.io with our observations."
Another reason the Asmundsons haven't yet gone fully autonomous, is that different growers believe different things, Kim explains. "In Arizona, we're all still learning ,and that's why we want to open our data to all growers."
Inputting all these annotations means more data, but that doesn't mean they're trying to say there's no art to farming, Phil emphasizes. They want growers to be able to practice that art without having to aggregate all the data they need or lose this knowledge in a myriad of notes.
"Don't load spread sheets — n.io can do it — go spend more time with your crop," he says. "You'll find you get the best of both worlds."
Not Your Average Grower
Visualizing a growing system in which the farmer needs to make few of the day-to-day decisions is not something the average winegrape grower would do, but the Asmundsons certainly aren't average. Neither has any background in farming. Like a lot of people who come to the wine business later in life, it started as a love for wine.
Phil was a senior partner and vice chairman of Deloitte & Touche, specializing in telecommunications and technology. After collecting wine for many years, in 2009 they decided to go to Mendoza, Argentina, for Phil's 50th birthday, where they bought a three-acre "condo vineyard."
"They took care of things through bottling, but we got to make decisions on fruit load, etc.," Phil says.
They remarked on how similar Mendoza was to Willcox, which is located just 100 miles from their Marana, AZ, home. Same latitude, 33 degrees; same altitude, 3,500 feet; same basic weather patterns, and while both are near mountains, neither has an ocean influence.
They planted 'Malbec,' 'Syrah,' 'Grenache,' 'Mouvedre,' 'Petite Sirah,' and 'Viognier' in Willcox in 2011, and now have four harvests under their belts. While it might seem an odd place for a vineyard, there are about a dozen on the "Willcox bench," an area which is also becoming home to almond and pistachio orchards.
Double-Edged Cost of Technology
Both n.io Ag Program Director Blake Duhame and grower Phil Asmundson, who also freely admits to being a n.io investor, concede the technology is not inexpensive.
Duhame says while the technology is "agnostic," in that it can be applied to any crop, for now it will likely only pay off in a relatively short time period in high-dollar crops such as winegrapes, nuts, and berries. In fact, for the coming year, those are the only types of crops the company is focusing on.
"The plan in 2017 is to continue to perfect what we've done at Deep Sky," he says. "We would also like to implement generation two of our solution in five new vineyards as we build the necessary strategy, partnerships, and distributors for scale."
But for a grower of high-end winegrapes, n.io does indeed pencil out, Asmundson says. Without putting too fine a point on his expenses, he says the per-acre cost was about the same as a ton of grapes on a one-time charge.
"It's not going to be anywhere near the hardware costs (of trellises and an irrigation system)," he says, "and scaling up to bigger vineyards would cost much less per acre."
Also, Asmundson says, you have to keep in mind that Deep Sky is the first n.io agriculture project, a giant laboratory. Mistakes are always made in the lab while experimenting; it's the only way to get at the truth.
For example, from the beginning the vineyard was purposely over-engineered to allow for unlimited testing and expandability. Looking back after the installation, n.io was able to streamline the design and will be able to shave nearly 40% of its cost for future installations.
Also, with irrigation such a critical factor to the success of a vineyard, they learned a lot about moisture sensors in a hurry. They also came to realize that the sensor manufacturers provided software with the sensors that they didn't want because n.io handles that. In light of that, sensor manufacturers dropped their costs.
Another technology cost factor growers would be wise to consider, says Asmundson, is the cost of not investing.
"Our ability to generate and act upon information is amazing," he says. "You can avoid technology but do so at your own peril. Without hesitation I can say with n.io I know much more than my fellow vineyard owners know. That, is without a doubt, a competitive advantage."
One significant differentiator of n.io is its ability to easily adopt and integrate new technologies, making it infinitely expandable and virtually "future-proof," Asmundson says.