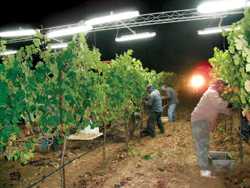 Seeking to heed that age-old business adage, "The customer is always right," Mark Houser had long considered employing light towers to harvest winegrapes at night. Vintners prefer cooler grapes, particularly those going into white wines, and fruit is at its coolest just before sunrise, noted Houser, the vineyard manager at Hoot Owl Creek Vineyards/Alexander Valley Vineyards, in Healdsburg, CA.
"We started seeing other people more and more using lights for harvest because the wineries like that cool fruit," he says. "So we built the light towers."
Three years ago, Houser, his foreman Isaul Macias, and his shop supervisor Mike Davis constructed three towers outfitted with fluorescent lights. They worked well, so well that this past year the three men decided to upgrade one tower with LED lights, which are about 30% brighter. For this year's harvest all the towers will have LED lights.
"They're more durable than fluorescent lights and they provide much better quality light," he says. "They cost a lot more, but they're worth it because the difference is just remarkable."
Beating The Heat
A lot of growers are considering night harvest not only to provide wineries with cooler fruit, but because regulators are really cracking down on heat-related health problems among agricultural workers. The issue really came to a head years ago in California when a 17-year-old pregnant girl died after picking grapes in 95-degree heat in the San Joaquin Valley. Governor Arnold Schwarzenegger attended her funeral and promised to do more to protect workers.
This past spring representatives from a state agency charged with nailing unscrupulous employers held seminars aimed at preparing growers for enforcement inspections. The coalition is made up of several agencies including: Cal/OSHA; Employment Development Department; the Labor Commissioner's Office; and the Contractors State License Board. The coalition has cracked down on agriculture and other industries for a variety of violations, but they've emphasized the state's heat illness prevention rules for employees who work outdoors.
Growers in such hot spots as the Central Valley might want to consider night harvesting. Asked what he would tell a grower considering the change, Houser responded immediately: "Once you do it, you'll say 'Why didn't I do this earlier?'"
Win/Win/Win Situation
Houser is quick to note that beating the heat was only part of the equation for him, as he farms on the North Coast, which generally doesn't get nearly as hot as the Central Valley. However, it's certainly a tangible benefit. "Make everybody safe, that's my first consideration, safety first," he says. "Besides, these people work hard, and any time you can make it easier for them, you do it."
In addition to working in the cool of the night, workers like picking in the dark — they usually start at 2 a.m., but will begin at midnight if there's a lot of fruit to harvest — because they're more efficient. "It's easier to pick because the stems are stiffer and you can go faster than when it's warmer and the stems get pliable, rubbery," he says. "That applies to leaf-pulling and suckering too. It's even true for machines — the mechanical leaf-puller doesn't work as well in the afternoon."
Houser says about half of their acreage is now machine-picked, and they use the lights on both mechanically harvested and hand-picked blocks. The towers can't be used in all areas. For example, they don't work well on terraced hillsides. He estimates that they harvested close to 30% of their fruit at night last year, or about 400 tons of the grapes they harvested.
The towers aren't cheap to make, about $4,000 each including all materials and labor. But Houser said they are easily worth it when harvesting such pricey fruit so much more efficiently. And he's not the only one who benefits. "Everybody wins," he says. "The guys win because they make more money piece rate, and the wineries always want winegrapes cool, white grapes especially."