According to NOAA's Climate Prediction Center, much of the U.S. is in store for a mild winter. In fact, the government agency's outlook from December 2018 through February 2019 foresees no part of the U.S. having below-average temperatures.
The latest winter forecast shows warmer-than-normal conditions are expected across much of the northern and western U.S., with the greatest likelihood in Alaska and from the Pacific Northwest to the Northern Plains. The Southeast, Tennessee Valley, Ohio Valley, and Mid-Atlantic all have equal chances for below-, near- or above-average temperatures.
NOAA's warm winter forecast parallels with seasonal outlooks recently released in pages of the "Old Farmer's Almanac" and "Farmers' Almanac" publications.
El Niño or Not?
In addition to the unusual warmth on tap, the notoriously naughty El Niño climate phase might be making a comeback. Mike Halpert, Deputy Director of NOAA's Climate Prediction Center, reports a 70% to 75% chance of a weak El Niño developing this winter season.
NOAA underlines El Niño as an ocean-atmosphere climate interaction that is linked to periodic warming in sea surface temperatures in the central and eastern equatorial Pacific. During the winter, typical El Niño conditions in the U.S. can include wetter-than-average precipitation in the South and drier conditions in parts of the North.
The climate phase phenomenon often comes with consequence. The International Research Institute for Climate and Society emphasizes how El Niño "contributes significantly to seasonal climate fluctuations in many regions of the globe, often with social and economic implications for human populations and the environment."
El Nino's last significant appearance came during winter 2015-2016 — and it was a strong showing.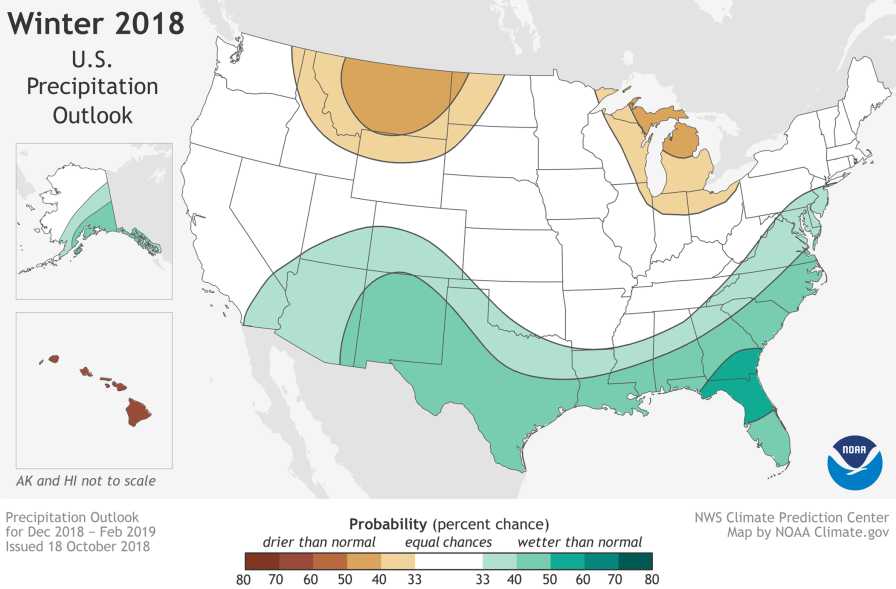 Precipitation Patterns
Wetter-than-average conditions are favored across the southern tier of the U.S., and up into the Mid-Atlantic. Northern Florida and southern Georgia have the greatest odds for above-average precipitation this winter
Drier-than-average conditions are most likely in parts of the northern Rockies and Northern Plains, as well as in the Great Lakes and northern Ohio Valley
Drought Index
Drought conditions are likely to persist across portions of the Southwest, Southern California, the central Great Basin, central Rockies, Northern Plains and portions of the interior Pacific Northwest
Drought conditions are anticipated to improve in areas throughout Arizona and New Mexico, southern sections of Utah and Colorado, the coastal Pacific Northwest, and the Central Plains
NOAA's Climate Prediction Center will continue to update its three-month outlook each month. Stay tuned as conditions are expected to moderate.