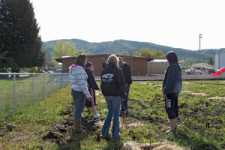 What's a good way to get school-age kids to eat fruit? One school district in Council, ID, may have found one. The school district is growing its own orchard.
Dawn Holmes, Council Future Farmers of America (FFA) adviser and agricultural and natural sciences teacher at the local high school, spearheaded the orchard, which is located on school grounds where an old tennis court was removed to make room.
The idea of an orchard began when an Idaho nutrition program offered a grant to schools to grow food on school property. At first, Holmes wasn't crazy about the idea because most gardening work is done in the summer, when students would not be in school. "But then the idea of an orchard came to mind," Holmes says, "where students could work in the early spring on pruning … and then when the kids come back it will be time to harvest."
Working Together
The orchard was planted last school year, and students in the horticulture class and plant science class will take care of it. "They did soil testing before we even planted the trees," Holmes says. "Then they did some variety selection and researched on the Internet different varieties that might grow in our
climate. "
Trees were provided by Van Well Nursery, Dave Wilson Nursery, and C&O Nursery. "They either gave us trees or sold us trees at the huge lot prices," Holmes says. About half of the district's 20 teachers pitched in to help buy trees, and some student organizations helped purchase trees, as well. Home Depot donated $100 to buy shovels.
Students in the horticulture class also worked with grade school students, designing mini workshops to teach the younger students differences in varieties for apples and cherries, hand pruner maintenance, and parts of a tree. "We had a great time with the fifth and sixth graders doing that," Holmes says. The 50 trees that make up the orchard were planted by students in the plant sciences, horticulture, and eighth grade earth science classes in less than a week. Half of the orchard consists of apples (Gala, Golden Delicious, and McIntosh); the rest is made up of cherries, peaches, prunes, and pears, and Holmes hopes to add grapes soon.
Once it's ripe, students will pick the fruit, which will be used in a variety of ways. Some fruit will be used for the school's "nutrition break," a daily break at 10 a.m. for students to eat, because most don't eat breakfast before they come to school. The fruit will also be given to the lunch program and used in cooking classes. Any fruit left over will be given away or sold as a fundraiser by Council's FFA chapter.
Growing Fruit Lovers
Not only will the orchard offer fresh fruit to students, it is also providing employment in the community. While school was out for the summer, a student helped out with fruit removal through the Youth Conservation Corps. A group of students participating in a summer work program took care of the weeding. "It's providing employment for our kids in this area," Holmes says.
Holmes says the biggest setback the orchard is facing is soil quality. The soil is rocky, and what is not rocky is good soil, but has a lot of clay. "The trees look good right now. There's a lot of growth on them for this spring growth," she says. "Hopefully we'll be able to pick some fruit in a couple of years."
Holmes says the response has been positive from this small district — 240 students, with more than 70 being involved in the project. "It's a real learning process with the soil testing and working with the younger students over at the grade school," she says. "And just the idea of having this for many years to come, something permanent they can see and take ownership of — the students of Council are hard at work making their community a more beautiful and bountiful place to live."
"One of my hopes is that kids will also learn to like to eat fruit and then maybe they'll get to plant a tree in their own backyard," she says. "Even if not, at least they'll enjoy being a consumer of fruit."