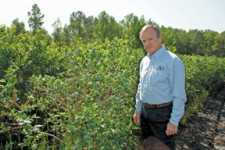 Founded in 1995 as a blueberry nursery and two separate neighboring farms, Island Grove Ag Products (IGAP) has expanded its size and scope to include 300+ acres of berry crops, an enhanced nursery operation, modern packinghouse facilities, and more spread over two locations (Hawthorne and Arcadia). "There was a little more than 1,000 acres [statewide] when I got into this business, and now there's close to 5,000 acres," Patterson says. "The varieties have gotten better and the yields per acre have really gone up."
With such attractive qualities, there's no question why more players have stepped up to the blueberry plate. Of course, just playing the game and winning are two different things. The limited competition outside the state provides the window of opportunity (late March into April) for Florida growers. "We have a competitive edge over most other regions because the weather here is conducive to harvest fruit at that time," Patterson says. "That's the big plus."
More competitors, however, are working to slide themselves into that prime time slot. Patterson notes Southern California, Mexico, Spain, and Morocco as main threats. Logistics are working in Florida's favor, for now. "The big area of consumption for blueberries is North America, more specifically, the Eastern Seaboard," he says. "We have a logistical advantage if nothing else."
While Chile has achieved moderate success in competing directly with Florida blueberries, Patterson says producing high-quality fruit in an efficient manner is the best way to combat that issue. "As the margins get thin, you have to be a high-producing, efficient grower to sustain it," he says. "That's where everybody needs to focus in this business."
Labor Intensive
When it comes to successfully growing blueberries in Florida, Patterson says the cons outnumber the pros. A limited number of consistently performing varieties, general lack of chill, adequate water, good soil, fungus pressures, not to mention small creatures with big appetites are just some of the daily challenges. And new threats like the spotted wing drosophila can be a potential game-changer. "Blueberries have been in Florida long enough, and we're starting to get problems we've never had," Patterson says.
Growth Potential
While challenges are omnipresent, there are a number of positives abound in the blueberry business. Patterson says he is particularly excited about new research results promoting the health benefits of blueberries. "Everything that blueberries are good for, I don't think we know them all yet," he says. "This health wave, Island Grove is going to ride it."
In addition, the prospect of new machine-pick varieties being developed by the University of Florida's (UF) breeding program is another reason Patterson is confident in the future. He says the varieties will help address immigration uncertainty (a major reason why IGAP is planting them) and provide for more growth. "We are desperately looking for an alternative," he says. "Recently released varieties (Farthing and Meadowlark) have real potential in that area. They have not been tested in South Florida, so we don't really know if they'll have enough chill hours," he says. "But north of I-4, they are going to do well."
Bullish on the new machine-pick varieties, IGAP continues to grow its conventional and organic blueberry acreage, and according to Patterson, will be adding another 30 acres in the fall. Up until about five years ago, IGAP focused strictly on blueberry production. Since then, its edible line has expanded to include blackberries (organic), strawberries, figs, new peach releases from UF, and even native plants for landscape.
Despite being a relatively young company, a proactive nature has paid off for IGAP. "We constantly take out old varieties as we propagate large numbers of new ones and rotate our fields so we stay on the cutting edge of earliness and quality," Patterson says. "That's what we're all about. That's how you make money in this business."
Plan Accordingly
1. Money: "It starts with the initial outlay of capital," he says. "Right now, it takes about $20,000 an acre to plant blueberries and that includes overhead, bark, drip, and everything that goes with irrigation."
3. Water: "You need to understand your water source and make sure you have enough of it."
5. Varieties: "Make sure you're getting varieties that have been tested and proven in your area. Be sure to buy healthy plants that are not root-bound."