Can you imagine Florida without agriculture? From the beginning of time, the land and unique subtropical environment here have provided a true nature's bounty. Back in the early times before Florida was a state, Native Americans and early settlers realized the gifts around them to grow food crops for survival and building civilization.
Fast forward to modern day. The appreciation society has for agriculture might not necessarily be rooted as a top priority, but the importance of the practice is just as valuable — actually much more.
The latest iteration of an annual economic report recently released from UF/IFAS reveals that from 2007 to 2016, the segment of Florida's Gross State Product (GSP) generated by agriculture, natural resources, and food industries grew at a rate faster than the state's total GSP. What does this mean? According to the study, the progression indicates Florida's farming sector is strong and helping buoy the state's overall economy.
This fact isn't a shocker, as agriculture is and has been long touted as one of the state's top economic drivers, second to tourism. But in contrast to tourism trends, eating doesn't go out of style — even during recessions.
By the numbers, Florida's overall GSP rose by about 17.6% from 2007 to 2016.
Comparatively during the same time period, agriculture, natural resources, and food industries blossomed 28.6%.
Check out the infographic below for other key figures gleaned from the IFAS-authored report.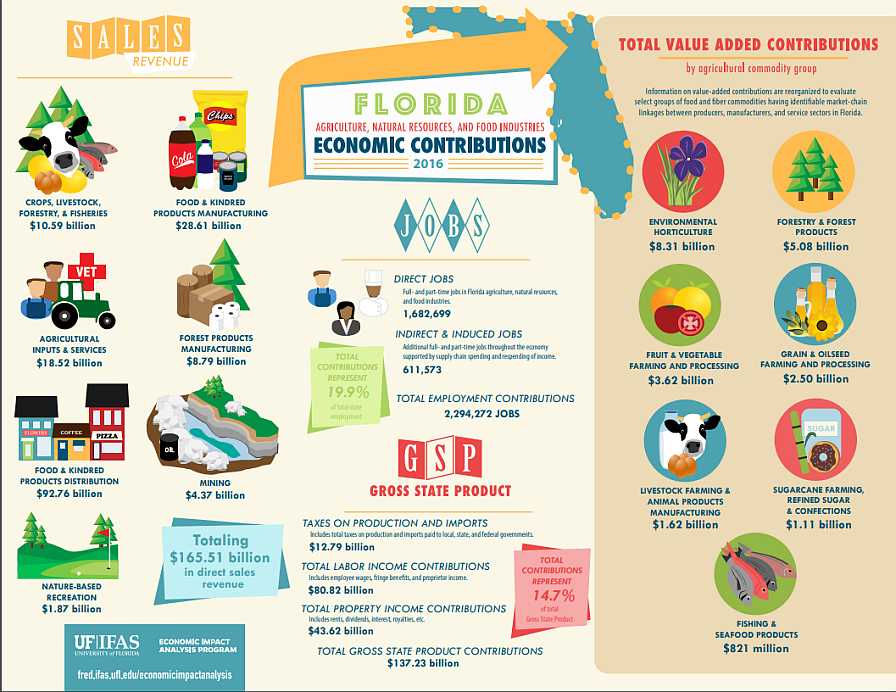 Despite all the challenges that get thrown at agriculture, the desire to grow always overcomes. The bottom line for growers: Continue to do what you do best. It truly makes a difference.