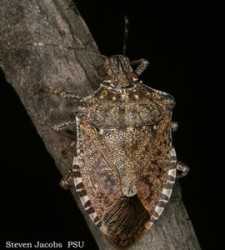 Stink bugs have been a huge problem this season, and one grower in Pennsylvania lost $10,000 worth of apples to the pest. But, apples aren't even the hardest hit crop, according to Norman Conrad with the Penn State Cooperative Extension. "The crops most severely hit this year in Pennsylvania were peaches, with an estimated 40% to 50% loss (about $15 million) and fresh tomatoes, with a 15% loss ($3 million)," he said.
The brown marmorated stink bug produces a bad odor to protect itself from predators, and it attacks everything from green beans, soybeans, sweet corn, raspberries, pears, and cherries, in addition to peaches and apples. The type of injury it creates differs depending on crop. In peaches, it causes "cat facing" or puckering, and in apples, it creates a corky spot beneath the peel. According to Conrad, the bugs flourished this year because of the hot weather this summer.
To combat the pest, scientists are are planning to visit Asia, where the bugs originated, to look for a natural predator. There currently is no known predator in the U.S.
For more information,.
Source: dailyitem.com