A system to measure precisely how many pounds of cherries laborers are picking — improving accuracy and often saving growers money — is now available.
A trial model of the system was originally featured on the cover of American Fruit Grower® and Western Fruit Grower™ magazines exactly two years ago. The concept is basically unchanged, says the lead developer, Matthew Whiting, Washington State University stone fruit physiologist. Other researchers on the project are Yiannis Ampatzidis and Mark De Kleine, who are also with WSU.
At that time, Whiting was looking for commercial partners, but when he couldn't find any readily, he and his team decided to do it themselves.
"We subcontracted out the parts and put it together," said Whiting. "We're really excited about the prospects. Growers are recognizing the need for accurate piece rate pay."
Four Years In Development
The FairWeigh system is actually quite simple. Instead of being paid for a bucket that is supposed to hold 20 pounds of cherries, pickers are paid for the actual weight. Mike Omeg, who grows cherries in The Dalles, OR, found he was significantly overpaying pickers when he tested the system two years ago. The system, which was launched with a Specialty Crops Research Initiative (SCRI) grant, has been in development for the past four years.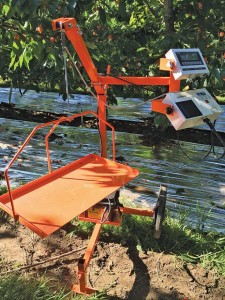 Omeg, an American Fruit Grower and Western Fruit Grower GenNext Grower, is a meticulous record keeper. That year, 2013, he picked 5,234,499 pounds of cherries into 266,917 buckets. That comes out to an average bucket weight of 19.61 pounds. Because Omeg pays his workers based on how many 20-lb. buckets they pick, he figured that he overpaid them by a total of $16,135.
That would exceed the price of a FairWeigh unit by more than $10,000, notes Whiting, as it is being sold this year for the first time for a retail price of $6,000. That includes the hanging scale, frame, electronic control box, and all batteries and chargers, as well radio frequency identification (RFID) tags.
A consideration like the frame might not seem like much, but Whiting and his team found it crucial. They have modified the frame to make it stronger, and pushed the wheels farther apart — they're now 30 inches — to make the units more stable. That's vital for the hilly orchards the units will traverse.
"It was really interesting for us to look at the abuse they take," he says. "Farm equipment takes a beating, but it's expensive equipment."
The RFID tags are also absolutely critical to the system, Whiting says.
"Each picker has his own RFID tag on a bracelet," he says. "When a picker comes in with bucket of cherries, he waves the tag and gets compensated precisely for the weight of the fruit."
Attracting Laborers
Harvest efficiency should improve, says Whiting, because with every worker, you know exactly what they were picking when. But it can be a benefit for the workers, too.
"You can ID the top 10% of your pickers — maybe you give them special bonuses," he says. "Of course you can also find your worst pickers. It's a tremendous analytic aid."
But with labor sometimes scarce, and the need lately to prove growers provide sufficient break time, Whiting believes the FairWeigh system could become even more convenient. Of course it tracks each bucket of fruit, and it records weight time and gives a receipt.
"But it also allows the worker to say 'I'm going on break now.' Then they return and check back in," he says. "It knows how long you've been gone, which is great when growers must pay an hourly wage for break time."
With labor getting tighter, it's an advantage.
"That's the draw we see, the pay is fairer for the growers," he says, "but also for the pickers."  ●