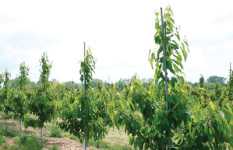 Sporting a shiny, dark-red exterior, long stems, and a firm crunch, the German-born variety "Regina" (pronounced with a soft "g") is turning heads in the cherry industry. And it has taken about 15 years for U.S. growers to tap its potential.
University experiments have enhanced Regina's production by changing to more precocious rootstocks and compatible pollinators, which is beginning to erase earlier doubts about low yield performance of this late-season variety. Regina yields have since improved and consumers have taken notice of the premium fruit, which has prompted at least six Eastern growers to invest in the variety in the last couple of years.
"People specifically ask for Regina cherries; they know the name already," says Alan Buhr, a co-partner with his brothers Dennis and Tim of Newroyal Orchards in Gasport, NY. "Regina will command a premium because people love them — they just stand out."
Newroyal Orchards planted 600 trees of Regina on 2 acres last year after seeing positive responses to the variety at their farm market. For about five years, the Buhrs have handled local retail sales for a portion of Cornell University's Regina crop, in addition to their own production of apples (300 acres), pears (40 acres), and cherries (30 acres). They added Regina to their lineup of about a dozen cherry varieties and are expecting their first production this season.
"I liken Regina to the Honeycrisp apple," Buhr says. "It will induce return sales, and then other growers will catch on because it is a high-quality cherry."
Good Quality
Regina's most highly regarded characteristics, especially for Eastern growers, are its tolerance to rain cracking, large fruit size of 9 to 11 grams with a diameter of 30 millimeters, and the tree's tolerance to winter cold damage, says Terence L. Robinson, professor, Department of Horticultural Sciences at Cornell University. Other desirable traits include a milder, less-acidic flavor, crunchy texture, dark-red color, long stems, and a good storage life (approximately three to five weeks).
"There may be other new varieties to come down the pike, but so far, this is the best one that I've come across," says Robinson, who has been experimenting with Regina for more than seven years with high-density systems on 3 acres of experimental plots in Geneva, NY.
Regina was introduced to U.S. growers around 1994, and the first plantings were done in Oregon and Washington on the vigorous and non-precocious Mazzard rootstock, which didn't allow Regina to perform to its fullest potential and therefore discouraged some growers. But promising results in New York in recent years have enthused Eastern and Western growers alike.
Robinson says they have discovered "two little tricks" to enhance performance: planting on dwarfing Gisela 5, 6, or 12 — dwarfing and precicious rootstocks that induce flowering — and using late-blooming varieties, such as Hudson, as pollinators. He says using Gisela stocks quadrupled yields in their experimental plots. And, as the trees mature over the years, production has steadily increased. (See the results in the "Regina Research Profile" sidebar.)
Better Market, Better Price
This industry expert has high hopes for Regina for several reasons. Regina is a late-season variety that can extend the cherry picking season for about one week (to July 21 from July 15). The fruit stores well for long periods of time, extending availability to mid August. Storage tests conducted by Cornell Extension indicate the fruit stores well for a three- to five-week period, and although this is a desirable quality for export, Robinson says the emphasis for cherry growers in the East is to have an edge in local and regional markets.
The large, long-stemmed Regina should fetch a premium price of about 50¢ more per pound than other cherry varieties, according to Robinson (see "Aggressive Pricing"). Regina's presentation can potentially give growers access to high-end grocers and retailers.
Robinson says he expects, in Eastern states, that Regina will replace older varieties that aren't as firm (less tolerant to rain cracking) and that produce smaller and softer fruit, such as Hedelfingen. He added that producing a larger fruit makes Eastern-grown cherries competitive with Western-grown cherries, which enhances the edge of Eastern growers as consumers' focus continues to be on locally grown produce.
Oregon Pays Homage
Growers in Oregon admire Regina for its high packouts, moderately large fruit (9-and-a-half row cherries), resistance to rain cracking, and good shipping quality.
Regina's high return has a lot to do with being in a different harvest season than Bing, says Lynn E. Long, Extension horticulturist at Oregon State University (OSU). Prices were $1.06 per pound return on Regina compared to a 77¢ per pound return on Bing in 2007 in Wasco County, the state's largest cherry producing area.
"Regina has been well accepted in Oregon," Long says. "We've probably planted it in Oregon more than anywhere else (in the country)."
He attributes Regina's popularity growth in Oregon to a particularly rainy harvest season a few years ago. Oregon growers saw a lot of rainfall, while their counterparts in Washington did not experience as much. Those growers in Oregon who invested in Regina experienced first-hand the fruit's resistance to rain cracking: an estimated 5% of the Regina cracked, while 55% of Bing cracked, according to OSU research trials. For this reason, Regina is especially suited for The Dalles-Hood River region, he says.
Long says one of the reasons some growers were initially scared away by Regina is because it wasn't known for being a productive variety. The key to unlocking Regina's potential has been in using dwarfing rootstock (i.e., Gisela 6 or 12), which not all growers are willing to switch to, and multiple pollinizers (the most common in Oregon being Sam, Starks Gold, and Schneider's).
"Regina blooms very late, so there are very few pollinizers that work well that can also be harvested," Long says. "We recommend three pollinizers per block … to be sure to hit the timing right."
Production in recent years has been meeting grower expectations, in some cases reaching 5 tons per acre on the fifth leaf. He says the packouts are high to balance out any yield concerns; for example, Regina can get a 95% packout compared to Lapins' 85%.
Cherry growers in the Northwest U.S. who export to Asia and Europe have also been impressed by Regina. "It's getting a good reputation for being a good quality cherry that ships well," Long says.
For more information on Regina and other up-and-coming cherry varieties, go to http://extension.oregonstate.edu/catalog/pdf/pnw/pnw604.pdf.