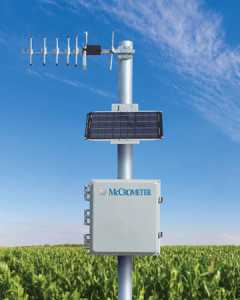 For Florida growers, proper water management is key not only to maintaining healthy crops, but also to effectively coping with the expanding regulatory restrictions. Here are some irrigation equipment options designed to help go with the flow.
RemoteCONNECT
The RemoteCONNECT Telemetry System from McCrometer is designed to be a turnkey solution for automated irrigation flow metering. The system delivers up-to-date flow information via the Internet for centralized monitoring and control. Two different, complementary RemoteCONNECT telemetry systems (RemoteCOM and SatCOM) are available and adjustable to fit users' unique needs. Both can be configured to provide vital data such as soil moisture, water level, water salinity, and rainfall amounts.
For more information, visit
www.mccrometer.com
.
SLRC Wireless Remote
SLRC, Weathermatic's handheld remote for its Smartline weather-based line of controllers, offers users the benefits of wireless irrigation network technology. Compatible with controller models SL800, SL1600, and SL4800, the SLRC can immediately interface when an existing Smartline wireless communications hub is already in place, so there is no need for installing a separate receiver. The unit operates within a 1,000-foot line of sight and can access up to 48 stations instantly. The SLRC runs on two AAA batteries.
For more information, visit
www.smartline.com.