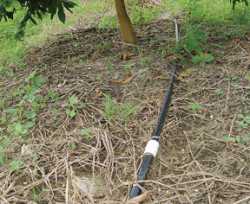 The good news for Florida agriculture is that state law provides a presumption of compliance with state water quality standards to producers who enroll in and implement best management practices (BMPs) adopted by the Florida Department of Agriculture and Consumer Services (FDACS). That presumption would apply to any standards the state adopts to satisfy the EPA nutrient limits. Continued support for this approach depends on the level of ongoing grower participation in BMP programs.
Working with the agricultural industry, UF/IFAS, and others, FDACS has adopted BMP manuals for citrus, vegetable/row crop, container nursery, sod, cow/calf, silviculture, and aquaculture operations. BMP manuals for equine and specialty fruit and nut operations are targeted for adoption this year. Each BMP manual covers key aspects of water quality and water conservation. Typical practices include:
• Nutrient Management – to determine nutrient needs and sources, and manage nutrient applications (including manure) to minimize impacts to water resources.
• Irrigation Management – to address the method and scheduling of irrigation to help reduce water and nutrient losses.
• Sediment and Erosion Control – to reduce or prevent the transport of nutrients and sediments from production areas to water bodies.
Want To Enroll? Here's How
After Enrolling
Of course, implementing the BMPs is the key to maintaining a presumption of compliance with state water quality standards. An important part of BMP implementation is documenting them through recordkeeping, as specified in FDACS rules and BMP manuals. This is sometimes the only way to confirm BMP implementation. BMP records should be accurate, clear, and well-organized. You may develop your own recordkeeping forms or use the ones provided in the manual.
FDACS staff, UF/IFAS BMP implementation teams, soil and water conservation districts, USDA-NRCS, and/or county Extension staff can assist producers with BMP implementation and recordkeeping methods.
Along with local governments and private industry, the agricultural community is expected and required to reduce their water quality impacts. It is crucial producers enroll in and implement applicable BMPs as quickly as possible to underscore agriculture's participation in and commitment to water resource protection. As the agricultural industry embraces BMPs and works with FDACS and other stakeholders to make continual improvements to the program, the likelihood is that support for this approach to achieving water quality and conservation will continue.
Be Prepared