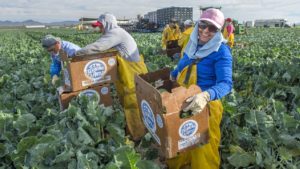 "How Ya Gonna' Keep 'em Down on the Farm?" That World War I-era song about losing rural talent to the city could have been written today. Finding and keeping good workers is a challenge facing just about every vegetable grower.
Salinas, CA-based Tanimura & Antle has several suggestions that have proven successful for them, all of which revolve around respect for the individual.
Long a forward-thinking bastion of the industry, Tanimura & Antle is one of the largest independently-owned vegetable grower-packer-shippers in the U.S. Founded in 1982, it has been passionate about growing premium-quality produce and acknowledging the worth of the employees who make it all happen.
"Workers are the backbone of our business," says President/CEO Rick Antle. "In contrast to industry norm, we endeavor to employ our entire labor force. They support us in the most difficult of times, as well as in the most profitable times. So making sure they have the right benefits — health, dental, vision, retirement — is a priority."
In a day and time when fieldworker availability is no longer a given, Tanimura & Antle has managed to attract and retain a core workforce of more than 2,500 employees that can rise seasonally to as many as 7,500 at locations in Salinas, Hollister, Huron, and Oxnard, CA, and in Yuma, AZ, and Livingston, TN. More than 60 harvest crews are kept busy year-round.
There are lessons to be learned in how they manage to keep folks happy and feeling their own sense of personal worth — from those on the starting end of the employee roster all the way up the chain of production that farms more than 36,000 acres and ships product throughout North America, Asia, and Europe.
In fact, the company mantelpiece isn't large enough to hold all the trophies, blue ribbons, accolades, and kudos it's already received. Where to start?
Pay Workers what They're Worth
At the simplest level is a worker paycheck. As overall gains in productivity and company earnings keep rising, so, too, do wages.
"We tie those gains with gains in employee earning," says Tim Escamilla, Chief Operations Officer.
"We always want to be well above wage minimums," he says. "With our harvesting crews, we have a minimum-base hourly pay of $13 with great group production incentives. We're not a piece-rate employer and never have been. Average wage this past year on the production side has been $17 per hour peaking at $22 per hour, depending on the job. That rate, $16 to $17 an hour, was our target range for 2016 to 2017. Our goal for next year will increase to $18 to $19 an hour for all production crews."
Consider Making Employees Part-Owners
"The wage scale we pay attracts and retains our workers," Antle says. "And our newest program, ESOP (employee stock ownership program, initiated in February 2017), will give an added incentive to workers who return year after year."
Tanimura & Antle offers ESOP to employees who work a minimum of 1,000 hours during the year, which includes just about every employee.
"All employees will be owners of the company," Antle says. "It helps ensure that the people who make it happen here every day share in the growth they're creating. And that's in addition to our 401k and family health insurance programs."
Decision-makers felt ESOP was the best method of giving workers a piece of the company, embedding them in Tanimura & Antle family traditions, and in turn, shaping the future for the company as well as workers and their families. By making this move, Tanimura & Antle became one of the first grower-packer-shipper operations in the U.S. to share company ownership with all qualified domestic employees, running the payroll gamut from seed to sale.
If Housing Is Lacking for Employees, Find a Solution
The Salinas Valley has a high demand for farmworkers, but very few options for housing. Many had to rent rooms from locals — some of whom were not happy about having the workers in town, despite taking their money. The situation made the fields near company headquarters unappealing to crews.
Tanimura & Antle decided it needed to change that, so it invested in building employee housing at California's Spreckels Crossing, a first-of-its-kind employee housing complex. It's also an adaptive use of the historic Spreckel's Sugar site, located on Tanimura & Antle property. Workers can live onsite and are bussed each day to their work location. The dormitory-style housing facility consists of 100, two-bedroom, two-bath, fully-furnished units.
"Other amenities include laundry rooms, a recreation room, baseball and soccer fields, communal BBQ and picnic areas, computer access, and an on-site store," says Marketing Director Kyla Oberman.
Originally constructed to meet H-2A Visa Program requirements, the site has the capacity to accommodate up to 800 employees. When word spread that Spreckels Crossing was not only safe and affordable, but also attractively designed for long-term living, many Tanimura & Antle employees from other growing areas travel to work during the Salinas season. So the units house current employees, not H-2A workers.
The Tanimura & Antle website sums it up: "We hope to satisfy a fundamental need we all share — to live in a safe, clean, and comfortable home."
While being recognized by the Monterey Bay Economic Partnership for their efforts, Tanimura & Antle acknowledged it hoped the Spreckels Crossing project would serve as an example to others to follow suit and help address the labor shortage and paucity of housing for seasonal employees that plagues the industry.
"This project is a true testament to what can be accomplished when business and local government work together," Antle says. "Rarely does one have the opportunity to improve the community as this project has. In addressing critical affordable housing needs, we have changed lives."
Likewise, in the Imperial Valley of Arizona, where Tanimura & Antle uses the H-2A program for seasonal workers due to a shortage of labor. The operation makes use of seven apartment complexes — two owned by the company, and five are leased. Combined they can house approximately 800 workers.
"It's because of this housing effort that we've been able to sustain our domestic workforce," Antle said while accepting the 2017 Ben Heller Award for Leadership and Courage. This award is presented to those who set an industry standard of providing affordable, safe, and clean employee housing.
"We'll continue to drive our housing efforts in both Salinas and Yuma in the year ahead."
Show Gratitude
Sometimes it takes a direct "show me, don't just tell me" to get across the message that employees are valued. That's why Tanimura & Antle is involved in the Yuma Fresh Vegetable Association [YFVA] program, Labor of Love, where actions speak louder than words.
One feature of the program is surprising harvesters in the field during their picking day with a chow wagon. Crews get lunch, along with gift cards, gloves, and new work boots.
"In 2017, we fed a lot of field folks, distributing thousands of tacos and burritos to unsuspecting crews at the crack of dawn," says Program Coordinator Susan Sternitzke. "Another way we want to show appreciation is by changing "Farm Crew" signs on labor buses to read "Thank a Farm Worker — Wave If You Love Veggies."
"Harvesting is a difficult profession," says YFVA President Steve Alameda, who grows in both Arizona and California. "When we find the right workers, we want to make sure we take care of them, respect them, and celebrate their invaluable contribution to the industry. The Labor of Love program showcases that workforce and publicly thanks them for their hard work."
Develop Talent from Within
"We have employees who have been with us for more than 30 years at different production jobs," Antle says. "And in order to maintain our relationship with our employees, we need to show we care about them. Recent figures show more than 1,500 employees have been with the company longer than a decade while 14% of our workforce, about 400 employees, have been with the company for more than 20 years."
One of those long-timers is Gloria Mejia, with the company for 23 years, rising in responsibility with longevity as she went from a cutter to a packer, then a driver, and now a foreperson.
"I wake up at 4 a.m. to be at work by 5, then spend about seven hours in the field," she says.
The most rewarding part of her job?
"Everything," Mejia says. "Here I've been able to raise my five children. For me, this is the best company in agriculture."
"We try to recruit from within," Antle says. "Today's truck driver may have once been a lettuce picker or today's harvest foreman might have been a previous truck driver. Because of the way we treat our people, we're seeing second-generation families coming into the business. In return for how we treat our workers, we get better productivity, better quality, and more commitment from our workforce."
If You Can, Employ Crews Directly
While much of California's harvest labor is outsourced to third parties, Tanimura & Antle is a direct employer.
"We've had a direct workforce since the early 1980s because it's a given that if you outsource, you lose control and connection with workers. Our belief is that they're part of us, an extension of our family," Antle says, adding, "We are in a dynamic business and need to build a structure that maintains local control and supports future growth and governance, while ensuring we stay agile and innovative."
"H-2A will not be the salvation of the agricultural industry's labor problem," Antle says.
"So we'll continue to look for ways to supplement our benefits package, like promoting preventive health care to maintain a healthier workforce and in turn bring down the cost of insurance premiums. We'll also try to leverage our existing older benefits that have been around for awhile to ensure they are available to those who could use them."
Reminded that not all companies are as large and/or profitable as Tanimura & Antle and may not be able to afford undertaking some of the actions they have done for their employees, Antle says there are many ways to show appreciation for hard work and dedication.
"We've always understood that employees are family, our most valuable asset, so it's gratifying we've been able to lay some solid foundations for future success."