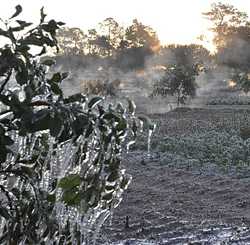 While modern freeze events such as the ones in 1977, 1983, and 1989 have set the bar high in crop damage in the Sunshine State, the duration of sub-freezing nights this past January was unprecedented. For almost two weeks straight, Florida growers worked around the clock to protect their crops. By the time it was all said and done, protection mode had turned to survival mode and then — for many — a salvage operation. The cold wasn't discriminating by any means as all major crops from strawberries to sugar cane took a hit. "When you talk to old-timers who are fourth-generation growers, they remind me we had either freezing temperatures higher or just a little bit lower for eight or nine days before we really got whacked," says Mike Sparks, executive vice president and CEO of Florida Citrus Mutual. "No one remembers that happening in history."
According to Gene McAvoy, Hendry County UF/IFAS Extension agent, roughly 70% of the winter vegetable crop in Southwest Florida was lost to the freeze. "Growers were able to save some very young plants by covering them with soil or hay," he says. "But that was a small amount."
McAvoy says losses on the seven major vegetable crops (tomatoes, peppers, green beans, eggplant, corn, cucumber, and squash) in the five-county swath comprising Southwest Florida will top $150 million in production costs alone. "Adding in the minor crops grown, the amount will approach $200 million," he says.
At press time, total crop damage around the Miami-Dade area was approaching $300 million.
Citrus Situation
Florida citrus growers also felt the squeeze during January's cold wave. Initial reports indicated some areas were affected more than others. "There's no doubt in our mind that many of our areas got hurt badly," Sparks says. "Certainly many of our groves on the northern tier suffered significant damages."
The damage reports in those areas ranged from fruit loss to some cases where there was tree damage significant enough that it could impact next year's crop.
The Indian River, of all the growing districts, probably fared the best, Sparks adds. "I wouldn't say they 'dodged a bullet,' because they have been hurt, but not to the levels others have been hurt," he says.
While initial damage estimates have been published from the Florida Agricultural Statistics Services, Sparks says industry professionals should take the first sets of numbers with a grain of salt as these estimates will be revised several times. "We really won't know until we start harvesting Valencias in March and April," he says.
While it is known what long periods of cold weather can do to citrus, many were wondering if this extraordinary freeze event made a dent in the psyllid population. Phil Stansly, entomologist at UF/IFAS Southwest Florida Research & Education Center (SWFREC) in Immokalee, says despite the duration of the cold and populations being reduced somewhat, adult psyllids — unfortunately — are still out there. And while the cold didn't take care of the psyllid problem, it does present an opportunity for the grower to strike back. "This is the best time to spray because they are at their weakest point now," he says. "You lost some leaves so your canopy is open. Now is the time to fly by and don't wait for another flush to come along. You want to make sure you nail them before it happens."
Other Impacts
A drastic reduction in crops certainly has a big effect on the labor force directly involved. According to an estimated income loss report compiled by Fritz Roka, associate professor of agricultural economics at UF/IFAS SWFREC in conjunction with Monica Ozores-Hampton, assistant professor of vegetable horticulture, UF/IFAS SWFREC, and McAvoy, Southwest Florida vegetable farmworkers lost almost $24 million in potential wages. "Immokalee is especially hard hit as many of the vegetables from the region are packed and shipped there," McAvoy says. "Hendry County also will feel the pinch disproportionately."
While occasional hard-freeze events are part of the territory for a Florida grower, this latest event could be the death knell for some vegetable growers who are still struggling in the wake of disasters such as Hurricane Wilma, Tropical Storm Fay, and last year's freezes. "So many vegetable growers were already in a difficult financial position," McAvoy says. "This could force some of the small to medium-sized farmers out of business, especially in the light of a much tighter credit market than existed in past years."
Long Road Ahead
The frustration that follows devastating blows dealt by Mother Nature is nothing new to Florida growers. All the hard work put in leading up to that point makes it that much harder for those to start over. "Many growers have expressed doubt on whether or not they will re-plant, and how much to plant if they do," McAvoy says.
Though USDA granted a disaster declaration request for 60 out of Florida's 67 counties at the end of January, and while there is movement to get some federal disaster funding for growers, McAvoy says growers need to be patient in their quest for government aid. "Based on the experience of previous disasters, it could be months or even a year or more before assistance is forthcoming," he says. "This typically takes the form of low-interest loans and excludes growers with more than a $2 million a year gross — which is the majority."