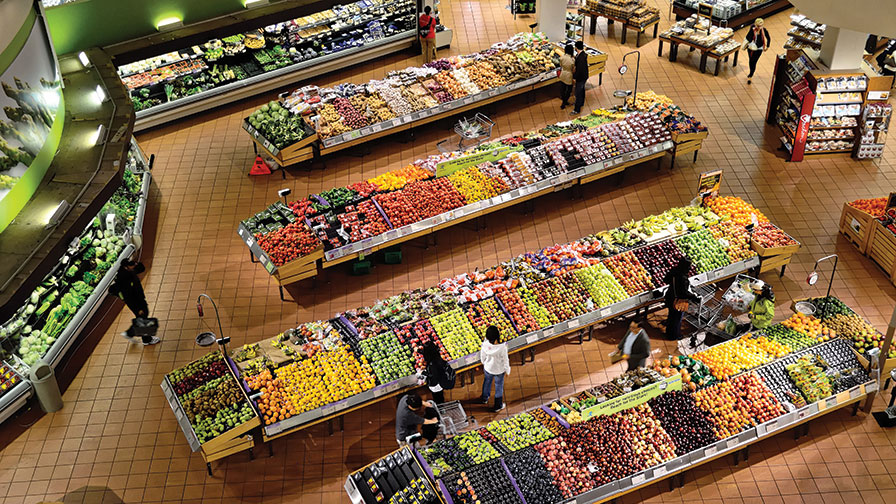 Academics refer to the practice as "interventions to change food purchasing behaviors" or manipulating sensory cues to "trigger purchase behavior in consumers." In practice, it's called "merchandising."
Merchandising takes on many forms and can involve a variety of techniques meant to engage any or all of a shopper's senses. The goal is to enhance the experience and pull them toward purchases. They may only pick up what they intended to buy in the first place, but with a little subtle encouragement, they might just end up with a bit more. Or even something else they hadn't planned on at the checkout counter.
Merchandising is not just the produce marketers' job. Growers/shippers can help their buyers by providing convenience, not just for customers, but for produce marketers, too.
If you're wholesaling fresh produce, supplying creative solutions like point-of-purchase materials or innovative packaging will help your buyers sell your products effectively and efficiently.
Color Sells Your Business, Too
Stoplight peppers — a prepackaged tray or sleeve of red, yellow, and green bell peppers — is a concept dreamt up by fresh produce retailer Jan de Lange nearly 30 years ago. Today, several growers offer 'Stoplight Peppers,' ready to display for grab-and-go purchase. They're convenient solutions for both consumers and retailers. The packaging shows off bright colors, is easily stacked, and the customer buys three peppers instead of one.
Those eye-catching tri-color pepper packs point to the first tenet of merchandising: Consumers buy produce (and most other things) with their eyes first.
Rose Robson of Robson's Farm, Wrightstown, NJ, says "60% of buying decisions are based on color," according to research. And she uses that insight to enhance her brand identity.
When she first returned to the farm as an adult, her mother bought her a little farm stand, she told an enthusiastic crowd of farm marketers at the NJ Ag Convention. She decided to paint it purple, a choice her mother wasn't excited about.
Her mother preferred red. Red, like every other farm stand in America and at least half a dozen neighboring stands within a few miles, Robson said.
Purple turned out to be a smart choice. Her purple market stands out from the crowd. And shoppers eagerly search for it, Googling 'the purple farm stand,' and easily recognize it when traveling in the area.
Color Blocking Produce Snags Attention
Robson plays with color to enhance shoppers' experiences at her community farmers market stands too.
Shoppers expect red tomatoes, green peppers, and black eggplant. But if they're looking for something different, she has them covered. Robson catches their eyes with color-themed displays (all purple, all red, even all black). She says, whether they are interested in certain colors or not, the display slows them down and starts a conversation.
"The longer you have a shopper at your table or in your farm store, the more likely they are to buy," Robson says.
Technology Doesn't Replace Good Merchandising
When a local farmer comments on a LinkedIn post, it piques my interest. A comment from Denny Dalponte Jr., Dalponte Farms, Richland, NJ, led me to another experienced produce merchandiser, Paul Manfre.
Manfre was lambasting poor produce displays in certain discount retail stores. They seemed to think low prices, coupled with replacing people with technology to keep prices low, would drive sales and profits.
Several other "old produce guys" agreed with Manfre that their basic training at Cantaloupe U drove home the concept of "stack it high and watch it fly."
Another commenter added other lessons learned. These included "you can't sell anything out of an empty wagon" and "you've got to sell the peanuts when the circus is in town."
"Great displays, value pricing, and knowledgeable produce professionals will beat you every time if all you offer is the same old ideas with technology thrown in as the prize," Manfre declared.
Whether you take it from "an old produce guy" or an upstart farm marketer, eye-catching merchandising is what
sells produce.
¹Hartmann-Boyce, J. et al. 2018. Grocery Store Interventions to Change Food Purchasing Behaviors: a Systematic Review of Randomized Controlled Trials. Am. J. Clin. Nutr. Am. Soc. Nutrition 107: 1004-1016.
² Khan, H. 2016. How Retailers Manipulate Sight, Smell, and Sound to Trigger Purchase Behavior in Consumers. Shopify Blogs.