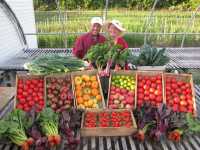 It has been nearly three years since the Food Safety Modernization Act (FSMA) was signed into law. The new Produce Safety Rule is announced and currently up for comment. All signs point to a new day when it comes to food safety regulation and practices.
Larger farms are fairly well positioned for new regulations, as most have been subject to the requirements of their wholesale and retail buyers. Larger farms are equipped for third-party audits and many have dedicated staff to manage food safety protocols.
For the smaller and mid-sized grower, food safety rules and regulations might seem more daunting, but they are no less important. There are plenty of farmers who fall into this category. USDA defines a small farm as one having annual gross sales less than $250,000. According to the 2007 Census of Agriculture, 93% of farms in Florida fall into this category.
For the smaller grower concerned about food safety, there is help available. The starting point is building a food safety manual and conducting a self-audit of the farm. And, no growers should consider themselves exempt, regardless of size.
"I don't like to use the word exemption when talking about food safety," says Bob Hochmuth, a multicounty UF/IFAS Extension agent based in Live Oak. "It's misleading because even if a grower is small enough to have some exceptions to the rules, everyone needs to be working under good food safety practices."
Hochmuth and colleagues from the University of Florida have been helping growers prepare food safety manuals for their farms for the past four years at day-long workshops thanks to specialty crop block grant funding from the Florida Department of Agriculture. "All growers who sell products to the consuming public need to have a plan to assure the food has been handled in a safe fashion to reduce risks," says Hochmuth. "The plan itself helps all growers take a systematic look at their operations and see where improvements can be made. Most growers of all sizes are doing many things to reduce foodborne illnesses, but all have areas for improvement too."
Hochmuth likens the workshop on building a food safety manual to laying the foundation of a house. "Building a food safety manual and program is pretty daunting," he says. "What we have tried to do with our training process is to take some of that away. By the time a grower goes through the class, our goal is he or she is confident it can be done with the tools we provide them."
One Section At Time
Food safety manuals have several sections that allow growers to approach good agricultural practices in a systematic way. The final manual is required to be in a reviewable paper document. However, there are online forms and programs available to help growers organize the manual, which then can be printed out as the final document. The training conducted by UF/IFAS utilizes the online form provided by Primus Labs (PrimusLabs.com).
"The manual building process forces the grower to think about the farm in its entirety," says Hochmuth. "But, the manual develops an organizational structure, standard operating procedures (SOPs), and logs (documentation). The grower will need to develop these SOPs, logs, and records. So, well water sample reports, pesticide application records, fertilizer records, employee hand washing and hygiene requirements, records of employee training, etc. all will need to be documented."
Hochmuth stresses that thorough documentation is a huge part of any food safety program. As the regulators say, "If you didn't write it down, you didn't do it."
The first section of the manual falls under General Information. This introductory element covers items like what crops are grown on how many acres, water sources on each farm, who the grower purchases inputs from, and to whom he or she sells and ships to.
"General information just helps the grower think of the farm in the context of food safety and how it will be organized," says Hochmuth. "Early on, you'll see the importance of water in this process because you'll be asked about the sources of water used for your irrigation and cleaning."