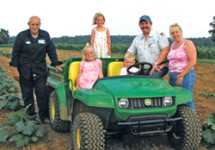 Hard work. Dedication. Commitment to quality. These are just some of the qualities that the five finalists for this year's Grower Achievement Award possess. Once again, we had some very deserving farms in the running.
The 2009 award, sponsored by Syngenta in cooperation with United Fresh Produce Association, is presented annually by American Vegetable Grower magazine to a grower operation that is a genuine role model to the industry. The nominations were evaluated based on each of the farms' achievements in the following areas: consumer-oriented marketing, use of innovative technology, food safety and food quality, industry leadership, and spirit of achievement.
A panel of industry experts has already met to discuss the merits of each finalist. The winner will be announced in the September issue. The award will be presented at the United Fresh Washington Public Policy Conference in Washington, DC, Sept. 9-11. Here are a few of the highlights from the nominations of this year's finalists.
Location: Chester, NJ
Owners: Kurt and Barbara Alstede
Vegetable Acres: 500
Crops: 100 different fresh market vegetables, fruit, and flowers.
The Alstede family pictured from left are: Hermann
"Zeke," Rebekah, Sarah, Karl, Kurt, and Barbara.
Kurt Alstede started out in farming in 1982 by renting land from community residents and growing hay, grain, and some vegetable crops. As he aquired and preserved land through farmland preservation programs, he transitioned to fruit, vegetables, and agritourism.
In addition to a market that features produce, plants, a bakery, homemade soups and ice cream, and wine, Alstede Farms also has pick-your-own, school tours, summer camps, hayrides, parties, harvest festivals, and participates in community farmers markets.
Alstede was recognized as Cooperator of the Year in 1997 by the Rutgers Cooperative Extension. In addition, he was instrumental in securing funding through the New Jersey Highlands Council to maintain a scout position to serve growers in the highlands region of New Jersey.
Alstede is a leader in the community, as the multiple positions he has held show. Among them are memberships with New Jersey Highlands Council, as appointed by former New Jersey governor Jim McGreevey; the New Jersey State Committee of the Farm Service Agency, as appointed by former President George W. Bush; the New Jersey Farm Bureau; and the Morris County Board of Agriculture.
Location: Willard, OH
Owners: The Buurma Family
Vegetable Acres: 4,000
Crops: Radishes, celery, carrots, southern greens, green beans, parsley, cilantro, dill, sweet corn, peppers, cucumbers, green onions, beets, zucchini, summer squash, and cabbage.
Started in 1896, Buurma Farms is now run by 12 fourth and fifth generation Buurma shareholders and has two additional locations in Gregory, MI and Claxton, GA.
Originally, Buurma had a local marketing approach, trying to service customers within a 75-mile radius of its home. Quick delivery after harvest was demanded because there were no reliable refrigeration methods. Today, Buurma still prides itself on quick delivery, and its product is delivered to two-thirds of thenation's population within 24 hours of harvest.
Buurma was one of the first to offer cello radishes in resealable bags, and also utilizes a custom-built green onion packingline. In addition, all locations use the comupterized DataTrack touch probe time-keeping system.
Bruce Buurma has served as president of the Ohio Vegetable & Potato Growers Association, Loren Buurma currently serves on the board of directors, and Chadd Buurma participated in the United Fresh Produce Industry Leadership Program. Many Buurmas have been active with the Leafy Greens Council.
Location: Stanley, NY
Owners: Ed Hansen Jr.
Vegetable Acres: 2,500
Crops: Cabbage, carrots, snap beans, sweet corn, and pumpkins
In 1955 Ed Hansen Sr. invested in 100 acres of farmland, with 6 acres devoted to cabbage. That investment proved to pay off. In 1961, the farm began doing business with Birdseye Foods, and in 1975 Ed Hansen Jr. joined the farm.
At that time, the farm began expanding its cabbage market, and started to handle fresh market cabbage in the 1980s. Starting then and continuing to the present, the farm has gone from being a local operation to a nationwide fresh market cabbage supplier.
A third generation, Eric Hansen joined the family business in 2003.
Ed Hansen works with plant pathologists and entomologists, participating in studies to determine the most effective pest control strategies, and has been critical in studies to improve control strategies for black rot disease of cabbage and cabbage thrips.
Ed Hansen was the first farm in New York to have a written and USDA-audited food safety program. It also has a company-wide traceability system tested by farm personnel when mock recalls are conducted. In addition, Ed Hansen Jr. is involved with the National Good Agricultural Practices Program at Cornell University, reviewing education materials and helping to develop a GAPs training video for use throughout the U.S.
Industry leadership is a family tradition at this farm. Three generations have served on the New York State Vegetable Growers Assocation Board of Directors. Eric Hansen is a member of the Leafy Green Council, New York State Organic Advisory Board, and has participated in Farm Bureau lobbying efforts.
Location: Lucedale, MS
Owners: Allen and Janice Eubanks
Vegetable Acres: 1,600
Crops: Watermelon, cantaloupe, peppers, cucumbers, squash, eggplant, strawberries, tomatoes, cabbage, and broccoli.
This farm markets its produce to small and large retail outlets, has a successful pick-your-own operation, and promotes Mississippi-grown
produce using "Make Mine Mississippi" promotional materials that include stickers on each carton.
Eubanks uses technology in many ways. A vacuum planter is used for precision seeding, land-leveling increases irrigation efficiency, and auto steer is used for row-building and pesticide application. Soil testing and tissue analysis is used for precision fertilizer application. In addition, fertilizer is custom-blended to meet nutrient needs of crops. At harvest, individual worker's harvest records are recorded on ID cards and tallied electronically.
Eubanks takes food safety very seriously. One employee's main priority is food safety, and in May 2009 the company earned Global GAP Certification.
This past winter, Eubanks began expanding to include new production in central Florida. This extends the company's growing timeframe to eight months of the year, with visions of becoming a year-round producer in the future.
Active in the industry, Allen is a member of the Land Bank South Board of Directors, State Advisory Board, Produce Marketing Association, and United Fresh.
Location: Castroville, CA
Owners: Boutonnet, Bengard, Pieri/Reasons, and Tottino families
Vegetable Acres: 21,000
Crops: 25 including artichokes, lettuce, cauliflower, leaf lettuce, cardoni, and rappini.
Ocean Mist was started in 1924 by five local families and is still owned by four local families, including two of the original founders. The families are now in their third or fourth generation.
The largest artichoke grower and shipper in North America, Ocean Mist has a breeding program to develop its own proprietary varieties of artichokes. Some objectives of this program are to include varieties that will allow year-round production, the development of artichokes that can be grown from seed, and to make pest control easier.
Ocean Mist introduced field packing of artichokes using a field side packing machine that was developed by the company. Within four hours of packing, artichokes are cooled to 34°F.
In terms of food safety, truck trailers are inspected before loading and must be precooled and clean before they are loaded. In addition, Ocean Mist's traceback program has been around for a number of years, tracing a box of produce to the field it was grown in, the day it was packed, the crew that packed it, and the individual packer who packed the box.
Many employees are graduates of the California Agricultural Leadership Program, and the company supports local activities like the Castroville Artichoke Festival and the California Rodeo.